Winners and losers from the 2012 Players Championship
The 2012 Players Championship had some big names fighting for the unofficial "fifth major," and here are our winners and losers from the week that was.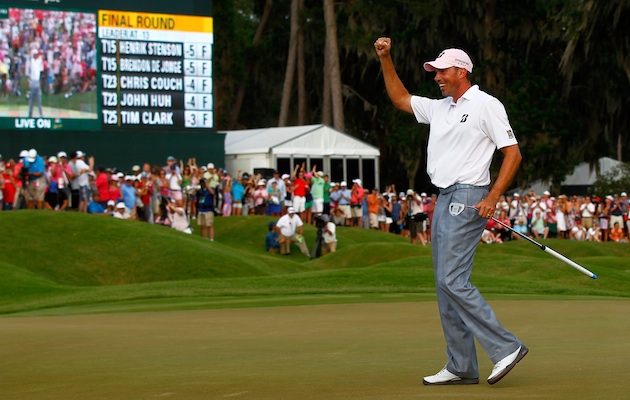 Matt Kuchar headlines our list of winners from the 2012 Players Championship. (Getty Images)
The Players Championship might not technically be a major championship, but winning at TPC Sawgrass sure takes a good PGA Tour player to another level. That happened on Sunday where a lot of big names battled for the 2012 title, so who were the winners and losers from the Players? 
Winners
Matt Kuchar -- You read plenty about certain professional golfers that have a ton of potential, or might be really great one day. Those lists include a lot of names, but tend to forget about Kuchar. This win will most likely put that practice to an end. Everyone who wins at Sawgrass survives in one way or another, and Kuchar did that on Sunday, making his necessary birdies including a clutch one on the par-5 16th, and picked up his first win of 2012 in dramatic fashion. 
Martin Laird -- There are a lot of great European golfers, but Laird is creeping up the list as one of the best out there. His final-round 67 gave him a shot at the biggest win of his career, but really showed that the guy loves playing these tough golf courses and tends to do well when everyone else struggles. Don't be surprised if Laird adds his name to the Players trophy in the next few years.
Rickie Fowler -- I'll be honest, I gave Fowler exactly a zero percent chance this week at Sawgrass after his first PGA Tour win came a week ago at Quail Hollow. It was no knock to Fowler, I just figured him winning would be a relief and he might not have his foot on the pedal as much now that he got that win. I couldn't have been more wrong. Fowler played great, and even though he struggled early on Sunday, he gave himself a shot with great birdies on Nos. 16 and 17 before missing a straight putt on the last to put the heat on Kuchar. Still, a great week for the youngster who now looks poised to be that Next Young American that can win multiple times in one season. 
Ben Curtis -- How incredible has his run been the last four weeks? A win at the Texas Open, followed by a T-13 in New Orleans, a T-5 at the Wells Fargo and now a T-2 at the Players. Curtis didn't even have full status at the start of 2012, but is now 17th in FedEx Cup points after this little run he's been on.
Losers
Kevin Na -- You hate to harp on a guy that struggled with the lead on Sunday, and I honestly feel bad for the kid because of these swing issues he's having, but boy was it tough to watch and made for a long weekend of golf viewing. Na needs to get this waggle thing figured out and quick, because it doesn't seem like he has any chance at all at closing out a big event like this with all the starting and stopping he's doing on the golf course. 
Tiger Woods -- What, we're supposed to ignore the fact that Tiger had another vanilla week at a big event? Toss out his second-round 68 (that happened when it seemed the entire field was going low), and you had another ho-hum week when nothing really got going. Tiger is struggling with his golf swing, and while it isn't fair to always point out his bad weeks, nothing really good came from the Players and it seemed if anything, he took a step back instead of forward.
Angel Cabrera -- The two-time major winner hit three balls in the water on No. 17 in his first round, posted a 78 and then withdrew from the tournament, a sign of someone giving up before his tournament was over. I'm sick of this trend of WD-ing when you have a bad round (and to Angel's credit, he wasn't the only one), but what happened to finishing out an event you signed up for even if it's inevitable that you're going to miss the cut?
Rory McIlroy -- If Tiger had missed the cut, it would have been the biggest story of the weekend, so we can't go and not criticize Rory for playing some bad golf this week at the Players. His opening 72 wasn't terrible, but a second-round 76 left him well outside the cut line at a golf course he really doesn't seem to like. Rory skipped out on the Players a year ago, and while he said he'd come back in 2013, it wouldn't shock me if something comes up next season. 
This season will fascinate as old stars converge with up-and-coming superstars

With a single golf lesson up for auction, Tiger Woods changed some lives forever in Texas this...

The Days have had a rough 2017 from beginning to end
Why in the world would a former FedEx Cup winner hop on 24 hours worth of flights this wee...

Following the debacle at the ANA Inspiration earlier in 2017, Thompson has some thoughts

Fowler is as good as it gets on the PGA Tour