With Tampa record, Harrington shows he has plenty in the tank at age 40
Three-time major winner blisters the Innisbrook Resort's Copperhead Course Thursday in a record-setting 61, the lowest score of his amateur or professional career.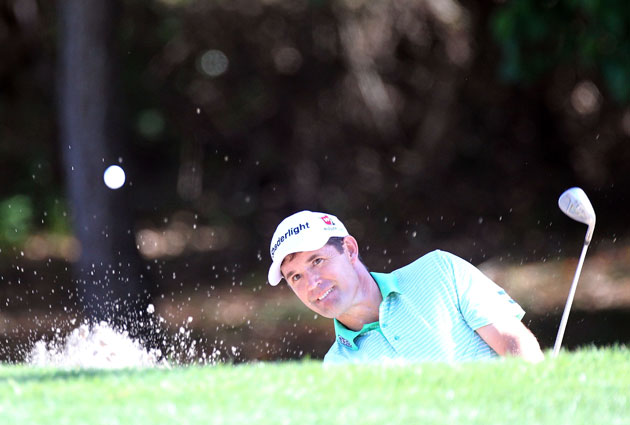 Padraig Harrington hits out of the sand on Thursday in Palm Harbor, Fla. (Getty)
PALM HARBOR, Fla. -- Padraig Harrington, for all his honors and awards, remains a bit fuzzy on the details of many of his more spectacular accomplishments.
For instance, after making an ace in the pro-am of the Transitions Championship, he estimated that he'd recorded 10-12 in his career. More like six, he realized later that day, after doing a personal inventory.
So when the three-time major champion blitzed the Innisbrook Resort with a 10-under 61 on Thursday to break the course record by a shot, he couldn't begin to guess how many other courses also have his name hanging on the wall as the record holder.
There are other reasons for the vagueness, too. Many have surely been bested in the time since. He doesn't exactly play with the same savoir faire, either.
"When I was a young pro and naïve and innocent, I used to go out there and shoot more course records than now, as a seasoned pro with a lot of fear and damage in my system," the Irish superstar laughed.
He wrote another one for the books on Thursday, which tied the lowest round of his career, professional or otherwise, in the first round at the highly regarded Copperhead Course, which ranked ninth in a PGA Tour player poll of best courses on the circuit.
Harrington broke the Copperhead record, held by Mark Calcavecchia and Jeff Sluman, by a shot and bettered his personal PGA Tour low by two strokes. It represented the lowest first-round score on tour this year, relative to par.
It was a welcome splash of brilliance from Harrington, who after a long victory drought has retooled his game over the past year with a new swing instructor and a new practice coach, Dave Alred, who helps ensure that Harrington is using his practice time efficiently.
Harrington's best finish this year as a joint member of the U.S. and European tours is T7 at Pebble Beach. He has 14 top-10 finishes over the past two years at events offering world ranking points, though he hasn't threatened to win in months.
While he is piecing together the parts, he hasn't lost his sense of humor, even as his world ranking has slipped to 90th. When respectfully asked if there had been a low personal ebb during his drought -- he hasn't won in the States since the 2008 PGA Championship -- he quickly put things in proper perspective.
"There isn't a low point in being a professional golfer," he laughed. "I mean, let's be realistic."
Transitions Championship
More Golf coverage
In case you were wondering how the guy recently earned the Mr. Congeniality award as voted by members of the Golf Writers Association of America, that's a perfect example.
Harrington said that despite his years of expertise, he got in his own head as the birdies piled up. He had an 8-footer for a birdie on the 11th hole and started crunching the numbers. He missed the putt, claiming he "choked like a dog," because he was thinking about shooting a 59.
"I would love to tell you that I was so good, bad thoughts didn't enter my head, but unfortunately, they do," he said. "That cost there."
In all, he had 10 birdies, including a 75-footer he jarred on the 17th and a 16-footer on the last to break the course record. He one-putted 14 greens and needed only 22 for the day.
Harrington, 40, sagely notes that careers often have major ebb and flow, and sounds like there could be another Grand Slam title in his reserve tank.
"I won three majors in 2007, 2008," he said. "It's not like I was going to win two a year after that. At the end of the day, I may go on and win more major, but if you look at any, like the likes of, say, Faldo who, has won the most majors of any European, six majors, he didn't win them over a space of two or three years. He won them over a 20-year space, or 15, anyway.
 
"Sports, we have this thing, especially in golf, that somebody who plays well, a lot of people think, oh, they are just going to continue to play well; they may improve, but it's going to be little up and downs as they go along. I think that's the greatest thing I've learned over 16 years of golf. 
"I watch everybody's game and I have a greater understanding when I see somebody playing great, I understand how it ebbs and flows, and I don't necessarily go, right, he's won a major, so that means he's going to win one every year. 
"But even Tiger, he hasn't won one every year. We get sucked into thinking that somebody playing well can maintain that. They will over their career, but not year to year."

Harrington said the 61 was his lowest round ever, though he shot a 61 at the Nedbank event in South Africa in 2001, an unofficial event. Which brought to mind another funny aside the Irishman tossed out after his round Thursday.

"Don't believe whatever a professional golfer says," he laughed.

 
The left-hander from Texas had a tap-in eagle in Korea on Friday

List flipped the script from Thursday's action to grab the lead through two rounds

The No. 4 player in the world dumps his putter in favor of a wedge because of a mark on the...
Masters 2018 and several other props for Big Cat have been released

The reigning Player of the Year is off and running early on at the CJ Cup

But hey, at least playing with Lefty will benefit a charity