Woods, Mickelson miss cut at same PGA Tour event for first time as pros
Woods misses cut for first time in the week after a victory as uneven season continues, and Mickelson heads home early for second straight year at Greenbrier Classic.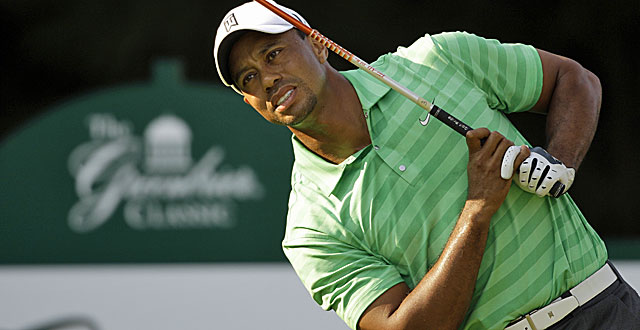 Tiger Woods made his first appearance at the lucrative Greenbrier Classic.
(US Presswire)
These weren't the professional firsts that Tiger Woods and Phil Mickelson were chasing when they added the Greenbrier Classic to their playing schedule.

Instead, the result was a tag-team worst.

For the first time as professionals, the dynamic America duo missed the cut at the same event, both heading home after 36 holes after two days of sloppy, uneven play on the Old White Course, a West Virginia venue that less-heralded players were having little trouble negotiating.

Both players entered the second round needing to mount a rally and did nothing but move backward. Mickelson three-putted his first hole for a bogey from 15 feet to miss by three strokes, and Woods unraveled after an afternoon rain delay and fell short by a shot.

After a weather suspension halted play for two hours, Woods had a 15-footer for birdie on the 10th that would have pulled him within a stroke of the projected cutline, but missed, then followed with two very ragged bogeys to leave him four off the expected number and too far back. 

Mickelson was hit with a penalty stroke when he dropped his ball on his ball mark and shot his second straight 1-over 71. He has yet to break par in four reportedly lucrative rounds at Greenbrier.

Why lucrative when they didn't cash an official paycheck?

Make no mistake, while some will be wringing their hands at the unpredictable playing state of the two top Americans of the past two decades, others will be cackling. According to reports, Woods received $1.5 million from Greenbrier owner Jim Justice, in part, to add the event for the first time this year, and Mickelson drew $1 million.

Maybe they thought it was a disappearance fee.

If the plan was to draw weekend eyeballs and help prop up Greenbrier -- which was bankrupt three years ago -- as a top-tier tourist destination, losing his two draw cards before network TV coverage began is going to gouge big holes in Justice's master marketing plan.

Greenbrier features a concrete nuclear shelter built underground, designed to protect Congress from potential radioactive effects during the Cold War. It's hard to quickly gauge the likely fallout from their rare double whammy. After all, Woods has three wins this season, and Mickelson has a victory and lost another in a playoff.

But it was a very public setback, since they were Justice's show ponies, for sure. Amazingly, Mickelson also missed the Greenbrier cut last year after earning an identical $1 million payday, multiple sources said earlier this week.

In an absolutely improbable scenario, John Daly made it to the weekend, as did 62-year-old Tom Watson -- but not the game's two winningest active players.

Indeed, with his troubles at the U.S. Open, Mickelson has played seven consecutive rounds over par dating to the Memorial Tournament, the worst run of his pro career.

"I don't get it," Mickelson said. "I certainly struggled a little bit on the greens both years, but nothing that should have led to these scores."

Mickelson has said several times this season that he's battled lethargy at times. Mickelson has one top-10 finish in six starts since the Masters and has posted a score in the 60s only four times. This week, nothing was really in sync.

"It doesn't feel like the parts are that far off," he said, "but I'm not putting them together."

Woods, who shot rounds of 71 and 69 to finish even, can certainly relate.
In a season that has defied description in many regards, Woods won last Sunday for his tour-leading third victory of 2012, then never came close to recapturing the same magic this week. In fact, Woods has yet to post consecutive top-10 finishes in PGA Tour play since before his sex scandal of 2009.

In fact, while it marked only the ninth time Woods missed a PGA Tour cut as a professional, three of those lost weekends have come in the past 11 months. The current world No. 4 missed the cut earlier this year at Quail Hollow and was sent home after 36 holes at the PGA Championship last August in Atlanta.

The last time he missed two cuts was in 2005, when he ultimately won the British Open.

Again, some suspect short-iron play hurt Woods' chances. He didn't miss a fairway until the 12th hole, but was already 3 over at that stage and a late rally wasn't quite enough.
Of the 197 times Tiger Woods and Phil Mickelson had played in the same event as pros previously, they missed a combined 22 cuts.
The USGA and R&A have decided that you will no longer be able to phone in penalties

The Spaniard captures another piece of hardware during an all-time season

The man who ended on his bag in 2017 will apparently begin on it next year
This snowboarding ball flip and drive is simply spectacular

The Ulsterman is starting to put his 2018 schedule together

Golf -- as athletic as it gets