Masters top 10 most influential people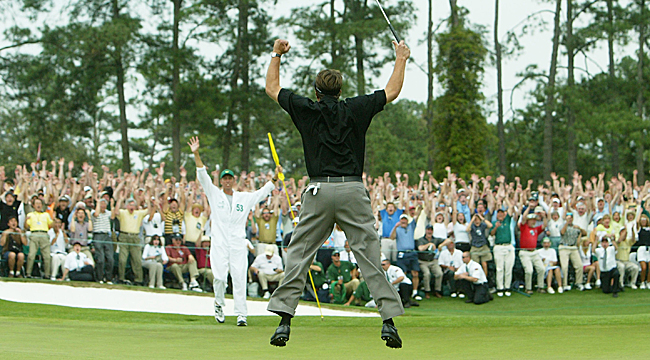 Phil Mickelson was riding high after winning his first major at the Masters. (Getty Images)
From the first tournament in 1934, dozens of characters, players and otherwise, have shaped Masters history. We count down our top 10 through No. 1.
By Shane Bacon | Golf Blogger
There are images that stick in your brain from Augusta National that are unlike any other place in sports. Jack Nicklaus raising his putter as the putt dropped in 1986. Nick Faldo's reaction when his playoff putt dropped in 1989 against Scott Hoch.
But more than any of them is when Phil Mickelson finally broke his majorless streak in 2004. We all remember that moment. Phil standing over another birdie putt on a 72nd hole to win a major, but for some reason the feeling around the moment was different. Fans wanted the putt to drop. Other players wanted to see the best left-handed golfer in the history of the game to finally buck that monkey and win one of the big four. And for some reason, Augusta National and the Masters seemed like the perfect place for it to happen for Phil.
To be fair, Augusta is a perfect course for left-handers, and one of the reasons it seemed so strange that up until Mike Weir's win in 2003, no southpaw had ever walked away with a green jacket.
Phil changed that, and once the flood gates opened for Phil at the Masters, it was his course to lose.
Mickelson's won three Masters in his career, tied with four other players for the fourth most wins of all-time. When you think of this generation at Augusta, you think of Tiger Woods and you think of Phil. Always a contender, always a great champion and no matter how he's playing, always able to find his game when he hits that drive up Magnolia Lane.
Phil is the type of player that could win one or two more Masters before it's all said and done, and really seems to get the event. The Par-3 Contest, the Champions Dinners and just the entire aura that surrounds Augusta National seems tailored for Phil, and it's why he's No. 10 on our list of most influential people in Masters history.