Masters top 10 most influential people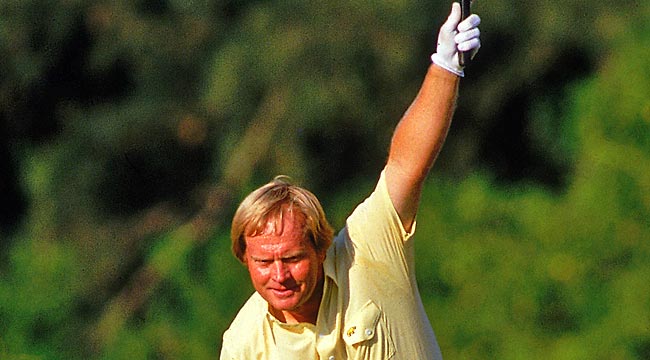 Signature moment: Nicklaus' birdie on 17 during his spectacular closing nine in '86. (Getty Images)
From the first tournament in 1934, dozens of characters, players and otherwise, have shaped Masters history. We count down our top 10 through No. 1, which will be unveiled Wednesday, April 4.
By Steve Elling | CBSSports.com Senior Golf Columnist
Like the Masters itself, Jack Nicklaus morphed quite a bit over the decades, eventually becoming as much a part of the tournament lore as the green jacket itself.
He started playing the event in 1959 as a pudgy kid with a flattop haircut, became a slender, fashionable and rakish figure in the 1970s and won for the final time in 1986 as a 46-year-old man with bunions on his feet and his eldest son on the bag.
Nicklaus, now 72, won the tournament six times, and played in six different decades. Thursday, he will return yet again to hit one of the ceremonial opening tee shots with Arnold Palmer and Gary Player, who also made our Masters Most Influential list.
Small wonder Augusta National made him a member, huh?
Sure, Arnie's Army was founded at Augusta, but nobody owned it more than Nicklaus, whose unforeseen victory as an over-the-hill part-time player in '86 was considered one of the greatest spectacles in sports history, and perhaps the most popular Masters win ever.
That Nicklaus won his first Masters title in 1963 and his last 23 years later is testament to the generational arc of his powers, all on a course that isn't particularly conducive to his signature shot -- a power fade.
It wasn't just the magic than Nicklaus wielded, it was the incredible chronology. For example, in an achievement that gets far too little credit, Nicklaus shot 68 in the final round in 1998 to finish T6 at age 58, proving yet another glimpse into his greatness.
One of the game's most memorable moments and defining photographs -- Nicklaus raising his putter overhead as he walked the ball into the hole on the 17th green in 1986 -- took place at the Masters.
Nicklaus won 18 majors in his career and finished second 19 times -- including four runners-up at Augusta.
In all, that 10 top-two finishes at Augusta?
Mull that resume item for a while, Tiger Woods fans.