Bud Selig: Baseball's great reformer
Say what you will about Bud Selig, but when he steps down as baseball commissioner Sunday, he will be leaving the game on an unprecedented high
Bud Selig: Baseball's great reformer
Say what you will about Bud Selig, but when he steps down as baseball commissioner Sunday, he will be leaving the game on an unprecedented high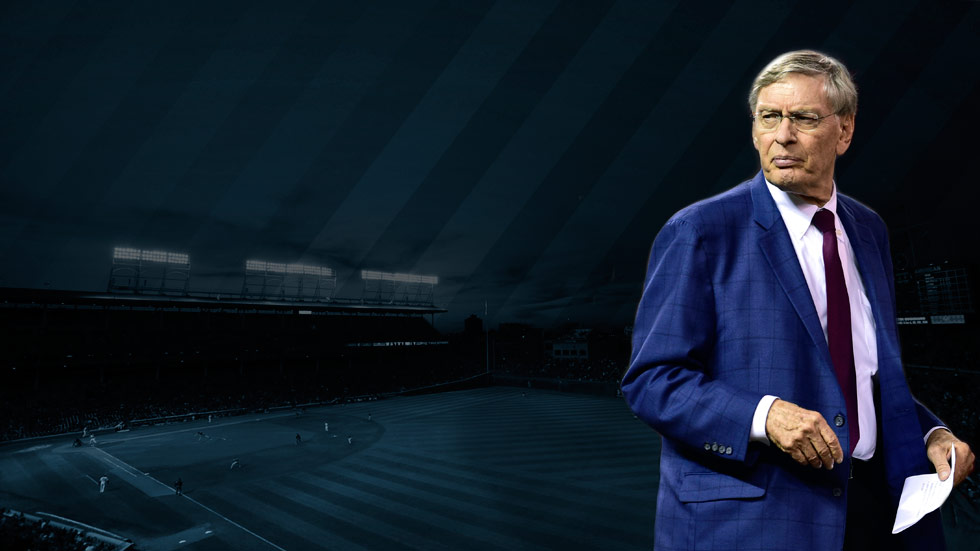 Bud Selig's expansive, immaculate corner office, decorated in early, middle and late baseball, sits on the 30th floor of one of Milwaukee's few skyscrapers. It provides the best view of his beloved city on what is a typically dreary day. Selig notes that it's dreary here five months out of the year. But he still loves this place that rarely changes. So why should he change?
The reality is, hardly anything is ever different in the life of Selig. He's lived all of his 80 years in Milwaukee. His friends in town still call him Buddy. In the last half of his eight decades, in fact, he hasn't made enough major changes in his personal life to fill out a full pitching rotation.
Therein lies the great contradiction of baseball's greatest reformer.
After 23 years in office, Selig will step down as baseball's commissioner effective Sunday, personally invoking, in his words, the famed "best interests of baseball" clause on his own career. When he officially hands the reins to Rob Manfred, whom he hand-picked for the job and was voted into office last August in Baltimore, Selig will have delivered one final stamp of forward progress on a game he has forever changed.
Here is a man who brought not one but two wild cards into the game, who helped get 22 new stadiums built, who ultimately spearheaded an attack on performance-enhancing drugs and instituted sports' toughest drug program (some would say he was slow on that one, but he says he and others didn't know what was going on, and by the time he started to suspect, the union prevented action until 2002). And most importantly, he overhauled the sport's economic system with a luxury tax, a payroll threshold and revenue sharing.
Selig told a visitor this week that he's "a traditionalist at heart." Yet when it came to the game he's loved since his childhood growing up on Milwaukee's West Side (his adored mother Marie used to drive him to watch the then hometown Braves, and even drove him to Chicago to watch the Cubs), he's always done what he felt was necessary, what he felt he had to do.
"We had to do things the fans wanted to do," Selig said.
Selig says when he took over as commissioner, the game was "tired, old and broken down" economically. "Back in the Ebbets Field days," he put it. And the early days at that. In 1992, he said baseball's economic system was still stuck in the 1930s, coincidentally the decade of Selig's birth.
"We needed change," he said. "We needed a lot of change."
Something needed to give, and nobody knew that better than the owner of the team with perhaps baseball's worst ledger sheet, small-market Milwaukee, a man who has been both consistent and consistently underestimated his entire life. Nearly 23 years after taking the job that was supposed to be an interim one, Selig said he lit up with pride watching the small-revenue Royals, the Milwaukee of Missouri, come within 90 feet and some potential extra innings of a Game 7 World Series victory before falling to the Giants. "A dramatic manifestation" of his work, of how far baseball had come, he called it.
Baseball's boom time may not be exactly evenly divided (as in other major sports, certain teams win most years – in baseball it is the Cardinals, Red Sox and Yankees, and lately the Giants), but it isn't bad now. It certainly isn't the way it was back in the early '90s, when there was a clear set of haves and have nots. How he convinced big-market teams to share the wealth for the good of the game is a story that's still hard to believe.
As a result, Selig, whose own Brewers team generated about the lowest revenue of all the teams, has overseen unprecedented economic prosperity in his 22-plus years as commissioner. Baseball has gone from a $1.2-billion business to more than $9 billion in that time.
But on the Selig contradiction scale, that is actually nothing.
In the strangest of all contradictions, Selig initiated one of the great technological enterprises in sports, MLB Advanced Media, which includes MLB.com, the website that began on Jan. 19, 2000, which puts all other league Web sites to shame (the others are mostly wire copy to this day while MLB.com has a beat writer or two for every team, with many reporters leaving established newspapers to sign up) and puts hundreds of millions of dollars in the teams' hands. It is no exaggeration to say BAM, as it is called around the game, is one of the sports technological marvels of our time.
Yet, Selig himself doesn't even do e-mail. That's right, he has yet to send an e-mail or receive an e-mail in all his 80 plus years. (Or a text, for the record.)
"I'm his computer," his secretary Mary Burns interjected.
Say this for Selig, he never has to buy a new computer. He just keeps his secretary. Mary is just the second one he's had in his 45 years in the game, following the famed Lori Keck, who worked for Vince Lombardi before Bud.
Told you hardly anything ever changes around here.
Some now wonder how Selig will do staying away. As one close Milwaukee friend put it, "he'll still have one foot in" the game, as he will technically serve as newly established commissioner emeritus, an advisory role. It sounds like he'll be plenty busy outside the game he loves, though, with professorships at both Marquette University (he already teaches sports law there, though he isn't a lawyer) and the University of Wisconsin, his alma matter (he'll teach a sports in society class there), already lined up. He's also planning to write a memoir with the help of good friend and well-known historian and biographer Doris Kearns Goodwin (a "three-time Pulitzer Prize winner," he pointed out). And then there is his one burgeoning outside hobby, developed late in life: art collecting.
Once assumed to be baseball's least well-off owner, he hasn't changed personalities or homes since becoming much wealthier later in life. But he did buy a couple of houses adjacent to the home he and wife Sue have lived in for decades in Bayside on Milwaukee's North Shore, tore them down and built an impressive sculpture garden.
He enlisted the help of Marlins owner Jeffrey Loria and other noted art dealers, and his valuable collection now includes a Roy Lichtenstein that's one of only three of its kind ("The Paint Brush") and a Claes Oldenburg that's also one in three ("The Eraser"), both of which were on display for his 80th birthday party here last July. Selig is a quick study, and word is he's made quite a bit of money at his hobby, too, though he pointed out, "that's not why I do it."
It is quite obviously his second love, after baseball.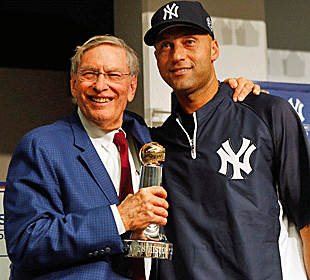 Bud Selig has increased baseball's assets from $1.2 billion to a value of $9 billion during his tenture. (Getty Images)
Selig has come a long way from Milwaukee's predominantly Jewish West Side, where he went to grade school, junior high and famed Washington High School with Herb Kohl, the former Bucks owner and US Senator who eventually roomed with Selig in college and to this day remains one of his closest friends. Nothing changes with Buddy.
Beyond taking a job at age 57, a job that was supposed to be temporary, and keeping it for nearly 23 years, Selig's big mid- and late-life alterations are these:
He discarded his once beloved Fords for a Chevrolet (naturally, that coincided with the family business, Selig Ford becoming Selig Chevrolet) and now drives a Lexus.
At some point he switched from Coke to Diet Coke for caloric reasons.
He stopped chomping on cigars Feb. 3, 1983 (no surprise, he recalled the exact date). That was only a few months after 30 chewed-up stogies were found by his seats at Memorial Stadium in Baltimore, where he paced and chomped away nervously as his beloved Brewers clinched their only pennant with a victory over the Birds.
Yep, that's about it.
His commissioner stewardship had been a lot more eventful, and two summers ago Selig, on one of his long walks, decided he'd leave his dream job the year he turned 80. Other owners were clamoring for him to stay on well into his 80s, but he thought long and hard about it, considered his age and what else he wanted to accomplish in life.
Soon after he explained it simply to a friend. "There's a time to come and a time to go."
Although there's the continuing frustration of two more teams (the Rays and A's) needing stadiums, a TV dispute in the Beltway and other assorted headaches to be named later, the truth is, baseball has never been in better shape financially. So he leaves without regret, he said.
"What a journey this has been," Selig noted earlier this week, his final one as the second-longest serving commissioner.
His resistance to change may be why some doubted he'd ever go through with retirement, even as a cancer survivor at 80. To voluntarily surrender his dream job seems improbable for a man who spent close to the past 23 years on the phone, kibitzing, cajoling and talking his way to his beloved unanimity.
Unanimity and uniformity. That defines his life.
Everyone around here could tell you hardly anything changes in Bud Selig's life, not his address, not his ways.
So why change what he loves? He lunches at Gilles Frozen Custard on Blue Mound Road (where he invariably gets a hot dog and diet coke) unless he goes to Jake's, the deli he co-owns, his second of two spots. He's gotten his hair cut by Sal Lococco every Friday for years. Before that it was Tony Lococco, Sal's father.
He rides the stationary bike every day, even on the road. If a hotel doesn't have one, someone makes sure it is positioned in his room by his arrival time. "Two thousand, three hundred, eighty four days in a row … six and a half years," he points out. It's always the same, too -- 54 minutes on the bike, then six minutes of other exercise.
That's basically the extent of his athleticism since spinning himself into the dirt trying to negotiate a curveball on an American Legion field at age 15. That moment, he picked himself up from the turf, and announced to himself: "To hell with it, I'm done." Literally, that's what he said.
It was that easy, and that fast, certainly a lot easier than leaving the commissionership.
But Selig certainly wasn't done with baseball entirely when he was 15. Just the playing part. Mother Marie nurtured that love of the game with the trips to watch the Cubs and Braves.
When it was time to get a job, Selig first helped run the family car dealership. He likes to point out, "I never sold a used car," puncturing the negative image fostered by some critics, but of course that is because he had salesman to do that.
It is far-fetched to think a car dealer could own a baseball team, no less preside over a league in which every one of the 30 franchises is now surely worth more than half a billion dollars, and most much more than that. But when Selig gathered some well-heeled Milwaukee friends to bring the Seattle Pilots to Milwaukee, the Brewers were born in 1970 and baseball was back in Brew City. His father Ben, who passed on in 1976, lived to see that triumph, Selig recalled happily.
That was of course a much easier call than the one he made two summers ago to give up the beloved job that's transformed him into a legend of the game, accepting honors in San Diego, Los Angeles and St. Louis, where he made news by telling the gathering that that town was the greatest baseball town around (for the record, he ranks Boston right up there, too). He didn't explain why he believes it's in the best interest of the game for him to leave, as he clearly hasn't lost his fastball (he still agitates at breakneck pace).
Selig is a planner, and perhaps he simply saw this as a way to give himself time to write his book and enjoy his family while he still has considerable energy, and maybe a way to ensure that his protégé, Manfred, received the reins. Manfred, the no-nonsense, Harvard-educated lawyer whose deals with the union helped baseball reach an unprecedented 22 straight years of labor peace, is eminently qualified. He doesn't have the schmoozing abilities of Selig. But who does?
If Selig wasn't the commissioner, he might have been a US Senator like his lifelong friend Kohl. As a politician he's a marvel. Who else could have gotten 30 self-interested billionaires and near-billionaires on the same page for 23 straight years?
"This is a political job, make no mistake about it. Some of the commissioners before me didn't understand that," Selig said. "My greatest training was being in the game twenty-five years. To get something done you have to get people to go along. You can't sit up here like some king or emperor."
Mark Attanasio said he could scarcely recall any votes closer than 27-3 in the 10 years since he became commissioner (the one to elect Manfred was actually 23-7, but that may be because no one envisioned anyone but Selig in the job). Yankees president Randy Levine, one of the baseball power brokers who led the drive to elect Manfred, said honestly, "I think Rob is going to be a great commissioner. But the one issue Rob's going to have is, nobody held owners together like Bud."
"I compare him to an old-school politician, like Tip O'Neill," Attanasio said. "I think he formed a personal relationship with all of us."
Selig works folks with his disarming way, and he worked owners one on one, on a phone that's almost attached to his ear (yes, he does use a cell phone now). He rallies supporters, and nobody does it better. He is also a world-class agitator (the more he teases you, the more he likes you is his rule).
In an example of one of his first great political victories, Selig recalled in 1993 when he enlisted John Harrington of the Red Sox to rally votes for the wild-card idea, which was very controversial at the time. He thought he had support in spades. But when he arrived he found that while the NL was on board, several AL teams were balking.
Much kibitzing, some cajoling and a bit of arm twisting later ("I admit there was considerable profanity"), he won the vote 27-1, with only Rangers owner George Bush, who was "a little conservative," in Selig's words, being against the wild card.
"But George told me if I really needed the vote, I could have it," Selig notes happily.
Selig actually couldn't believe the bickering at his first owners meeting in 1971, when he rode away in a taxi with Tigers owner John Fetzer, who told him, in effect, to look at what he'd gotten himself into. Two decades later, he was drafted to become interim commissioner. Though he owned arguably baseball's least powerful franchise, he was a natural choice. He was everyone's Buddy. And it stayed that way, right until the end.
"He revolutionized the office," Levine said. "He's the best commissioner ever."
Still, there were many critics along the way, and at some points some thought Selig, a natural historian, worried too much about his critics and his legacy -- though that's one thing that's changed a bit in recent years. The din has died down over the last five to 10 years years, thanks to Selig's aggressive attack on PEDs and PED users, the sport's continuing prosperity and perhaps even the NFL's recent headline-grabbing troubles.
In the end, Selig surprised folks, and kept surprising folks. The man who eats at the same hot dog stand, and who gets his hair cut at the same plain spot on Kildeer Road in Brown Deer, helped revenues to grow eight fold in less than a generation, and team values to soar beyond comprehension. Selig himself admits he was floored the day he got the call that the Los Angeles Dodgers, a sale he forced for baseball's best interests, were going for an all-sport record $2.15 billion in one of baseball's great days. Not only was baseball ridding itself of the penurious, unpopular Dodgers owner Frank McCourt, it was getting a virtual dream team of owners to take his place.
The price was hardly fathomable, as the team had been bought for a barely one fifth that figure only seven years earlier. But you know what? The new group, headed by Chicago financier Mark Walter, basketball legend Magic Johnson and longtime baseball mover Stan Kasten, wound up getting themselves a bargain. TV rights soon fetched $8 billion for the Dodgers, four times the sale price.
Selig has taken some hits over the years, but he never heard it from the disparate billionaires and near-billionaires who own the teams, who to a man seem to love him (many wanted him stay past his 81st birthday and beyond). Selig's scorecard is perfect to them.
"You can judge me on asset values," Selig said. "It is a composite of everything we do."
Indeed, baseball has come a long way from when Selig took over. He cites as his greatest contribution the economic reformation of the game.
"It was tedious, but incredibly necessary," Selig said. "It was necessary [that we achieve] competitive balance."
Selig believes that competitive balance never would have happened without the labor showdown in 1994 that led to the cancellation of the World Series.
"It broke my heart," Selig said of the World Series cancellation. "It was one of the saddest days of my career."
He felt there was no choice. He pointed out the players were on strike, and he recalled that he polled the Brewers top baseball people Sal Bando and Phil Garner, who said the players weren't going to be ready to come back to play a World Series, because they were out of shape.
The biggest blip on Selig's record is the charge that he didn't act fast enough when it came to steroids. But Selig points out that baseball was long a sport with a different sort of drug problem. A cocaine problem.
"We were the sport where Steve Howe was suspended seven times, and came back," Selig said.
Selig pointed out nobody talked about baseball's steroid problem in the late '90s when the Mark McGwire-Sammy Sosa home run chase was going on, and others tell him the same even now when he checks to ease his own mind. When it started to become clear there was a problem at the turn of the century, Selig unilaterally imposed drug sanctions in the minors. But the union blocked him from doing the same at the major-league level, he said.
"The idea we were slow is nonsense," he says. "If anyone wants to be a critic, they are wrong."
Whatever anyone thinks about that, there is little doubt the response has been strong since. The Mitchell Report uncovered scores more players who used PEDs, including Roger Clemens and Andy Pettitte (Pettitte admitted it, and while Clemens denied it, he didn't sue MLB or George Mitchell). There was also the crackdown on Biogenesis, which ended with 12 suspensions, including a year-long one for disgraced three-time MVP Alex Rodriguez, whose mere mention evokes a sour face from the 80-year-old commissioner.
"As it turned out, WADA (World Anti Doping Association) said we have the toughest drug testing program in sports, and one of the toughest in society," Selig said.
"It is a great story."
As is his own story, which is truly an unreal and uniquely American one -- a man who rose from car dealer to small-market baseball owner to the game's greatest czar and biggest agent of change.
Even more remarkable is to consider that a man who hasn't changed one bit since growing up on Milwaukee's West Side, a man who still doesn't use a computer and who's stuck at the same hot dog stand for decades, is the one who led baseball's revolution.