A bar crawl through Cubs history
The best stories come from bars, and Nisei Lounge, Wrigleyville's oldest tavern, has quite a tale to tell.
A bar crawl through Cubs history
The best stories come from bars, and Nisei Lounge, Wrigleyville's oldest tavern, has quite a tale to tell.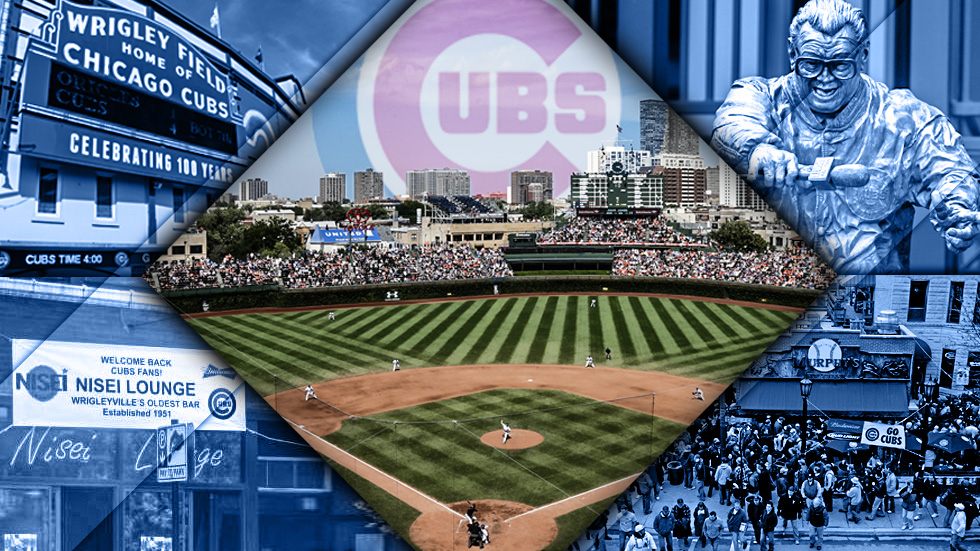 On Nov. 3, 2014, the Cubs introduced their new manager, Joe Maddon, at a bar -- the Cubby Bear on Addison Street, just across from Wrigley Field, which was at the time encumbered by scaffolding, tarpaulins and construction dust, all owing to the $500 million renovation of the ballpark and its nearest environs. It was the start of what would be a winter of uncommon optimism on the North Side of Chicago.
Coming off a 2014 season in which the Cubs showed improvement as the weeks went by and having assembled a farm system loaded with high-ceiling talents like Kris Bryant, Javier Baez, Jorge Soler and Addison Russell, the organization was already trending upward. Then came Maddon, the decorated manager who, in defiance of resources and history, skippered a consistent winner at Tampa Bay. Weeks later, the Cubs would sign lefty Jon Lester, one of the most coveted free agents of the offseason, and trade for core contributors like Miguel Montero and Dexter Fowler, in addition to bringing back mid-line starter Jason Hammel.
It was against that unfurling backdrop that Maddon declared his goal for 2015 was to win the World Series. The serialized miseries of the Cubs are so familiar that it's become a baseball refrain: no pennant since 1945, no World Series triumph since 1908. However, given Maddon's presence in tandem with a front office that was central to the Red Sox's drought-ending title of 2004, there's a rare level of bullishness surrounding the Cubs right now. Maddon's goal-setting was perhaps too hasty, but it wasn't implausible. The Cubs are an august, old-line franchise, and as a consequence of that long and generally dismal history, the fan base is always spoiling for signifiers of hope. When there are enough of them -- and right now there are -- the hope comes in spasms. "It's up to us to capture this moment," the new manager said.
In a decidedly municipal sense, it was fitting that Maddon concluded his presser by inviting the assembled media to enjoy, on his dime, a round of drinks. "That's a shot and a beer," Maddon clarified, "the Hazleton way."
Maddon was invoking his hometown of Hazleton, Penn., but he had to know that such an invitation would play well in his new city. He was, after all, being minted as Cubs manager, as the man who would helm their revival, in a Chicago bar. So it was the perfect thing to say -- to invite the scribes and photographers and flacks before him to take part in this "secular communion."
But was it the perfect bar in which to say such a perfect thing? It is very obviously outwardly Cubs-ian for the manager of the Cubs to offer those who hover about the Cubs a shot and a beer at a bar called the Cubby Bear. But what about inwardly? Is there an elusive and unnameable something about this team and the patch of city it occupies that another place would better capture, better render and send back to us reduced to its elements? Maddon, after all, seems to be a man with an appreciation for the genuine.
You see, there's a different bar that comes to mind. "I think Joe would fit in perfectly here," says Craig Morrall, co-owner of the Nisei Lounge on the North Side of Chicago -- about 370 steps south of the Ron Santo statue outside Gate D, to be more precise. "He'd have a nice stool right here. I think he'd get along tremendously with the regulars here. If he shows up, I'll buy him his first beer."
***
A city as big as Chicago isn't reducible to any one thing, but in a sense it is indeed a city of taverns. They pepper the streets of the city's grid from the edge of Lake Michigan to its farthest borders in all directions. They track the fortunes of the neighborhoods they serve. In the earliest days, there were inns, where, say, a farmer driving a horse and cart into town could stop for a meal, a belt -- or belts -- of whiskey and, should he take temporary leave of his ambition, a bed for the night. As the 19th century deepened and the immigrant populations of Chicago did the same, the less utilitarian saloons rose up. In time, many of those saloons were propped up by the legion breweries of the Midwest and let out to saloon-keepers as, in essence, retail space for their beers.
Time and circumstance made the taverns into something more than just a place to get a drink. They became community fulcrums: you could eat a hot meal there, bend the ear of local politicians and, if you were one of the many working-class illiterates, get your news by word of mouth rather than by newspaper. Those taverns near factories cashed checks for workers and served them drinks after -- and before -- their shifts.
Eventually, Prohibition put a temporary end to saloons as a licit enterprise, though they continued to function underground, at least for the more well-heeled citizens of Chicago. The Outfit, Chicago's expertly structured mafia apparatus fronted first by Al Capone and then by Frank Nitti, was the primary beneficiary of Prohibition, contrary to the Puritanical intentions of the movement. It was advanced by the Anti-Saloon League, so Prohibition at its roots was a rebuke of not only alcohol but also the saloon as a cultural institution. It was a Protestant pushback against vice and the hard-drinking immigrant culture that was perceived to be ascendant at the time. In the end, though, the Prohibitionists wound up mostly abetting a criminal enterprise of legendary dimensions.
After the purchase of alcohol was once again made legal in 1933, the firebrand "saloon" largely became, at least colloquially, the "tavern" or "lounge." The "sports bar" as a phenomenon has uncertain origins, but, depending on how you define such a thing, it seems to have begun in the years following World War II, when leisured drinking intersected with the necessary media technology.
The first televised US sporting event was a Columbia-Princeton baseball game in 1939. In August of that same year, Major League Baseball made its TV debut with a Reds-Dodgers game called by Red Barber on W2XBS. In 1947, the World Series was broadcast on television for the first time. Given that, even by 1948, there were fewer than 200,000 television sets in the United States, crowding around the scarce and magical-seeming TV set at a public gathering place was the only option for most regular folks. The local tavern made for a natural fit. The allure of seeing the hometown nine for free, albeit not in person, was strong, and tavern owners realized it straightaway.
One of the earliest establishments to make televised sports -- i.e., baseball and more baseball and the occasional prize fight -- part of its otherwise beer-driven business model was Palermo's in St. Louis. Eventually, Palermo's, which was just beyond the third base grandstand of Sportsman's Park, complemented its television set and Philco radio with signed portraits of ballplayers and game-used memorabilia -- familiar trappings of the sports bar to this day.
Whether inspired by or coincident with what was going on at Palermo's, the intuitive pairing of televised sports and drinking at a public gathering place took off. It's easy enough to trace that lineage all the way across the years to this bar on Sheffield Avenue in Chicago. The Nisei Lounge shrinks from the sports bar label ("Nisei is simply a neighborhood bar down the block from baseball's best ballpark where anyone can stop by and see a friendly face and be welcomed," Morrall says), but at some point we all lose the ability to define ourselves. So call it a baseball bar instead -- a baseball bar in Wrigleyville.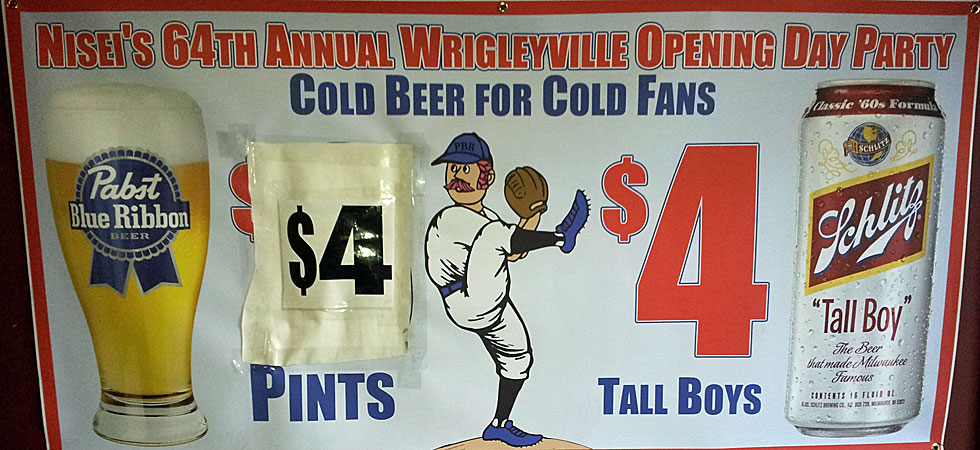 ***
The neighborhood was once nothing but a swath of celery farms stewarded by European immigrants. "Lake View," as it was then known, was a township of its own before being annexed by the city of Chicago in 1889. Thereupon, the area urbanized, with factory districts rising up alongside residential and commercial stretches. In 1914, Weeghman Park was built to accommodate the Chicago Whales of the Federal League. After the Federal League promptly folded, the Cubs moved in, and the venue was renamed as Cubs Park. William Wrigley Jr. purchased the team in 1920, and in 1926 the ballpark was renamed after him -- Wrigley Field.
Around Wrigley Field, and within the neighborhood by then known as "Wrigleyville," there developed a Nihonmachi writ small -- a somewhat haphazard community of dispersed Japanese people and all the workaday things they needed to conduct a life in the city. The Nisei Lounge was part of that.
It's an arresting name, at least for a bar -- Nisei (pronounced "KNEE-say"). Within that name, though, there is a story, and the story argues, if you let it, that Nisei is the quintessential Cubs bar, in that it captures a certain authenticity, a certain "port in a storm" quality that seems to blend in proper measure what the Cubs are, what they have been and whence they come. There's no correct answer to the question posed above -- whether Joe Maddon was in the right bar when he offered to buy a round for the house. But the alternate reality of Maddon's raising his glass to the gallery of regulars at the Nisei Lounge seems like a thing that ought to happen one day.
Let it be said, though, that the Nisei are a people and not a bar. They were second-generation Japanese-Americans, a number of whom spread about the country during and after World War II -- many had been interned in camps by the US War Relocation Authority as suspected enemy aliens not long after the bombing of Pearl Harbor, while others were "merely" pressured to leave the West Coast, where nativist tensions ran higher. The Nisei were more assimilated, less bound to tradition than the Issei -- their parents' generation, the first to leave the homeland in numbers -- and thus they were more willing to undertake whatever slivers of the American experience that were afforded them.
Throughout the 1940s, many of the Nisei landed in Chicago, which was deemed by the federal government to be a fitting place for post-internment "resettlement," as it was known in the sanitized parlance of the day. This new influx of Japanese people -- 150,000 at one point, 30,000 of whom had been interned in California -- nestled in as best they could among the Poles, Irish, Ukrainians, Chinese and African-American enclaves of Chicago. On the South Side, the Nisei found housing and jobs near the University of Chicago at 43rd and Cottage Grove. On the North Side, they made a home for themselves around Clark and Division Streets, in the Gold Coast Neighborhood.
It was a clannish existence of sorts, as was the case in so many immigrant cities. The Japanese new to the city in the years following the war stuck to themselves, partly out of preference, yes, but also partly out of necessity. Out of this somewhat uneasy arrangement, the Nisei Lounge sprouted in 1949. Founded by Kaunch Hirabayashi, the Nisei was a place for these displaced Japanese to gather among themselves and partake in the usual liturgies of neighborhood tavern life -- talking about their families and jobs and local politics, hatching plans and more generally building up, through toasts and laughter and beery debate, a place of their own. Among the regulars were veterans and former members of the "Go for Broke" 442nd -- a decorated US Army regiment made up entirely of Nisei that, barely a year after having been classified as "4-C" (alien or dual national), saw combat in the European and Mediterranean theaters.
The insides of cities shift like dunes, though, as nebulous community borders are erased and redrawn and erased again. So the Japanese of the North Side by the 1950s saw their hub move northward to the growing Lakeview neighborhood, where they'd arrived in search of bigger homes -- sturdy graystones meant to withstand fires, with yards and basements and gangways. In 1951, the Nisei Lounge in a way led the people for whom it was named up Clark Street to Wrigleyville.
The Nisei's new home was in the Links Hall building (built in 1921), next door to the Hamburger King restaurant. The Links Hall dance troupe resided upstairs. Some Cubs players in the 1960s and 1970s made a ritual of stopping by the Hamburger King for a pregame meal. Members of the coaching staff like Joey Amalfitano, Cookie Rojas and Mike Roarke would on occasion drop by Nisei for a drink or a game of pool. That was likely more than an accident of geography, as longtime Cubs equipment manager Yosh Kawano, himself a Nisei, served as a tether of sorts between each of those Lakeview institutions -- the Cubs and the Japanese. Kawano, who was honored first with a stone in the Cubs "Walk of Fame" near the Clark and Addison gate and then, when the Walk was taken up, with a banner hanging from the Wrigley concourse rafters, worked for the Cubs for an improbable 65 years, almost all the while outfitted in a floppy white fishing hat (a hat that eventually made it to the Baseball Hall of Fame).
During the halcyon 1950s and early 1960s, the young boys of Wrigleyville, many Nisei among them, could show up in the seventh inning of a Cubs game, get in without a ticket, help pick up trash in seats afterward and, by doing so, earn free admission to the next game. They made for a somewhat modernized, wholly self-made "knothole gang" of sorts.
However, Lakeview, as was the case with so many other urban areas in the 1970s, began to struggle with social afflictions -- meaning, mostly, poverty and crime. Pre-gentrification, the area was a mix of working-class Asians, blacks, whites and Puerto Ricans, and street gangs like the Gangster Disciples and Latin Eagles held sway where they could.
As Wrigleyville resident and tavern historian Liz Garibay explained, the resurgence of the Cubs in 1984, when they won 96 games, returned to the postseason for the first time in almost 40 years and nearly won the pennant, augured and even enabled the better days to come. The renewed enthusiasm surrounding the Cubs, according to Garibay, prompted some neighborhood reinvestment, particularly among bar owners. Jim Murphy, proprietor of Murphy's Bleachers at the corner of Sheffield and Waveland (and a former Chicago cop), to an extent led the commercial renaissance. Others followed Murphy's lead, and starting in the 1980s Wrigleyville became less a neighborhood that happened to share an urban space with a ballpark and more an outgrowth community at least loosely yoked to the fates and whims of the team.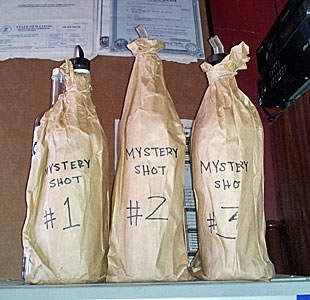 You're never quite sure what you're going to get from a night at the Nisei Lounge.
These days, the ballpark is wreathed by a number of bars that, at least outwardly, would seem appeal to the "bro" stock that's now native to the Wrigley bleachers. (A friend's wife, who once worked at a bookstore in Wrigleyville, told of a post-game brawl among two backward-hat factions. Left behind, after police quelled the mob, was a street full of flip-flops.) In reality, the large-scale bars in Wrigley's shadow aren't so easily pigeonholed. They are popular, nicely appointed bars with a tractor-beam appeal to the fans spilling out of Wrigley after a game or coalescing before it starts. Some, though, may seem too caught in the afterglow of the New Cubs, the Cubs that at times seem as much destination and brand as they do baseball team -- the Cubs that build a jumbotron. There was a time when, as one friend indelicately put it, the stands of Wrigley were "filled with old a**holes" (he said it with a sense of longing and even adoration). But the a**holes are different now.
Part of that is the simple calculus of popularity, and it's not necessarily a bad thing. Sure, broad appeal has a cheapening effect, but being a niche for the disaffected works better if you're an indie band rather than a major-league franchise. Cranky objections are noted, but so is the futility of same.
Rare, then, is the establishment that is able to exist astride the charms of the old and the rousing spirit of the new. Nisei is such a place. Garibay calls the bar "a testament to forgotten Chicago," but it doesn't shrink from the good that's within the newer neighborhood realities.
Burnishing its quiet stature is the claim -- probably true -- that it holds the longest continuous liquor license of any Wrigleyville bar (a friend of the bar once found, deep within the archives of a Chicago Public Library branch, a 1951 yellow pages listing for the Nisei Lounge at its current location; thus elevating the liquor license claim beyond the realm of the anecdotal). This is of course a testament to Nisei's steadfastness, but perhaps it's also a nod to the "municipal wisdom" of its earliest proprietors.
In addition to such liquor-license triumphalism, the Nisei Lounge also claims, with some plausibility, to be Chicago's oldest baseball bar. What constitutes a baseball bar is an uncertain and surely disputed thing, but such tantalizing proximity to the National League's oldest ballpark almost necessarily makes one a baseball bar. If you walk down Clark Street to, say, the L&L Tavern -- the somewhat uninviting yet essential bar where, local lore has it, John Wayne Gacy and Jeffrey Dahmer once drank -- are you still in a Cubs bar? Any given Cubs game will surely be blaring on the L&L's charmingly antediluvian TV, but the bar isn't quite so within Wrigley's grasp. It's on the uncertain border of Wrigleyville and the rich counterculture of Halsted Street, so could you, like those in Nisei on Oct. 14, 2003, hear the gasp of the Wrigley crowd when Steve Bartman's incursions were realized? Probably not. At L&L, the rush of the "L" train is from the Belmont transit hub. At Nisei, it's from the Addison Red Line stop, which ushers you to Wrigley's nearby shadow.
Yet as close as Nisei is to Wrigley and the bustle thereof, it clings to some of its "deep in the neighborhood" feel that one appreciates at, say, the T&A Lounge in Irving Park (the name of the establishment is misleading in the extreme), where one frequently hired-and-fired bartender first got his job in part because he was falsely accused of trying to burn the place down. To its credit, though, Nisei lacks the vague sense of menace that more out-of-the-way Chicago taverns seem to brandish. You go to Nisei because you set out to go there, mostly. But if you wander in for the first time, you know right away you've found a place you'll come back to.
Roger Butler does. He's lived in Lakeview for almost 50 years, and he's been coming to Nisei for almost 20. He made his way here after his old bar, Jimmy and Tai's Wrigleyville Tap, closed down, which meant Butler needed a new place to drink. A friend told him about Nisei. He tried it out. They showed Cubs games. They had pool leagues and dart leagues. He's been here ever since (he leaves to go home sometimes). "I'm the biggest knucklehead here," he says, "but they accept me." The staff and Butler's fellow regulars pitched in to buy him a Blackhawks jersey not so long ago. He likes to wear it with his Cubs hat.
The Old Style sign outside gives Nisei its Chicago bona fides straightaway. Inside, the patchwork tile floor leads you to a single pool table, or to the formica-top bar, which snakes along almost the entire length of the space and accommodates 21 stools with falling-off-your-stool room to spare. The walls are a deep red, the ceiling black, which, along with the spare lighting, keeps it dim enough for all of us to look pretty.
Even in April, Christmas lights wind around the exposed ductwork. Besides the familiar thicket of beer taps -- the Japanese beer Sapporo typically among them -- and spouted liquor bottles, there's the prominent beer fridge of rotating stock and inviting purple glow that's become locally iconic. Tacked up on the wall next to the bar mirror are T-shirts for sale. They carry the Nisei logo and read, "Waiting for a World Series since 1951." Behind the bar is the "Nisei gong," which tolls only on special occasions -- such as the first pitch of the 2015 season. Peer out the back door, and you'll see (and hear) that Red Line train rumbling by every eight minutes or so. On the south wall there was once a door that led to the Hamburger King. On the east wall, there's a painted over door that's now a nook for pool cues but once opened up into Raul's International Barber Shop, where Jose Cardenal used to go for a haircut before stopping by Nisei. The dartboards divide the men's and women's bathrooms. Inside the charmingly spartan men's room, an Old Style sticker adorns the towel dispenser. Above those bathroom doorways are, as ornamentation, old tap handles affixed to two-by-fours.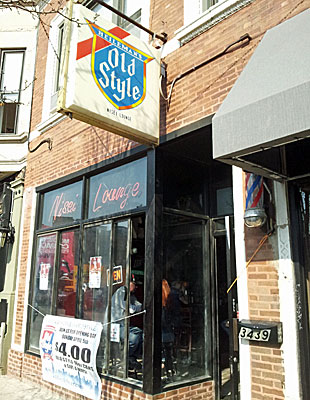 The owners of Nisei Lounge have made it a point to keep the old tavern feel intact.
Wait, let's go back to when you walk in. Along the wall by the front door -- a door with a sticker that declares that neither guns nor Clark the Cub, the team's freshly minted and pantsless mascot, are allowed inside -- is an arrangement of framed documents and portraits devoted to the bar's singular history. There's a city council proclamation honoring Ron Santo. There's a mosaic of old, yellowed Cubs clippings (one is headlined, "3 Ladies Days on Home Stand; Box Seats $1.00"). There's a portrait of beloved regular Kenny Kuzuharu, who served the US in World War II while the rest of his family was in an internment camp. He died a few years ago. Kenny would drink with his friend Jimmy, another regular who, like Kenny, would be waiting outside at 10:30 in the morning, every morning, for the bar to open at 11. Jimmy's dead now, too. They were the last of the Nisei to drink at Nisei.
Then there's a copy of a Chicago Sun-Times lamentation headlined "Goodbye, old friend." Dave Hoekstra's April 22, 2008 column begins thus:
It is not fair for an old man bar to close in the spring.
Especially within the trendy foul lines of Wrigleyville.
The Nisei Lounge, 3439 N. Sheffield, is the neighborhood's last small tavern where you can walk in after a Cubs game, find a seat and discuss the merits of the team's 1964 pitching rotation. The owners still honor the space for a pool table.
On a warm spring day, an old man will walk into the dark lounge wearing a winter coat and no one will notice. The Nisei is that kind of place.
The Nisei Lounge is for sale.
Owners Scott Martin and Din Papageorgakis have a potential buyer, and regulars are convinced the lounge is as good as gone.
Lucky for Hoekstra and the rest of us, the farewell party at Nisei -- cupcakes were served -- turned out to be unnecessary. The fated sale was one of many that fell through, which allowed Morrall and his cousin and business partner Brian Pistorius to make a push for the "old man bar" in 2010. Early on they promised to preserve the place down to its hard-living bones, which gave longtime barkeep Lou Kolar hope but also made her wary that their bid to purchase Nisei would come to grief like so many others. But it happened, and, true to their word, Morrall and Pistorius kept the staff largely intact. Kolar is on her 11th year behind the bar at Nisei. "I really do feel we have a shot this year," she says. She's talking about the Cubs.
Anyway, yes, Morrall and Pistorius upgraded the TVs, equipped the bar to accept credit cards, instituted a "guest bartender" charity venture on Thursday nights (there's a waiting list), fine-tuned the promotional strategy and put in a miniature Wrigley Field scoreboard. Mostly, though, they let the Nisei be the Nisei. That includes still opening at 11 a.m. (Kenny and Jimmy surely approve), especially when there's a day game just up the street. "A lot of times with bars, first thing you do is rebrand, remarket," says Morrall. "But we thought that was one of the advantages of Nisei -- the name, the history. Changing the name and what this place is about was never an option."
As for Morrall's partner, Pistorious, you could say he "admits" to buying a bar in Wrigleyville because he loves the Cubs. That loaded word, however, would suggest it's somehow a demurral on his part. It's not. When he says he bought a bar in large part because he's a Cubs fan -- "Yeah, I definitely did," he says -- it's a statement of consequential simplicity. When one is a Cubs fan, one buys a bar, if one is able.
***
At Nisei, they still (very occasionally) serve "sake bombs," which is a glass of Sapporo on tap served alongside a shot of cold sake. That's probably not the "shot and a beer" they'd serve in Maddon's hometown of Hazleton, but it's one of many such variations you can find in Chicago. For five bucks you can, most days, entitle yourself to a shot of Malort or Jim Beam paired with whatever beer Nisei has christened as Can of the Week. Maybe that's more like it.
Maddon has pledged to become a part of the city, to live in Chicago and at least sample its culture and charms. So given that and the nearness of one to the other, it seems, well, maybe not likely but surely worthy of imagination that one evening Maddon will make his way down Sheffield from Wrigley to Nisei. Maybe a sense of finality will bring him here. He could raise a shot of Malort to whoever's sitting in the 21 stools and say something like, "I told you we'd do it!" Or, if this particular history never crests, he could say, as they survey it all together, "I'm sorry, everyone. We tried."
One game into the 2015 season -- a 3-0 home loss to the Cardinals -- the crowd at Nisei would probably bet money on the latter, but they'll surely bet their hopes on the former. They probably have more of that to spare, anyway.