Life without Oscar
How friend and countryman Carlos Martinez, and the entire Cardinals organization, are moving forward in the wake of Oscar Taveras's tragic death.
Life without Oscar
How friend and countryman Carlos Martinez, and the entire Cardinals organization, are moving forward in the wake of Oscar Taveras's tragic death.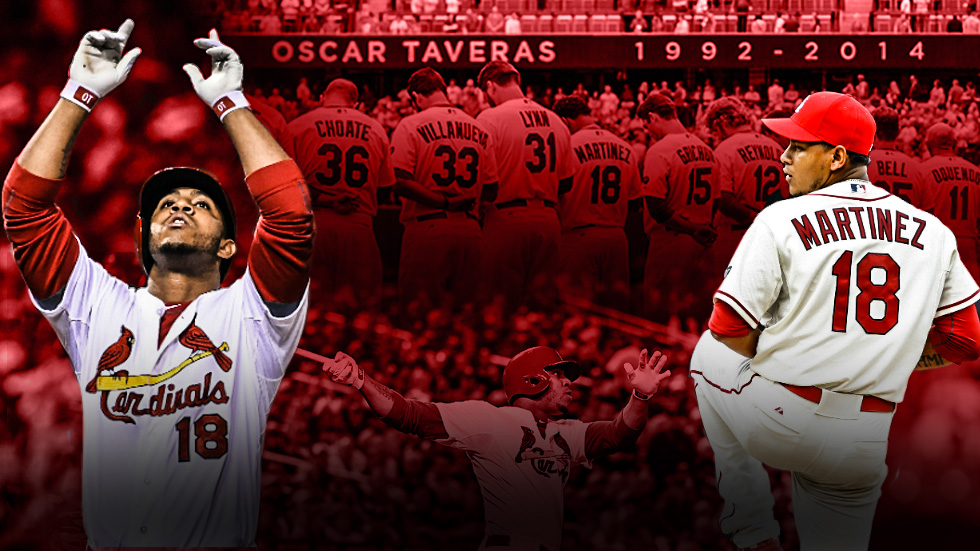 No universal truth exists when it comes to handling death. When it happens in sports, those left behind feel affected much like blood relatives do. Major League Baseball teams spend virtually every day together, from mid-February until October 1, or later, in spaces tighter than most adult siblings experience. When a baseball team calls itself a family, it's more than a cliche -- there's a social reality to it.
From the outside looking in, it seems the shock of Oscar Taveras dying has eased collectively for his friends and colleagues on the St. Louis Cardinals. The team still mourns him, and might always, but it is no longer in mourning. Even one of Taveras's closest friends since childhood in the Dominican Republic, pitcher Carlos Martinez, says he has mentally processed what happened to Taveras -- as much as anyone can get their head around it -- and has been able to move forward with his emotions. As with life, baseball moves on.
That doesn't mean Taveras or his memory have been discarded, or that the sadness of his loss is any less. Emotions stick, and physical reminders pop up. The Cardinals wear a black "OT" patch on their jerseys. Martinez wears Taveras's old uniform number now, No. 18. Taveras's family has come to the stadium. Video tributes have played on the scoreboard. On occasion, a Taveras jersey will hang in the dugout. Reporters will ask how the team is doing without Oscar. Memories will pop into teammates' heads on their own. Some of those memories are of Taveras's smile. He was "a happy kid," general manager John Mozeliak said. He loved to play baseball. He loved to hit. He smiled a lot. He smiled a lot when he hit.
Some memories of Taveras even bring back a bit of anger, even with his best friend. Martinez admitted as much in June during an interview at Busch Stadium with the help of Spanish interpreter Kleininger Teran, a Cardinals coach.
"Yeah, I got mad at him little bit," Martinez said. "It was something I'd talk to Oscar about. I'd say, 'You've got to take care of yourself. Oscar, you've got to be careful.' It's not something I'm proud of or anything like that, but it's something I remember doing. Talking to him, telling him to watch out.
"Those were hard moments when I first heard about him. I couldn't believe what was happening. Now... I feel like I understand what happened -- not that I like to think too much about it."
Taveras, one of the top prospects in Major League Baseball at the time, has been gone since October 26, just 10 days after the 2014 season ended for the Cardinals in the NLCS, when a one-car wreck killed him and his girlfriend, passenger Edilia Arvelo. Investigators said Taveras was driving drunk when the crash happened, his blood-alcohol level five times the legal limit. Both people left behind friends and family, among them for Taveras a 1-year-old son, also named Oscar, whom he had with another woman. Taveras also left a baseball organization unsure, at first, what to do next.
Mozeliak had faced something like this twice before with the Cardinals. He was the top assistant for general manager Walt Jocketty in 2007 when pitcher Josh Hancock was killed in a crash early in the season -- his blood-alcohol content was over the legal limit, too -- and five years before that, when pitcher Darryl Kile died of a heart attack. Mozeliak worked in the scouting department then. Even with each incident spaced out over a few years, it's a lot for one organization to handle. A lot for any one individual to take on.
"I try not to think about it in those terms," Mozeliak told CBS Sports. "Accidents happen. Everybody will eventually have the same ending. I think these things, in a lot of ways, help you appreciate things in a way you might not, otherwise. It's comforting, seeing how people have handled things like this through the years.
"When I was first told, I was in shock," Mozeliak said. "I really was in disbelief. I was in my home office about to watch a World Series game, and you have this helpless feeling, like, 'What do we do?' I just recall taking a deep breath and trying to get my wits. We were going to find out exactly what happened, and try to validate what I'd been told. It's not like here in the States where you can pick up a phone and have the exact answer you need to know."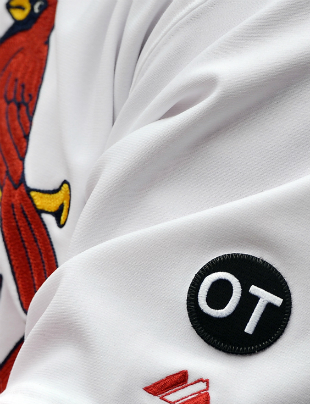 Oscar Taveras is gone, but not forgotten, in St. Louis. (USATSI)
Mozeliak remembers watching the Royals play the Giants in the World Series, notably pitcher Yordano Ventura inscribing Taveras's name and uniform number on his cap and shoes.
"Touching," Mozeliak recalled, but it also occurred to him that there were league rules about putting stuff on jerseys. Grief follows its own rules.
The Hancock and Kile deaths happened during the season, burdening the Cardinals with what must have been a hellish challenge of grieving while trying to play. In all practical purposes, Hancock and Kile defined those seasons. Grieving for Taveras was a different challenge for the Cardinals. Like with Tony La Russa in 2002 and 2007, the point man was the manager, Mike Matheny.
"I don't know if anybody is prepared to handle this, but Mike has amazing skill to adjust and adapt and say the right things," Mozeliak said. "I remember he and I flying down together for the funeral. We didn't talk a lot about it, but we certainly knew why we were on that airplane and how we were going to move forward. We wanted to give it a few days to let things happen, in terms of the funeral and the family, and not spending time worrying about what the team needed to do, or what we needed to look like."
Matheny spent a lot of time on his phone, calling and texting. Checking in with the guys. What he needed to do. Not an easy job.
"I thought that, for the players he reached out to, it was thoughtful and sensitive and point-on," Mozeliak said.
Matheny didn't say much to the public immediately, but when he did, it was powerful, helpful, and even poetic:
"I was asked last night to give some words regarding the tragic death of Oscar Taveras, but I just simply couldn't.

First of all, it felt like a bad dream that could not be real, and when reality kicked in, my words didn't even seem to make sense. To say this is a horrible loss of a life ended too soon would be an understatement. To talk about the potential of his abilities seemed to be untimely. All I wanted to do was get the guys together and be with our baseball family. I know the hurt that comes along with buying into the brotherhood of a baseball team. That hurt is just as powerful as the joys that come with this life. Not to say it is even close to the depth of pain his true family is going through, but the pain itself is just as real. The ache is deep because the relationships were deep, and forged through time and trials.

To the many fans who have already reached out with condolences, and to the many more who are in mourning, thank you for taking these players in, like they are one of your own. This level of care is what sets our fans apart.

In my opinion, the word "love" is the most misused, and misunderstood word in the English language. It is not popular for men to use this word, and even less popular for athletes. But, there is not a more accurate word for how a group of men share a deep and genuine concern for each other. We loved Oscar, and he loved us. That is what a team does, that is what a family does. You will be missed, Oscar."
On the flight back to the US, Mozeliak said, the delicate topic of what to do about replacing Taveras was broached. It wasn't too soon, even if it might have felt like it, because the general manager meetings were coming up in a week or so. Mozeliak soon would have a formal opportunity to act. Baseball sympathizes, but it also keeps on moving.
Although he was a reserve during the 2014 playoffs when he hit a memorable home run, Taveras figured to head into spring training competing for the starting job in right field. It wasn't a sure thing Taveras would win the job, but that was the preferred outcome.
He loved to play baseball. He loved to hit. He smiled a lot. He smiled a lot when he hit.
The organization liked the depth it had in the outfield, but Mozeliak knew the void left by Taveras needed to be addressed in some way -- probably, if not necessarily, by going outside of the organization in free agency or the trade market. Replacing Taveras the person would be impossible.
About three weeks after Taveras died, the Cardinals made a big trade with the Braves for Jason Heyward. Right-hander Shelby Miller, who had made 63 starts in two seasons with the Cards, went to Atlanta.
"We felt like we had to do something," Mozeliak said. "We feel the deal we made was certainly worth the risk. We could have sat back and done nothing. We liked our depth in the outfield. We expected Peter Bourjos to have a better season, and we had Randal Grichuk, whom we liked a lot.
"But we felt we were coming from a spot where doing nothing was not the answer."
Identifying Heyward as a possible answer was a masterstroke. If Mozeliak had written down a wish list of qualities he wanted the new Cardinal outfielder to have, Heyward seemingly embodied most. He was young, but he had experience. He was big and strong, but also fast. He had a great reputation on defense, but he also needed a change of scenery, perhaps, to get his potentially big bat to produce a little more. He wasn't tied to a big contract but, if things worked out in St. Louis, it was possible he could sign a long-term deal and stay and make a home there. And he knew what it was like to lose a teammate and close friend. The job Oscar Taveras never got a chance to compete for would be Heyward's, and that was it. Stability, production, possible long-term sustainability, and empathy. Someone who wouldn't worry about being "the guy who was replacing Taveras," being the guy replacing someone who had died.
The uniform number Heyward wore in Atlanta and wears for the Cardinals -- No. 22 -- is for Andrew Wilmot, a high-school friend and teammate who was killed in a car wreck while attending college in Tennessee. Wilmot's number is the focal point of Heyward's positive thoughts about his fallen comrade. Positive thinking is important for so many ballplayers. It encourages you during the rough times, when you're not hitting or the team is losing. It's not only crucial in fighting through slumps, but it helps them keep perspective in general. They're still playing a game. They're making a lot of money doing it. They're still alive, when others are no longer.
"I'm trying my best to make something positive out of their number," Heyward said. "I don't know how else to feel about it. You want to celebrate people's lives. You deal with it the best way you can. There's really nothing else. You never want to be negative about it, there's no room to be negative. Carry those people with you in your heart. Be thankful for the time you had with them. Appreciate any opportunity you get to celebrate them."
Matheny wore No. 22 in previous seasons, but passed it to Heyward after talking Trevor Rosenthal into giving him No. 26. Matheny wears No. 26 in tribute to Sean Glanvill, a St. Louis native and sports fan he had come to know who had sustained a brain injury playing youth hockey in 2007. Though not expected to survive the night, he lived another seven years. As Derrick Goold explained in a St. Louis Post-Dispatch story from December, switching uniform numbers isn't as simple as two teammates settling on a price. Not only are uniform numbers tied to a player's identity in the figurative sense, but also in the legal one. Changing numbers can be a hassle with jersey sellers. What are they going to do, after all, with all of the "No. 22 Matheny" jerseys in their warehouse when he's not wearing No. 22 anymore? Well, they make Matheny buy them all. Really.
Regardless of the complications, Rosenthal obliged and gave Matheny his old number, and switched to No. 44 -- which Martinez had worn in 2014. Martinez announced in December that he wanted to wear No. 18 in order to honor Taveras. Taking on that responsibility turned out to be a good sign that Martinez was taking Taveras's death as well as one could.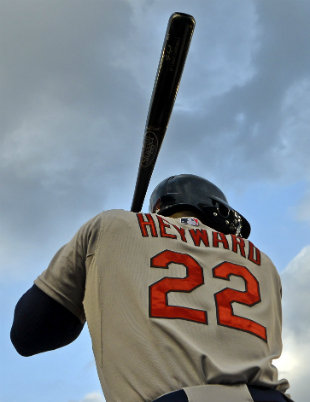 The Cardinals targeted Jason Heyward early on to fill what would've been Taveras's spot in right field. (USATSI)
The Cardinals had worried a lot about Martinez, and how he would handle the loss. A year and a half older than his best friend, Martinez hadn't always acted in the most mature ways since he reached the major leagues. The Cardinals thought he needed to be better at handling his emotions -- not unlike a lot of people in their early 20s. He also didn't use the best judgment at times. Notably, in February 2014, the Cardinals had to help Martinez remove links to pornographic material he had "favorited" on Twitter. The links were open for anyone in the public to see; it was an embarrassment and disappointment for the organization and, the Cardinals hoped, for Martinez. As Matheny put it, was it something Martinez wanted his young children -- one of whom is preschool-aged -- to see? Was it how Martinez wanted to be remembered?
The Twitter incident encouraged Martinez to use better judgment and more caution. But something so shocking and devastating as the death of his best friend -- someone Martinez considered a brother? The Cardinals braced themselves for an erratic reaction. It hasn't happened that way, partly because of the guidance Martinez has received from teammates and others within the organization.
Jhonny Peralta is about 10 years older than Martinez and Taveras, but he also grew up in the Dominican Republic. He knows what it's like to be a young person trying to make it in professional baseball while living far away from home. Peralta has tried to be something of a big brother for Martinez, as he was for Taveras.
"It's important for me, because I've been around in the major leagues for a couple of years, and I know how it can be for the young guy," Peralta said. "I know the situation for him, and Oscar before, they're the kind of guys who would go out and do a lot of things. So I tried to help. For their future."
Peralta said Martinez's future concerned him once news of Taveras came.
"A little bit, because he looked at Oscar like a brother," Peralta said. "I didn't know how he was going to handle it after the situation happened with Oscar. But he's handled it pretty good. He's a strong guy, stronger than maybe we realized. I think he's more mature. That happened, and he learned how life is and how it can be over. He's tried to be closer to his own family. He's doing well with that."
As the team's director of international operations, Moises Rodriguez has been familiar with Martinez, Taveras and others like them since their teen years. Although he's somewhat removed from Martinez's life from a professional standpoint these days, he remains a friend. One of the first members of the Cards organization to learn of Taveras's death, Rodriguez remembered what his first thoughts were.
"My immediate response after hearing about the incident was, 'How is Carlos going to react?' knowing that he and Oscar were tight," Rodriguez said. "Part of his success could be that he learned from that situation."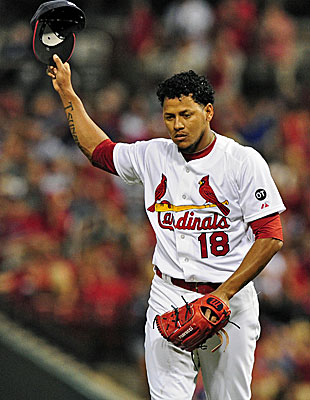 After assuming Oscar Taveras's No. 18, Carlos Martinez has become an anchor in the Cardinals' rotation. (USATSI)
A harsh way to learn, for sure, but not necessarily an alien one for many ballplayers who grew up poor in a foreign country. It's true that major leaguers, once they establish themselves in the show, make good money. Players with careers of any significant quality and length can be set up for life. The process of getting there can be much less glamorous. And for every player who makes it, like Martinez, or was on the verge of making it, like Taveras, there are dozens who languish. For all of them, the transition to life in the United States can be hard, which is one reason the Cardinals established a baseball academy in the Dominican Republic. They teach baseball skills, but also English skills and life skills. The kids attending are as young as 16. In the wake of Taveras's death, the Cardinals wanted to put greater emphasis on developing those life skills. One being, "Don't drink and drive."
"All of these individuals, when they're this athletic and have this type of promise, feel bulletproof," Mozeliak said. "Yes, they have certain skills but those skills don't necessarily translate to avoiding injury or disaster."
The Cardinals recently moved their Dominican academy to a new facility, Mozeliak said. Going forward, what the students there will learn will be less about baseball and more about life.
"We need to become much more aggressive," Mozeliak said. "What we've done in the past is very positive, in the sense of, 'You shouldn't be doing this.' But clearly, it wasn't heard. Mistakes can and will happen. We try to mitigate the risk of it happening again.
"We're not saying we're going to be able to change how everybody thinks, but if we can make people more aware of the risks of what they're dealing with here, maybe that [future] event doesn't happen in the first place."
The drunken-driving fatality rate is higher in the US than the Dominican Republic, but baseball teams who mine the DR for talent face challenges keeping people of Taveras's demographic safer. It's the opinion of Mozeliak, Peralta, Rodriguez and others that it's easier for young ballplayers to find danger in the DR. The legal drinking age is 18, and law enforcement is weaker there. Road conditions are worse, and they're not lighted as well as in the US. Easier access to alcohol plus fast cars, a little bit of money and relatively dangerous driving conditions can be a toxic mix.
"They put everything in front of them down there, and there's not a lot of rules," Peralta said. "They can do anything they want. A young guy with money down there, it's dangerous."
And there are limits to what any team can do to protect its players, especially those in a foreign country.
"There's a misconception that you've got control of them contractually throughout the whole year," Rodriguez said. "You don't really have that kind of control."
Peralta spent a lot of time trying to counsel Martinez, Taveras and others about staying responsible among so many temptations.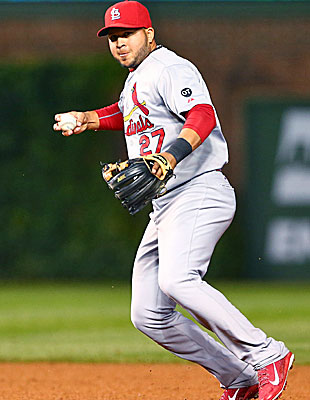 Jhonny Peralta has been a stablizing presence in the St. Louis clubhouse. (USATSI)
"Guys like Carlos and Oscar, they have tried to have a lot of fun," Peralta said. "They were young guys who had everything they could imagine. When you're young like that, sometimes you do things out of control. But I've tried to talk to them."
The Cardinals don't believe Taveras had an addiction problem with alcohol.
"I don't think so," Mozeliak said. "Some kids are more active drinkers than others. I don't recall in the minor leagues that we found he had a problem."
Taveras and Martinez liked to have fun, but neither was considered anything close to a problem child when the Cardinals signed them.
"Not at all," Rodriguez said. "He and Oscar -- Oscar is about a year-and-a-half younger. But they were typical kids: Happy to be working in baseball and competing. Carlos was a competitor."
And he was relatively straight-laced.
"Carlos was actually studying to be an altar boy when he was younger," Rodriguez said. "Literally, yes." Carlos was very close to his family, got a lot of support from grandmother and uncle who helped raise him. He was being guided properly along the way. It showed me there were values present
"We never had any issues with keeping an eye on Carlos off the field."
Martinez was raised by an uncle and his grandmother after his mother died while he was an infant. The close relationships he had with his family would serve him well later, but the arrangement became an issue when it came to signing with a major-league team.
The Boston Red Sox actually signed Martinez first, in March 2009 when he was 17 years old -- and called Carlos Matias. In April, however, Major League Baseball voided his contract on the basis of identity fraud, a topic to which the sport had become sensitive because of players lying about their age and origin in order to make themselves look more attractive to scouts. WEEI in Boston reported, however, that the investigation found Martinez "had assumed the surname of the uncle who became his guardian after his mother passed away in his infancy." There also were minor discrepancies with his birth date. Martinez, it seemed, wasn't trying to cheat anyone -- but the Red Sox still had to give him up. The Cardinals swooped in and signed him.
Martinez has given the Cardinals organization pause at times, along with legitimate concerns about his maturity. But like Peralta said, he's proving to be stronger mentally than they expected.
"He's handling it remarkably well, but I do think this very much was a wakeup call for himself," Mozeliak said. "When you think about maturing, about having to make changes quickly, this was a way to do that, and it's unfortunate that something like this had to happen. But I am happy to say that he has turned the corner and is very focused on what he needs to do."
Martinez turning the corner is evident in his performance. He carried a 2.52 ERA in 17 starts into the midseason break. After two seasons with the Cardinals that gave underwhelming results, Martinez was named to the National League's All-Star team and, although he didn't pitch in the game, Martinez relished the opportunity to be counted among the best players in baseball.

He is finding the success that Taveras never would.
"I think about him in certain moments," Martinez said. "He comes into my mind."
A moment of truth in that regard came May 31, when the Cardinals brought Taveras's family to Busch Stadium for the one-year anniversary of his major league debut. His mother came, his father came. The Cardinals played a video tribute to Taveras on the scoreboard. There weren't many dry eyes in the stands, or on the field. And, in an amazing bit of cosmic happenstance, Martinez was scheduled to pitch that day.
Scripture says God doesn't give anyone more than they can handle, but ...
"I never expected to pitch the day Oscar's family came for the tribute," Martinez said. "There was a moment when I was warming up in the bullpen when I said, 'I can't pitch today. I can't do it.' But they took me aside and said, 'Hey, we need to win this game. We need your help.' I calmed down and relaxed."
Pitching coach Derek Lilliquist told the Post-Dispatch about the tenor of the moment:
"There are a lot of emotions going on right there," said pitching coach Derek Lilliquist, who was standing nearby. "Did he have tears? Yes. He also had a responsibility."
And he pitched great. He pitched his best game as a starter to that point in his career, shutting out the Dodgers over seven innings in a 3-1 victory. Another test, another one passed.
"You just go to the mound and try to do your job," Martinez said.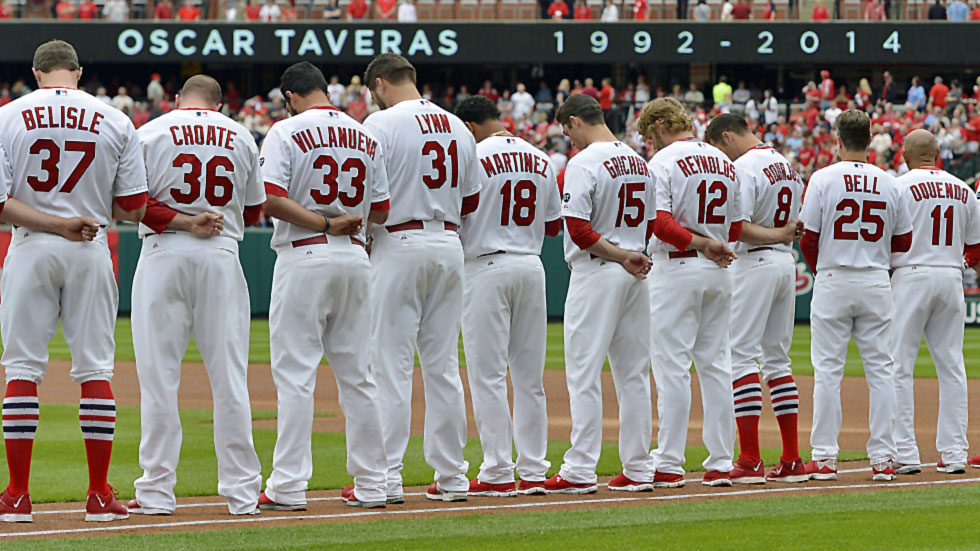 The Cardinals have paid tribute to Oscar Taveras in different ways throughout the season. (USATSI)
The Cardinals collectively, despite a series of injuries to other important players, are doing the same thing. They came out of the All-Star break with the league's best record. After an adjustment period, Heyward has been getting great results at the plate. Even if he regresses some and his ERA goes up, Martinez has shown himself to be a fighter and a good pitcher. A reliable teammate. It's what Taveras might have been on the verge of becoming.
In 2014 Taveras struggled to hit in the majors like he had in the minors, though 248 plate appearances isn't nearly enough to be definitive. Chances were, his talent would show itself consistently with more experience. Therein lies another tragedy, of what might have been.
"I was always bullish on him as a player," Mozeliak said. "There were still things he had to do and work on. The ankle injury he suffered the previous season had a negative effect on performance. But he was coming along. I don't think anybody ever doubted if he'd hit or not. Nobody wanted to help the club more than he did. He was frustrated with his struggles at times."
The Cardinals have covered themselves the best they could after Taveras's loss. But the organization will miss him -- and not just emotionally -- for years.
"You're going to miss Oscar in 2017, and beyond, when he's not your three-hole hitter," Mozeliak said. "How you replace that, it's extremely difficult to measure, but from a business standpoint, it was a big hit on the organization."
Thinking again about the first time he heard Taveras was gone, Mozeliak remembered simply liking the person Taveras was.
"I liked ... him," Mozeliak said. "I was not only a fan of him as a player and wanted him to do well, but I was actually ... I was just sad he was gone. Because it was, like, why did this happen?
"He had that infectious smile. Throughout his minor-league career, had a lot of success, so he smiled a lot."
Martinez could not forget him, even if it was painful to remember.
"I knew Oscar, we played played together since, like, 11 years old. We shared a lot of big moments since then.
"He was a really good man."
Rodriguez could tell Martinez was maturing during a conversation they had in the offseason.
"It was more about his kids and where they were going to school this year," Rodriguez said. "So we talked about the preschool where he was going to enroll his kids. I live in the same area, and it's a school my wife has talked about with our kids. We were having more mature conversations about family than maybe we would have in the past and, to me, that was a sign of some maturation in a good way. That's part of what you need to keep yourself on track in the big leagues."
Peralta observed that Martinez is staying on the right track. For the most part, the Cardinals collectively are too.
"Everybody's handled it pretty good," Peralta said. "The coaches and the GM, they handled it the best they could. It was hard for them, too. But they brought in Heyward, and that's a guy who has helped a lot. There's a lot of emotion here. It's not an easy thing.
"Carlos, too. He's doing better and better. How I see him now, he's focused a lot on the family."
Peralta plays the part of sturdy clubhouse veteran, but he feels the loss of Taveras like anyone else.
"I think about him," Peralta said. "We were good friends, close friends. I tried to talk to him a lot last year when he was here. You have him in mind all of the time. You remember your friends forever.
"He was one of the good guys."