2013 Eye on Baseball 'Bronze Cleat' Awards: American League
Base-running is easy to overlook in the grand scheme of the baseball game, but we here at EOB want to take a second to recognize the game's best players on the bases. Here are our first annual 'Bronze Cleat' awards for the AL.
by

Eye on Baseball staff

• 4 min read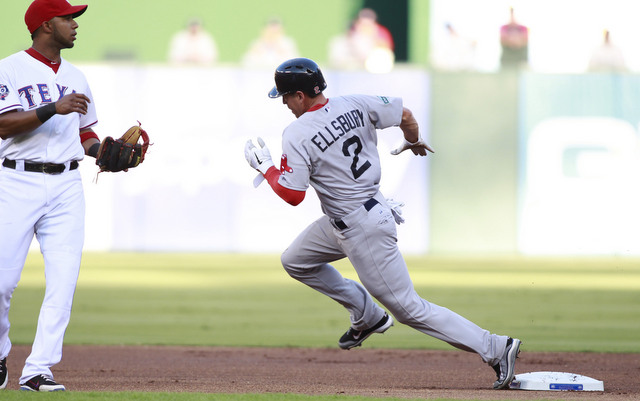 Baseball's awards season came to an end Thursday when Miguel Cabrera and Andrew McCutchen were named the MVPs in the AL and NL. Awards cover almost everything these days -- hitting brilliance, pitching dominance, defensive acumen, managerial genius, you name it.
There is one skill that goes largely unrecognized, however: base-running.
Base-running is one of those things that is easy to overlook. We all notice the fast base-stealers and the slow base-cloggers, but there's a wide range of possibilities in between. The guy who drives in a run with a base hit gets all the attention while the guy who scored from second on the single is mostly forgotten. Well, we don't want to forget those guys.
Baseball has the Gold Gloves for defense and Silver Sluggers for hitting, so we're going to follow suit and introduce the "Bronze Cleats" for base-running. Cheesy? Yeah, kinda. But look beyond the name to understand what we're trying to do. We want to recognize the players who helped their team the most on the bases, and not just with stolen bases. The guys who go first-to-third on a single or score from first on a double, that stuff is super important as well.
Our methology is simple. We had four ballots -- one each for our three Eye on Baseball bloggers (Mike Axisa, Matt Snyder, Dayn Perry) plus one for the base-running WAR category at FanGraphs (to add objectivity) -- and used a points system similar to the actual awards. The ballots ran three players deep at each position (10 for outfielders) with five points for first place, three for second and one for third. The player with the most points wins the Bronze Cleat. Got it? Good.
Below are the winners for each position in the AL. Here are the NL winners. If you're interested, and I'm sure you are, the four ballots can be seen right here. Some of these names will not surprise you, but others surely will.
Catcher
Jarrod Saltalamacchia, Red Sox: Catchers aren't exactly known for their base-running prowess, so the pickins were slim at this position. Among catchers with at least 350 plate appearances this season, Saltalamacchia ranked second in both stolen bases (four) and times taking the extra base (38 percent). The league average for taking the extra base is around 40 percent, by the way. Derek Norris took the extra base a whopping 55 percent of the time in 2013, but he started 40 fewer games behind the plate than Salty. Jason Castro deserves a mention for his work on the bases as well.
First base
Eric Hosmer, Royals: The first-base race was rather close, with Hosmer narrowly beating out Edwin Encarnacion and Chris Davis. They all grabbed those extra bases at a similar rate (45-47 percent), but Hosmer separated himself by going 11 for 15 in stolen base attempts. The other two guys stole 11 bags combined. Encarnacion missed the end of the season with an injury and the difference in playing time might have cost him the award.
Second base
Emilio Bonifacio, Blue Jays/Royals: Even though Jason Kipnis stole more bases (30 to 28) and had a better stolen-base success rate (81 to 78 percent), Bonifacio won in a landslide because he dominated in the other aspects of base-running. He took the extra base a ridiculous 61 percent of the time in 2013, the fourth-highest rate in the league among players with at least 400 plate appearances. One of the guys head of him, Brian Dozier, was a distant third in the voting because he swiped only 14 bags in 21 attempts (67 percent).
Shortstop
Elvis Andrus, Rangers: This should be no surprise. Andrus has been one of the game's elite base-runners since breaking into the show four years ago, and he led all AL shortstops with 42 steals in 50 attempts in 2013. He led by a lot too -- Alexei Ramirez was second with 30. Andrus was also among the best in the league by taking the extra base 56 percent of the time. Elite base-stealing, elite reads and instincts. Alcides Escobar and Ramirez deserve a mention for their strong work on the bases, but this was Elvis' award to lose.
Third base
Kyle Seager, Mariners: Seager led all AL third basemen in steals (nine in 12 attempts) and rate of extra bases taken (51 percent), so this wasn't a difficult choice. There's an excellent chance Brett Lawrie would have won -- he also had nine steals (in 14 attempts) while taking the extra base 50 percent of the time --- had he not played 53 fewer games than Seager due to injury.
Outfield
Jacoby Ellsbury, Red Sox; Rajai Davis, Blue Jays; Mike Trout, Angels: Ellsbury was unanimous atop the four ballots. He led all of baseball with 52 stolen bases, which is made even more impressive by the fact that he was only caught four (!) times. That's a 93 percent success rate, otherwise known as out of this world good. Ellsbury was only about league average at taking the extra base (42 percent), but his off the charts success on steals is worthy of the top spot.
Davis stole 45 bags in 51 attempts (88 percent) while taking the extra base 39 percent of the time. In most years, that would be good enough to win. Same goes for Trout, who was successful on 33 of 40 steal attempts (83 percent) and took the extra bag 59 percent of the time. Alex Rios finished a close fourth on our ballot, but there was a pretty big gap between those four and everyone else.
Designated hitter
David Ortiz, Red Sox: This was a tough one because A) DHs are like catchers in that they usually don't offer speed; and B) There aren't many full-time DHs out there these days. A lot of teams rotate players through that spot depending on who could use a day off their feet in the field. Big Papi went a perfect 4 for 4 in steal attempts and took the extra base 23 percent of the time. That's enough to win at this position.
Adell shows part of the reason why Los Angeles drafted him 10th overall in 2017

And, well, they're probably right

Supposedly, MLB execs have discussed letting teams hit any three hitters they want in the...
Keep tabs on the top 50 free agents on the market right here

After the departures of Steven Souza and Corey Dickerson, the Rays add a right-handed bat

Rasmus essentially walked away from baseball during last season