2013 Eye on Baseball 'Bronze Cleat' Awards: National League
Base-running is easy to overlook in the grand scheme of the baseball game, but we here at EOB want to take a second to recognize the game's best players on the bases. Here are our first annual 'Bronze Cleat' awards for the NL.
by

Eye on Baseball staff

• 4 min read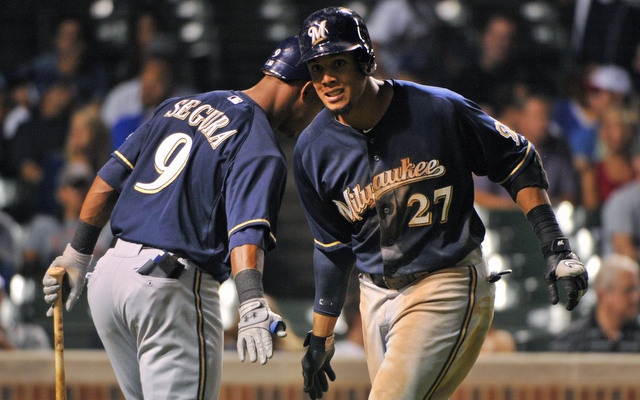 Earlier Friday, we introduced our the 2013 AL Bronze Cleat award winners, which is our new way of honoring the game's best base-runners at each position. Gold Glove, Silver Slugger, Bronze Cleat ... get it?
Base-running is easy to overlook and it's time to give these guys some love. For an explanation of what we're doing and how we're doing it, let me refer you back to the AL post:
We want to recognize the players who helped their team the most on the bases, and not just with stolen bases either. The guys who go first-to-third on a single or score from first on a double, that stuff is super important as well.

Our methology is simple. We had four ballots -- one each for our three Eye on Baseball bloggers (Mike Axisa, Matt Snyder, Dayn Perry) plus one for the base-running WAR category at FanGraphs (to add objectivity) -- and used a points system similar to the actual awards. The ballots ran three players deep at each position (10 for outfielders) with five points for first place, three for second and one for third. The player with the most points wins the Bronze Cleat. Got it? Good.
Below are the winners for each position in the NL. If you're interested, and I'm sure you are, the four ballots can be seen right here. Some of these names will not surprise you, but others surely will.
Catcher
Jonathan Lucroy, Brewers: Catchers aren't known for base-running, so Lucroy is the best of a bad crop. He led all Senior Circuit backstops with nine stolen bases and was caught just once while taking the extra base 21 percent of the time. League average is 40 percent or so. A strong case can be made that Russell Martin (9 for 14 in steal attempts, took extra base 39 percent of the time) was robbed, but the voters have spoken. Lucroy wins.
First base
Paul Goldschmidt, Diamondbacks: Goldschmidt really doesn't get enough credit for being such a great all-around player who helps offensively, defensively and on the bases. He was the runaway Bronze Cleat winner at first base because he led the position in both stolen bases (15) -- three players tied for a distant second with six apiece -- and rate of extra bases taken (41 percent). Easy choice here. The guy's a stud no matter what he's doing on the field.
Second base
Daniel Murphy, Mets: After spending the first few years of his career as an OK base-runner, someone who wouldn't kill his team with his legs but wouldn't do much to help out either, Murphy was borderline elite in 2013. He led all NL second baseman by stealing 23 bases in 26 attempts (88 percent) and taking the extra base a whopping 61 percent of the time. That's the second-highest rate in the entire league among players who batted 350 times. Only NL MVP Andrew McCutchen was better. Matt Carpenter deserves a shoutout for his work on the bases this year.
Shortstop
Jean Segura, Brewers: Segura led all players at his position with 44 steals in 57 attempts (77 percent) and he was essentially tied with Ian Desmond by taking the extra base 52 percent of the time, again the best at the position. There are a lot of speedy shortstops out there and many of them do a great job of going first-to-third on a single or advancing on a wild pitch, but Segura stood out from the pack this past season because of his bulk stolen base total. The shortstop position would have been far more interesting had Everth Cabrera not been suspended 50 games for his ties to Biogenesis.
Third base
David Wright, Mets: I think Wright has reached "he's so good he's boring" status. We've marveled at his ability for so long that it has sort of lost its appeal. Wright stole 11 more bases than any other regular third baseman in the league (17 in 20 attempts) and he was essentially tied for first by taking the extra base 43 percent of the time. He was unanimous, getting the first-place vote on all four ballots. Ho hum.
Outfield
Carlos Gomez, Brewers; Eric Young Jr., Mets; Starling Marte, Pirates: There are some truly outstanding outfielders in the NL, but none stood out on the bases as much as Gomez and Young. They clearly separated themselves from the pack and it showed in our voting. Young led the circuit with 46 stolen bases (in 57 attempts) and he hustled for that extra base 55 percent of the time. Gomez swiped 40 bags in 47 tries and took the extra base 44 percent of the time. They were both outstanding.
Marte, meanwhile, is a worthy third-place finisher. He did lead the league with 15 caught stealings, but they came with 41 stolen bases and a 52 percent extra-base rate. McCutchen and Hunter Pence were right behind Marte but fell short because of their modest stolen-base totals. All three guys were well behind Gomez and Young in the voting, however.
Pitcher
Zack Greinke, Dodgers: No one expects pitchers to hit or run the bases well, so anything they give is a bonus. Greinke and Andrew Cashner were the only NL pitchers to steal more than one base this year, and both stole two in two attempts. Greinke took the extra base 21 percent of time and had plenty of practice -- he had a .409 OBP in 2013 and was running all the time. Maybe we should dock him for not stealing more bases considering how often he was on base.
Walker was a tremendous all-around player, but Coors Field undoubtedly inflated his career...

A beardless Wilson says that he tried to outrun the police on the second day he had his driver's...

The Diamondbacks outfielder was not impaired, he was just going way too fast
MLB can unilaterally implement rule changes, which will also include limits on mound visit...

If the MLBPA wants to repair MLB's salary structure, it should push for more money for young...

Fans aren't happy Gerrit Cole and Andrew McCutchen have been traded away