2013 MLB All-Star Game: Final Vote player profiles
The All-Star rosters were revealed Saturday, but there are still two roster spots up for grabs. Here's a look at the candidates.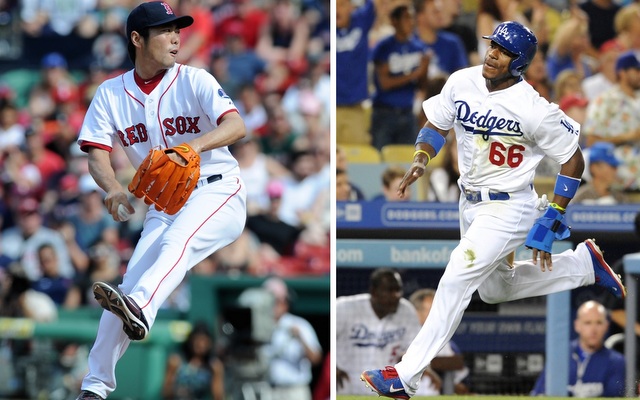 More All-Star Game: AL and NL Rosters | All-Snub Teams | Knobler: How they were picked
Sixty-eight of the 70 total All-Star Game roster spots were revealed on Saturday evening, with one spot in each league remaining up for grabs. Those final spots will be voted on by fans via the Final Vote ballot. You can cast your votes right here.
A total of 10 players -- five relievers in the American League and five position players in the National League -- are competing for those two roster spots. Here is a rundown of all 10 players, explaining exactly why you should vote for each of them.
AMERICAN LEAGUE

Joaquin Benoit, Tigers
Not only does Benoit have a 1.78 ERA and 1.02 WHIP in 35 1/3 innings for the Tigers, he's also stepped in as closer and gone a perfect 6-for-6 in save chances. After last year's home run problems (1.8 HR/9), Benoit has surrendered just two long balls this season and none in his last 24 innings.
Steve Delabar, Blue Jays
Part of an underrated Toronto bullpen, the right-handed Delabar leads all AL relievers with 57 strikeouts. He's surrendered just two runs in his last 19 innings and none in his last 14 innings as Casey Janssen's setup man, dragging his ERA down to 1.58 in 40 innings.
David Robertson, Yankees
Mariano Rivera's setup man is having another marvelous season, with a 2.36 ERA and career-low 0.99 WHIP in 34 1/3 innings. Robertson has struck out 11.5 batters per nine innings this year, his lowest strikeout rate since 2010.
Tanner Scheppers, Rangers
Scheppers doesn't have the sexy strikeout numbers of the other Final Vote pitchers but he does have a 1.48 ERA and 1.06 WHIP in 42 2/3 high-pressure innings for the Rangers. That's the sixth-highest inning total among AL relievers.
Koji Uehara, Red Sox
When Andrew Bailey lost his closer's job a few weeks ago, Uehara stepped in and saved five games in seven chances. He owns a 1.95 ERA and insane 0.78 WHIP in 37 innings, with only eight walks against 52 strikeouts.
NATIONAL LEAGUE

Ian Desmond, Nationals
There aren't many quality shortstops out there, but desmond came into Saturday's game hitting .281/.324/.506 with 15 homers, the second-most dingers among all shortstops. Over the last 20 games, Desmond has hit seven homers and stolen four bases.
Freddie Freeman, Braves
Freeman has been the most consistent hitter in a high-profile Atlanta lineup, putting up a .309/.385/.468 batting line with nine homers in 73 games. The first baseman recently had a 29-for-88 (.330) stretch with as many walks as strikeouts (15).
Adrian Gonzalez, Dodgers
Is it possible to be quietly great for the Dodgers? Because if so, Gonzalez has done it. The first baseman is hitting .300/.353/.492 with 13 home runs for Los Angeles while playing nearly every inning of every game. Gonzalez is a rock in the middle of the lineup.
Hunter Pence, Giants
The Giants have been hit hard by injuries this year, but their right fielder has been a steady presence by hitting .272/.318/.467 with 13 homers and 13 steals (in 13 attempts!) in 85 games. Pence has been a mainstay in the lineup for Bruce Bochy.
Yasiel Puig, Dodgers
The most polarizing All-Star candidate this year is Puig, who has had a huge impact despite only playing 30 games. He's hit .420/.449/.706 with eight home runs and four stolen bases while playing outstanding right field defense. You have to do something special to garner All-Star consideration while only playing 30 games, and Puig has done just that.
Christian Yelich's agent says his client's relationship with Marlins is 'irretrievably bro...

The free-agent market has been slow and one player is bracing for an even longer wait

The Mets didn't want to trade a young outfielder for an older one
Josh Harrison doesn't sound pleased Gerrit Cole and Andrew McCutchen have been traded away

The team's media contracts expire following the 2019 season

San Francisco could use more help in the outfield and at the back of the rotation