2013 MLB season firsts provided by Astros, Rangers
The 2013 MLB season opened up Sunday night, with the Astros defeating the Rangers 8-2 in Texas. Let's run down all the firsts we saw, in chronological order: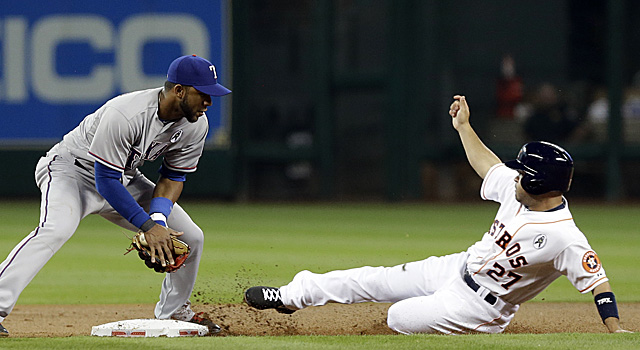 Astros-Rangers: Play-by-play | Box score
The 2013 MLB season opened up Sunday night in Houston, with the Astros winning 8-2 against the Texas Rangers. Let's run down all the firsts we saw, in chronological order:
First out: Ian Kinsler flew out to right field as the game's first batter.
First strikeout: Bud Norris struck out Elvis Andrus in the first inning.
More on Rangers-Astros
Column

Related links
First hit: Astros leadoff man Jose Altuve singled to left on the first pitch he saw.
First blown call: Altuve attempted to advance to second on a ball in the dirt and was called out on a bang-bang play with no outs in the second inning. Replays conclusively showed he should have been called safe.
First manager argument on the field: New Astros manager Bo Porter ran out to contest the above missed call. So it was in his first inning as a manager.
First walk: David Murphy drew a free pass from Astros starter Bud Norris in the top of the second.
First blown call, outfield variety: Justin Maxwell made what will go down as a diving catch on an Elvis Andrus liner to end the top of the third. Replays clearly showed the ball bounced.
First run: Brett Wallace of the Astros scored (and was followed by Carlos Pena) on a Justin Maxwell triple in the fourth.
First RBI: Maxwell on his triple.
First triple: Maxwell.
First error: Rangers right fielder Nelson Cruz completely booted a Ronny Cedeno single, allowing a run to score and Cedeno to get all the way to third.
First pitching change: Erik Bedard took over for Norris in the top of the sixth.
First starter pitcher used in relief! That didn't take long. Bedard is in the Astros' rotation.
First home run: Astros pinch-hitter Rick Ankiel crushed a three-run homer in the bottom of the sixth off Rangers reliever Derek Lowe, giving Houston a 7-2 lead.
First two-triple game: Maxwell tripled again in the bottom of the eighth.
First save: Unbelievably, the first save of the 2013 season was recorded by a starting pitcher. Bedard stayed in for the remainder of the game and qualified for the save by way of three innings-plus to close the game and maintain the lead.
First win, individual category: Norris is now 1-0.
First loss, individual category: Matt Harrison opens the season 0-1.
First win, managerial category: Bo Porter is now 1-0 as a major-league manager.
First American League victory: The Astros are now 1-0 as an American League team, after winning 3,999 regular-season games as a National League team.
MLB revenues are at a record high right now, but teams aren't spending it on players

Chicago added Tyler Chatwood earlier this offseason but might not be done adding to the ro...

The Dodgers and Braves pulled off a whopper on Saturday
Sabathia will reportedly spend a 10th season in the Bronx

Fowler suffered a knee injury at Chicago's Guaranteed Rate Field

The lefty starter is coming off a terrible season