2013 Roberto Clemente Award nominees have been announced
Each of the 30 teams has a nominee for the 2013 Roberto Clemente Award. Well, the Twins don't really have one. He was traded.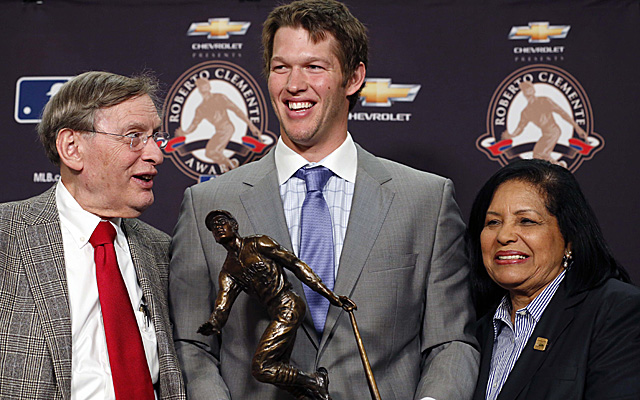 More MLB: Scoreboard | Standings | Probable Pitchers | Sortable Stats | Odds
The Roberto Clemente Award is given annually by Major League Baseball "to the player who best represents the game of baseball through positive contributions on and off the field, including sportsmanship and community involvement."
Last season's winner was Dodgers ace Clayton Kershaw, obviously pictured above. This season's nominees have been announced. Here they are:
Arizona Diamondbacks: Aaron Hill
Atlanta Braves: Tim Hudson
Baltimore Orioles: Adam Jones
Boston Red Sox: Craig Breslow
Chicago Cubs: Anthony Rizzo
Chicago White Sox: Hector Santiago
Cincinnati Reds: Bronson Arroyo
Cleveland Indians: Justin Masterson
Colorado Rockies: Todd Helton
Detroit Tigers: Miguel Cabrera
Houston Astros: Jose Altuve
Kansas City Royals: Billy Butler
Los Angeles Angels: Jered Weaver
Los Angeles Dodgers: Adrian Gonzalez
Miami Marlins: Logan Morrison
Milwaukee Brewers: Jonathan Lucroy
Minnesota Twins: Justin Morneau
New York Mets: David Wright
New York Yankees: David Robertson
Oakland Athletics: Sean Doolittle
Philadelphia Phillies: Chase Utley
Pittsburgh Pirates: Andrew McCutchen
St. Louis Cardinals: Carlos Beltran
San Diego Padres: Mark Kotsay
San Francisco Giants: Barry Zito
Seattle Mariners: Raul Ibañez
Tampa Bay Rays: David Price
Texas Rangers: Ian Kinsler
Toronto Blue Jays: J.P. Arencibia
Washington Nationals: Ryan Zimmerman
Yes, Morneau isn't on the Twins anymore, but the players voted on nominees before he was dealt to the Pirates.
Fans will be allowed to vote on chevybaseball.com -- yes, Chevrolet sponsors the awards -- beginning Tuesday, which is Roberto Clemente Day. Here's the rest of the voting body, via MLB.com:
The winner of the fan vote will receive one vote, with the rest cast by a selection panel that includes Commissioner Bud Selig; MLB Goodwill Ambassador Vera Clemente, Roberto's widow; FOX broadcasters Joe Buck and Tim McCarver; Hall of Fame Broadcaster and the "Spanish Voice of the Dodgers" Jaime Jarrin; Hall of Famer and TBS analyst Dennis Eckersley; TBS analyst Buck Martinez; MLB Network analysts and former Clemente Award winners Al Leiter and Harold Reynolds; Hall of Famer, ESPN analyst and former Roberto Clemente Award winner Barry Larkin; ESPN analyst and former Roberto Clemente Award winner Rick Sutcliffe; MLB.com senior correspondent Hal Bodley; and Chevrolet national promotions manager Mike Weidman.
The winner of the 2013 award will be announced during the World Series.
Where might the Orioles third baseman land?

Kinsler will slot in at second base for the Angels

The Marlins got a better return for Ozuna than Stanton or Gordon
The two teams are going about things in very different ways

The Marlins are indeed in teardown mode under new ownership

The Marlins still have more attractive pieces