2013 Winter Meetings: Monday's hot stove news, rumors roundup
Roy Halladay's retirement headlined a relatively slow Monday at the Winter Meetings. Slow by Winter Meetings standards, that is.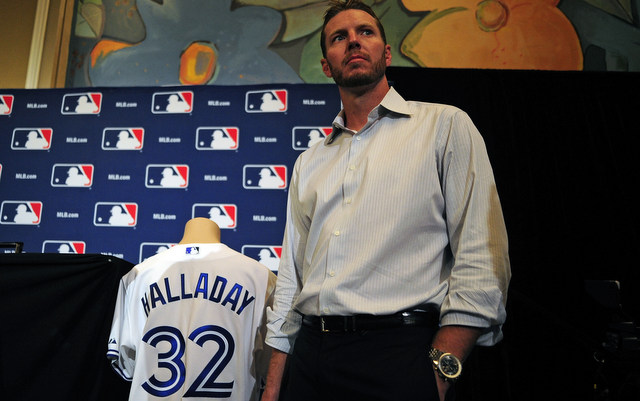 MORE: FA tracker: position players | FA tracker: pitchers | Winter Meetings updates
The first day of the 2013 Winter Meetings came and went without much fanfare on Monday, at least by Winter Meetings standards. Blame all of last week's activity. There were plenty of rumors and whatnot, but not many actual transactions. There were only two minor free agent signings, in fact.
Monday's big news was the retirement of Roy Halladay . He signed a one-day contract with the Toronto Blue Jays before making the announcement. Long-time managers Bobby Cox, Tony La Russa and Joe Torre were unanimously elected to the Hall of Fame by the Expansion Era committee as well. Congrats to them.
Now, here's a recap of Monday's hot stove action.
SIGNINGS
Cleveland Indians : Signed 1B David Cooper to a one-year contract, the team announced. He is returning from a career-threatening back injury.
Chicago White Sox : Agreed to terms with RHP Felipe Paulino . The reclamation project will earn $1.75 million in 2014 with a club option for 2015.
RUMORS & SPECULATION
RHP Bronson Arroyo : Interest is starting to pick up. The Minnesota Twins , Philadelphia Phillies and Los Angeles Angels are pursuing him.
OF Shin-Soo Choo : The Texas Rangers and Arizona Diamondbacks are among the teams vying for his services right now. He's the best position player left on the open market.
RHP Bartolo Colon : Met with the New York Mets on Monday. The team doesn't have a ton of money left over after signing Curtis Granderson .
OF Nelson Cruz : Among the teams pursuing him are the Baltimore Orioles , Rangers and Seattle Mariners . He met with Baltimore on Monday and the two sides plan to continue talks.
OF Rajai Davis : Expected to sign within a day or two. The Twins are interested in Davis but the Orioles are not. (MASNSports.com and 1500 ESPN)
SS Aledmys Diaz: There is "lots of interest" in the Cuban infielder. He can not sign until Feb. 19 due to a suspension stemming from age falsification.
1B Logan Morrison : Trade talk is heating up. The Blue Jays, Milwaukee Brewers , Tampa Bay Rays , Orioles and Pittsburgh Pirates are among the teams talking to the Miami Marlins about him.
LHP David Price : Among his top suitors are the Mariners, Los Angeles Dodgers and Rangers. Top prospect RHP Taijuan Walker is said to be the key to a trade with Seattle.
LHP Johan Santana : The Orioles and Mets are among the teams with interest in the southpaw. Santana is recovering from his second torn shoulder capsule surgery.
RHP Sergio Santos : Was headed to the Rangers in a three-team trade that fell apart two weeks ago. Another player in the deal failed a physical. The third team and other players are unknown.
1B/OF Mark Trumbo : Twelve teams are interested in him and the D-Backs are seen as a "potential match." They're unwilling to trade LHP Patrick Corbin , LHP Wade Miley or RHP Archie Bradley, however.
RHP Jamey Wright : Choosing between the Rays and Dodgers at the moment. He spent 2013 with Tampa and 2012 with Los Angeles. (Fox Sports)
Houston Astros : RHP Lucas Harrell is drawing some trade interest. Teams are viewing Houston as a more realistic trade partner following the Dexter Fowler deal. (Fox Sports)
Blue Jays: Asked for 2B Neil Walker when the Pirates asked about 1B Adam Lind . Things didn't advance much after that. (Sportsnet.ca)
Atlanta Braves : GM Frank Wren indicated the team is not looking to acquire a frontline player. "I see more support moves," he said. (Atlanta Journal-Constitution)
Brewers: Likely meet with 1B/OF Corey Hart with week. They've made him a priority. (Journal Sentinel)
Chicago Cubs : Teams have inquired about the availability of SS Starlin Castro . The Cubbies have no intention of trading him, however. (Chicago Sun-Times)
Dodgers: Remains in discussions with four teams about OF Matt Kemp and OF Andre Ethier . The team is listening to offers for its veteran outfielders. (ESPN)
San Francisco Giants : Have interest in both 1B/OF Michael Morse and Hart. Both players are asking for too much right now, however. (CSNBayArea.com)
Indians: Listening to offers for RHP Justin Masterson . They're hoping to land a more long-term rotation option since he'll be eligible for free agency next winter.
Marlins: Looking for right-handed bats but are not talking to Morse. They'd also like to add a veteran reliever to the bullpen. (MLB.com)
Mets: Mets with the Brewers about a possible 1B Ike Davis trade on Monday. They're also pushing "very hard" to trade 2B Daniel Murphy . (MLB.com and Yahoo! Sports)
Washington Nationals : They're shopping IF Danny Espinosa while the Cubs have interest in RHP Drew Storen . Both players have fallen out of favor in Washington, it appears.
Orioles: Looking at both RHP John Axford and RHP Grant Balfour . They traded closer Jim Johnson to the Oakland Athletics last week and are looking for a lower cost alternative.
San Diego Padres : Have interested in LHP Scott Downs , among others. The team is seeking a southpaw reliever this week. (Fox Sports)
Phillies: They are "actively shopping" young OF Domonic Brown . They're looking to sell high after his breakout season.
Pirates: GM Neal Huntington confirmed they won't be in on RHP Masahiro Tanaka. He also said it's unlikely they would sign a free agent that requires forfeiting a draft pick. (Pittsburgh Tribune-Review)
Rangers: Still open to trading SS Elvis Andrus even after trading Ian Kinsler . They would need a big return, however. (Fox Sports)
Rays: There is nothing imminent in their search for a first baseman, GM Andrew Friedman confirmed. (Tampa Bay Times)
Boston Red Sox : A "handful" of teams have called about their starting pitching surplus, GM Ben Cherington confirmed. They aren't particularly motivated to deal a starter right now. (Boston Herald)
Detroit Tigers : GM Dave Dombrowski suggested they could take a flier on a veteran reliever to bolster their bullpen. (MLB.com)
White Sox: Owner Jerry Reinsdorf shopped short of calling LHP Chris Sale untouchable. "I've only had one player in my 33 years who couldn't be traded. He played basketball," said Reinsdorf, who also owns the NBA's Chicago Bulls and was referring to Michael Jordan.