2013 Winter Meetings: Tuesday's hot stove news, rumors roundup
A three-team trade and the official retirement of a former phenom headlined Tuesday's hot stove news from the Winter Meetings in Orlando.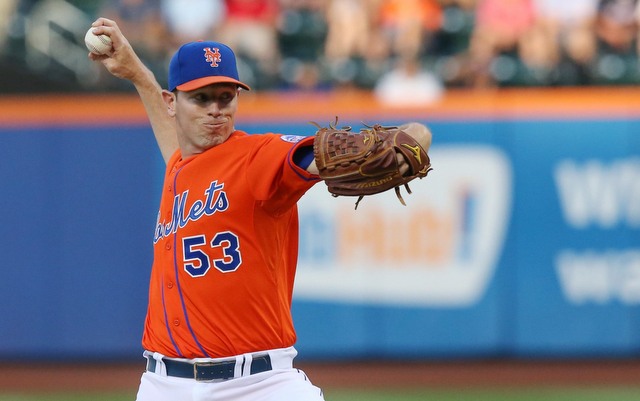 MORE: FA tracker: position players | FA tracker: pitchers | Winter Meetings updates
Now that was more like it. Following a slow opening day to the 2013 Winter Meetings in Orlando, Tuesday brought a pair of significant trades, including a three-teamer. There were also a ton of rumors. Still another two days (really a day and a half) of this to go.
Make sure you head over the Jon Heyman's blog for updates on free agent 3B Eric Chavez as well as New York Yankees OFs Brett Gardner and Ichiro Suzuki . Also make sure you're following Jon on Twitter for non-stop updates from the Winter Meetings and really all year round.
Now that that's out of the way, here is a recap of Tuesday's hot stove action.
SIGNINGS
New York Mets : Re-signed RHP Jeremy Hefner after non-tendering him last week. Hefner will miss most of next season following Tommy John surgery. (MLB.com)
Detroit Tigers : Agreed to a two-year, $10 million contract with OF Rajai Davis. He'll add some much needed speed to the lineup.
TRADES
Three-Team Trade: The Arizona Diamondbacks acquired 1B/OF Mark Trumbo and two players to be named later, the Los Angeles Angels acquired LHP Tyler Skaggs and LHP Hector Santiago , the Chicago White Sox acquired OF Adam Eaton .
Colorado Rockies : Acquired LHP Brett Anderson and $2 million from the Oakland Athletics for LHP Drew Pomeranz and RHP Chris Jensen. Nice upside play by Colorado.
RETIREMENTS
RHP Mark Prior: Has officially retired after numerous comeback attempts. He last pitched in the big leagues way back in 2006.
RUMORS & SPECULATION
RHP Bronson Arroyo : The Mets, Minnesota Twins and Cincinnati Reds are making pushes for the veteran, though the Twins have not yet made an offer. The Pittsburgh Pirates are out, however. (1500 ESPN and Pittsburgh Tribune-Review)
OF Jason Bay: Has an offer from the Yomiuri San Francisco Giants in Japan. He has yet to officially sign, however. (Heyman)
RHP A.J. Burnett : Had not decided whether he will pitch or retire in 2014. He has indicated he would only pitch for the Pirates if he does return, but the Baltimore Orioles are also a possibility since they're close to his Maryland home. (Heyman)
RHP Bartolo Colon : Drawing interest from the Texas Rangers . He's been a popular man among teams looking for a one-year stopgap. (Fort Worth Star-Telegram)
RHP Jason Hammel : Is drawing interest from the Atlanta Braves , Chicago Cubs , Kansas City Royals and Pirates. He's been battling injuries these last two seasons. (Fox Sports)
OF Matt Kemp : The Boston Red Sox , Tigers and Seattle Mariners are among the teams that had discussions about Kemp with the Los Angeles Dodgers this week. The Red Sox are no longer interested, however. (Heyman)
1B Logan Morrison : Seven teams have interest in acquiring the Miami Marlins ' first baseman. The Pirates, Milwaukee Brewers and Mariners have been the most aggressive, however. (Miami Sun-Sentinel and Fox Sports)
1B/OF Michael Morse : Seeking $7-8 million on a one-year contract. He had a down and injury-filled 2013 season, but he's hit 62 homers with a .481 SLG over the last three years. (ESPN)
LHP Mark Mulder: The veteran southpaw is throwing and will attempt a comeback. He last pitched in 2008 due to injury but believes he found some mechanics that will work for him.
LHP Eric O'Flaherty : Talking with the Braves and there's a good chance he winds up back in Atlanta. He missed most of 2013 following Tommy John surgery. (Atlanta Journal-Constitution)
RHP Masahiro Tanaka: The president of the Rakuten Golden Eagles said the team is still undecided about whether they will post their ace right-hander. They'll make a decision after talking to him in Japan next week.
3B Juan Uribe : Both the Marlins and White Sox have interest in signing him. Uribe won a World Series with the White Sox in 2005.
1B/3B Kevin Youkilis : Prefers to play close to his California home. The Yankees expressed some interest in bringing him back.
Houston Astros : Have spoken to the agent for OF Grady Sizemore recently. He hasn't played in a game since 2011 and is coming off yet another knee surgery. They also have interest in Morse, RHP Jose Veras , RHP Chad Gaudin and RHP Jesse Crain . (MLB.com)
Diamondbacks: Even after landing Trumbo, GM Kevin Towers plans to leave the Winter Meetings with a new pitcher as well. He has about 36 hours to make it happen.
Dodgers: Interested in re-signing IF Michael Young . Despite their opening at third base, they're looking at him for a bench job. (Los Angeles Times)
Giants: GM Brian Sabean said that if 3B Pablo Sandoval shows up to camp in shape, the team will consider signing him to an extension. Kung Fu Panda has dealt with weight and conditioning issues in recent years. (MLB.com)
Cleveland Indians : May be willing to trade SS Asdrubal Cabrera . They have top shortstop prospect Francisco Lindor not too far away as a replacement.
Mariners: Unlikely to trade RHP Taijuan Walker for LHP David Price , but they could build an offer around C Mike Zunino (Heyman) ... Have interest in RHP Fernando Rodney to take over as closer (Fox Sports) ... Interested in re-signing the oft-injured OF Franklin Gutierrez . They declined his $7.5 million club option a few weeks ago. (Seattle Times)
Washington Nationals : Have interest in LHP Jerry Blevins of the Athletics and LHP Justin Wilson of the Pirates. Wilson is drawing a ton of interest and Pittsburgh is open to dealing him. (Nats Insider and Fox Sports)
Orioles: They haven't had contract extension talks with 1B Chris Davis or C Matt Wieters yet. Both guys are Scott Boras clients and figure to command big bucks soon. (CSNBaltimore.com)
Philadelphia Phillies : Have made both LHP Cliff Lee and LHP Cole Hamels available in a trade. They are not willing to eat any of the money left on their sizable contracts, however.
Pirates: Renewing their pursuit of 1B James Loney . The two sides were talking earlier in the offseason before Loney's price scared the team away. (ESPN)
Tampa Bay Rays : Interested in 1B Mitch Moreland , who became expendable when the Rangers acquired Prince Fielder . A Moreland for OF Matt Joyce trade is possible. (ESPN)
Reds: Haven't completely ruled out re-signing OF Shin-Soo Choo . It seems unlikely given his asking price and their payroll, however. (Heyman)
Rockies: Discussed LHP Sean Marshall at length with the Reds and a deal appeared close at one point. The southpaw's medicals may have thrown a wrench into things. (Denver Post)
Twins: Do not have a standing offer out to LHP Johan Santana . They did make an offer to RHP Mike Pelfrey , however. (1500 ESPN and MLB.com)
White Sox: They will listen to offers for OF Alejandro De Aza after acquiring Eaton. The Giants have already called to inquire. (Heyman and San Francisco Chronicle)
Yankees: Hoping to add two relievers this offseason. They've had internal discussions about RHP Joaquin Benoit . (USA Today)
The club is expected to part ways with Collins after the season

Here is a preview of what's on the line Tuesday

Jerry Dipoto will have his hands full
Otani is said to be coming over this offseason, though nothing has been made official yet

What do the Mets need to do to get back to the postseason next year? Well, a lot

This is a two-man race coming down the stretch. Who should win?