2013 Winter Meetings: Wednesday's hot stove news, rumors roundup
Four trades, three free agent signings and one contract extension highlighted the third day of the Winter Meetings on Wednesday. Here's a recap of the action.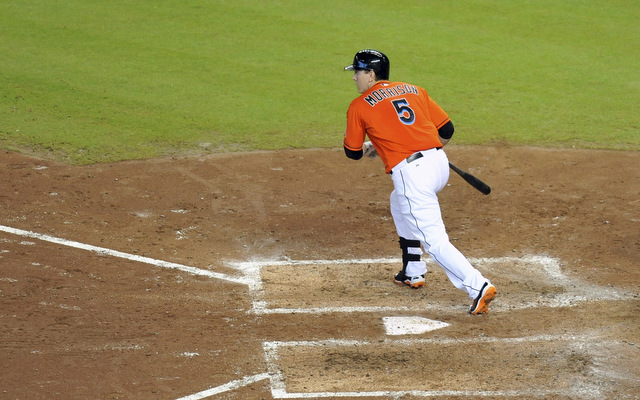 MORE: FA tracker: position players | FA tracker: pitchers | Winter Meetings updates
The biggest news to come out of the Winter Meetings on Wednesday did not involve a transaction, though there were more than a few of those. No, the biggest news involved the ban of home plate collisions. MLB gave their blessing but the players' union must do the same before the rule change is implemented.
As for the day's hot stove news, make sure you check out Jon Heyman's blog. He has updates on free agent offers for RHP John Axford and RHP Grant Balfour. Also, make sure you follow Jon on Twitter for nonstop updates on the Winter Meetings throughout the day and really all year round.
Wednesday was the last full day of the Winter Meetings -- everyone usually leaves not long after the Rule 5 Draft on Thursday morning, so it's not a full day of rumors and whatnot -- so here's a recap of the last 24 hours or so from Orlando.
EXTENSIONS
Pirates: Signed RHP Charlie Morton to a three-year, $21 million extension. The contract includes a $9.5 million club option for a fourth year.
SIGNINGS
Mariners: Agreed to a one-year deal worth $5 million with 1B/OF Corey Hart. He can earn another $8 million or so in incentives.
Mets: Agreed to terms with RHP Bartolo Colon. It's a two-year, $20 million deal.
Pirates: Agreed to a one-year deal worth $5 million with RHP Edinson Volquez, adding to their pitching depth.
TRADES
Astros: Acquired RHP Anthony Bass and either a player to be named later or cash from the Padres for a player to be named later or cash, the team announced.
Mariners: Acquired 1B/OF Logan Morrison from the Marlins for RHP Carter Capps.
Nationals: Acquired LHP Jerry Blevins from the Athletics for minor league OF Billy Burns.
Yankees: Acquired minor league RHP Kyle Haynes from the Pirates as the player to be named later in last week's Chris Stewart trade, the team announced.
RETIREMENTS
UTIL Jerry Hairston Jr.: Announced his retirement from baseball. He's slated to join the Dodgers' television broadcast team.
RUMORS & SPECULATION
RHP Bronson Arroyo: The sense is Arroyo will sign before the end of the Winter Meetings on Thursday. He has several suitors, but there doesn't appear to be a front-runner. (New York Post)
OF Raul Ibanez: Has offers from multiple contending clubs. He could be heading to the Angels. (ESPN)
IF Omar Infante: Seeking a four-year contract worth $8+ million annually. It's good to be the best available middle infielder. (Fox Sports)
IF Jamey Carroll: Drawing interest from the Rays, Rangers and Indians. (Heyman)
OF Matt Kemp: Kemp's agent Dave Parker said the Dodgers told him his client would not be traded. (ESPN)
1B James Loney: The Rays, Brewers and Pirates are all still in the mix for Loney. (ESPN)
LHP David Price: Would not sign a long-term contract if he's traded to the Mariners. Price's agent said there are some teams his client would sign with long-term, however.
RHP Matt Garza: Being pursued by the Diamondbacks, Angels and Twins, among others.
RHP Ervin Santana: Drawing interest from the Tigers but not the Twins. (1500 ESPN)
LHP Johan Santana: The Yankees, Twins, Brewers, Rays, Orioles, Mets, Royals and Pirates all have interest in the two-time Cy Young Award winner.
Angels: Not close to any free agent signings one day after landing two starters in the Mark Trumbo trade. (Orange County Register)
Blue Jays: Shopping CF Colby Rasmus for pitching help. They could plug the speedy Anthony Gose right into center field if there is a trade.
Braves: Had interest in RHP Roy Halladay before he decided to retire. (Pioneer Press)
Brewers: One of the few teams to show interest in RHP Carlos Marmol. (Heyman)
Cubs: Interested in RHP Roberto Hernandez, who is best remembered as Fausto Carmona. (Fox Sports)
Diamondbacks: GM Kevin Towers said he has been telling free agents he would rather pay a higher annual salary in exchange for fewer years. (Arizona Republic)
Giants: Assistant GM Bobby Evans said they are "equally close" on trade and free agent options for the left field. (San Francisco Chronicle)
Indians: GM Chris Antonetti has not ruled out a return for RHP Ubaldo Jimenez, though it is unlikely. (Heyman)
Marlins: Interested in free agent OF Delmon Young. The Fish appear to be set in the outfield, but depth never hurts.
Nationals: Tried to acquire LHP Sean Doolittle from the Athletics before settling for Blevins. (MLB.com)
Orioles: Considering pursuing a contract extension with SS J.J. Hardy. (MLB.com)
Rangers: Contrary to earlier reports, they did not make OF Shin-Soo Choo a seven-year contract offer.
Rays: Interested in 1B/3B Kevin Youkilis. He reportedly wants to play closer to his California home. (Tampa Bay Times)
Red Sox: Talking to free agent SS Stephen Drew and have interest in bringing him back for 2014.
Rockies: Although they still want to add another bat, bullpen help is their top priority. (Denver Post)
Tigers: Interested in RHP Joba Chamberlain. Detroit is still looking for bullpen help even after signing Joe Nathan and trading for Ian Krol.
Twins: Made a two-year contract offer to RHP Mike Pelfrey even after signing Ricky Nolasco and Phil Hughes.
Yankees: Rejected a Brett Gardner for Brandon Phillips trade offer from the Reds.
Colon wants to break a Dennis Martinez record

The Twins have been rumored to be interested in Darvish all winter

Rolen is one of the best third basemen of all time, but you wouldn't know it based on this...
Neither Josh Donaldson nor Brian Dozier have talked about a new contract extension

Francisco leads the Dominican Winter League with seven home runs

Thome deserves enshrinement and here's why the case against him does not hold up