2013: Year of the sure-handed defender
The 2013 season has seen the best fielding percentage in MLB history.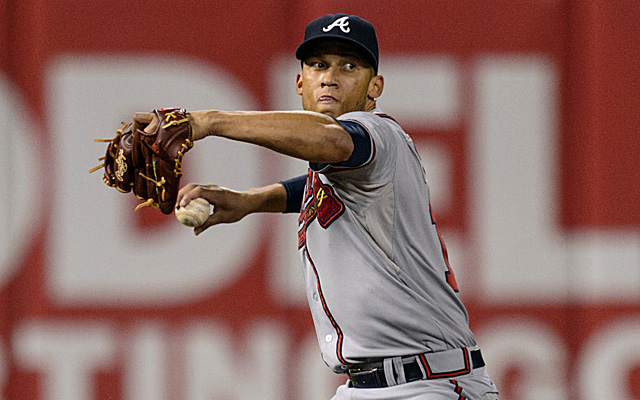 More MLB: Scoreboard | Standings | Probable Pitchers | Sortable Stats | Odds
Count this as a tally against the "back in my day" crowd: The 2013 Major League Baseball season has seen the best fielding percentage of any season in baseball history.
As can be seen easily on the wonderful baseball-reference.com, the .985 collective mark this season edges out the previous high of .984 (acheived in 2007, 2008 and 2009). The rate of errors per game is also the best in baseball history, at 0.57 (previous best was 0.59 in 2009).
Now, we can't definitely say this is the best defensive season in MLB history based purely upon the lowest error rate or highest fielding percentage. Neither of the measures includes range of the defender, something paramount to defensive ability.
In terms of defensive runs saved -- my personal favorite metric -- Braves shortstop Andrelton Simmons is having the best defensive season in the past decade (he has the highest score ever, but the stat has only been calculated for the past 10 years). This season's Royals (second), Diamondbacks (third), Pirates (20th) and Brewers (25th) all rate out among the top 25 defensive teams of the past decade.
If you prefer Fangraphs.com's UZR, the 2013 Royals currently boast the third-best mark in the history of the stat (2002 to present). This season's Diamondbacks and Orioles also rank among the top 30.
It's hard to call it a golden age of defense because measuring range in baseball is so hard to do. And, again, most advanced metrics have only been calculated for about a decade.
Overall, though, with defensive shifts helping to aid teams like the Rays and Pirates and the defenders becoming more and more sure-handed, it's safe to say we're in an era where glove-work is pretty stout.
Hat-tip: Reddit baseball
Boston wants to add two big bats to their lineup, not just one

Even more relievers signed on the final day of the Winter Meetings

Keep tabs on the top 50 free agents right here
The league is not happy Ohtani's medical information leaked

Kansas City and Baltimore were quite busy at the Rule 5 Draft

Piscotty's mother was diagnosed with ALS earlier this year