2014 All-Star Game: Final Vote player profiles
Here are the 10 players -- five AL starting pitchers, five NL position players -- still eligible to be voted into the All-Star Game.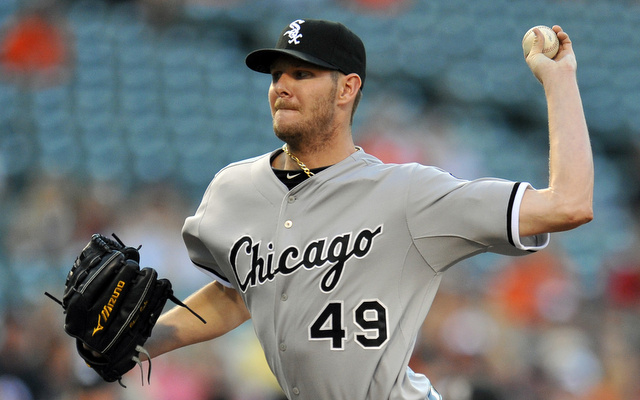 More All-Star Game: Full AL and NL Rosters | AL Snubs | NL Snubs

The 2014 All-Star Game rosters were officially announced on Sunday night, though one roster spot for each team remains open. That last spot will be decided by fan voting as part of the appropriately named Final Vote. Here's the ballot.
The AL Final Vote will add another starting pitcher to the roster while the NL Final Vote will add another position player. Here are the 10 players (five per league) included on the Final Vote ballot. Voting is open right now and closes at 4pm ET on Thursday, July 10.
AMERICAN LEAGUE
LHP Dallas Keuchel, Astros -- Houston's lefty ace is 8-5 with a 3.06 ERA and a 1.18 WHIP in 108 2/3 innings this season. Keuchel leads all qualified starters with a 63.1 percent ground ball rate and is seventh in the AL at 3.2 WAR.
RHP Corey Kluber, Indians -- Kluber allowed one run in 8 1/3 innings on Sunday afternoon to improve to 8-6 with a 2.86 ERA in 19 starts and 125 2/3 innings. He is sixth in the league with 9.81 K/9 and is tied for ninth with 2.7 WAR.
RHP Rick Porcello, Tigers -- Porcello heads into Sunday's start coming off back-to-back shutouts. He has an 11-4 record with a 3.12 ERA in 16 starts and 106 2/3 innings so far. He is fifth in the AL at 3.4 WAR.
RHP Garrett Richards, Angels -- After holding the Astros to one run with 11 strikeouts in 7 1/3 innings on Sunday afternoon, Richards owns a 10-2 record with a 2.71 ERA in 18 starts and 116 1/3 innings this year. He is ninth in the AL with both 2.7 WAR and 9.21 K/9.
LHP Chris Sale, White Sox -- Sale has only made 13 starts and thrown 87 1/3 innings this year due to an elbow problem back in May. He is 8-1 with a 2.16 ERA, however, and still ranks fourth in the league in WAR (3.8), first in WHIP (0.87) and fifth in strikeout rate (9.89 K/9).
NATIONAL LEAGUE
3B Casey McGehee, Marlins -- McGehee has returned from a year in Japan to lead the NL with 108 hits so far this year. He is hitting .320/.389/.393 with 53 RBI overall despite hitting only one home run.
1B Justin Morneau, Rockies -- Moving into Coors Field has helped revive Morneau's bat. He went 0-for-4 on Sunday and is still hitting .316/.348/.518 on the season. Morneau has swatted 20 doubles, 13 home runs, and driven in 59 runs to boot.
2B/3B Anthony Rendon, Nationals -- Despite an 0-for-4 on Sunday, Rendon is hitting .282/.340/.483 with 21 doubles, 12 home runs and eight stolen bases in his first full season as a big leaguer. He's done that after starting the year at second, playing third during Ryan Zimmerman's injury, then moving back to second.
1B Anthony Rizzo, Cubs -- In his second full season with the Cubs, Rizzo is hitting a stout .276/.384/.487 with 13 doubles and 17 home runs. He also ranks seventh in baseball with 50 walks. Rizzo has morphed into Joey Votto lite.
OF Justin Upton, Braves -- Very quietly, the younger Upton brother has hit .273/.349/.503 with 16 doubles and 17 home runs this season. He is tied for third in the lead in homers. Once again, his immense production is easy to overlook.
Gallardo spent the first eight years of his career in Milwaukee

MLB revenues are at a record high right now, but teams aren't spending it on players

Chicago added Tyler Chatwood earlier this offseason but might not be done adding to the ro...
The Dodgers and Braves pulled off a whopper on Saturday

Sabathia will reportedly spend a 10th season in the Bronx

Fowler suffered a knee injury at Chicago's Guaranteed Rate Field