2014 Angels preview: Likes, dislikes
What are some things we like and dislike about the Angels heading into the 2014 season? Spoiler alert: Mike Trout falls under the 'likes.'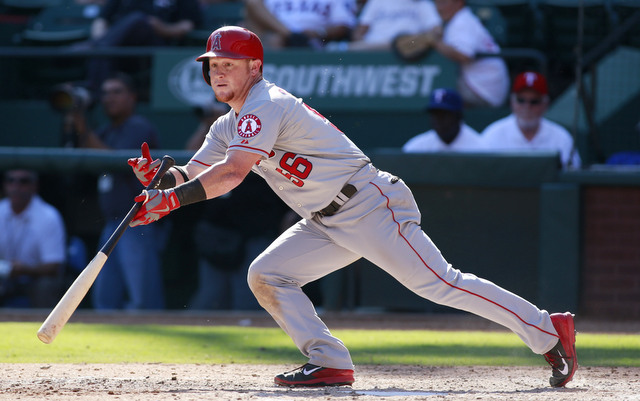 More Angels: Team preview | Over/unders
As part of our preview series, Eye on Baseball will be picking and choosing some "likes" and "dislikes" for all 30 MLB teams heading into the 2014 season. For this installment, we'll run down what we like and don't like about the Los Angeles Angels of Anaheim, who finished a distant third in the AL West last season ...
Likes
Mike Trout : This goes without saying, right? Trout is the best all-around player in the game and he's worth the price of admission all by himself. It has been a long time since baseball saw a player this exciting. Everything he does is must-see television and the team is right to discuss a huge-money contract extension with him. The stats are sexy but players of Trout's caliber have value that transcends what they do on the field.
Offseason plan: When the Halos signed Albert Pujols and Josh Hamilton in recent years, they felt very much like "let's make a big splash and sign the best player" moves. This winter's moves made much more sense. The team had needs at third base and on the pitching staff, so they used their excess in the outfield ( Peter Bourjos ) and at first base ( Mark Trumbo ) to acquire David Freese , Tyler Skaggs , Hector Santiago and Fernando Salas . Lower-cost free-agent additions Raul Ibanez and Joe Smith add much-needed depth. I don't know if the club did enough this winter to get into the postseason, but their moves made sense and actually addressed pressing needs. That wasn't the case in previous offseasons.
Kole Calhoun : The overlooked aspect of the Bourjos and Trumbo trades is that they opened up an everyday outfield spot for Calhoun, who hit .282/.347/.462 (128 OPS+) with seven doubles and eight home runs in 222 plate appearances late last year. The 26-year-old doesn't have the big name prospect status of a Byron Buxton or an Oscar Taveras , but he has hit everywhere he has played (career .317/.402/.541 batting line in the minors) and his left-handed bat will fit wonderfully into the lineup in a complementary role.
Dislikes
Jered Weaver : Weaver has always been an unconvential ace in that he never had huge blow-you-away stuff, instead doing it with weakly hit fly balls and a kitchen sink approach. The red flags are hard to ignore at this point though, specifically a fastball that has gone from averaging 90.1 mph in 2010 to 89.2 mph in '11, 88.0 mph in '12 and 86.8 mph in 2013. Furthermore, his strikeout rate has dropped from 25.8 percent of batters faced in 2010 to 24.1 in '11, 19.2 in '12 and 18.5 in '13. Weaver was very good last year (115 ERA+) but the warning signs exist.
Rotation depth: The Skaggs and Santiago additions were good moves but the rotation is still pretty sketchy behind Weaver and C.J. Wilson . Garrett Richards showed promising stuff last year but right now he's slotted in as the No. 3 starter when he really should be No. 4 or 5. Joe Blanton is a complete nonfactor and may be jettisoned before the season even begins. The Angels definitely have some potential in their rotation after the top two guys, but this is the big leagues. Potential only goes so far.
Farm system: Baseball America, Baseball Prospectus and ESPN all ranked the Angels' farm system as the the very worst in baseball in recent weeks, which is more or less where they sat last year as well. Years of ignoring the international market, poor drafts and forfeited picks (as free-agent compensation) have left the system barren with little to no impact potential or trade chips. Because of the new draft and international spending restrictions, it will be more difficult and take more time to rebuild the system. The Angels produced a generational talent in Trout not long ago and that's great, but they'll need more help from within going forward.
They still would much rather grab the AL East, however

Sale becomes the first AL pitcher to reach 300 strikeouts since 1999

Steve Balboni's long-standing record of 36 has finally fallen
Several players called for the netting to be extended down the base lines following Wednesday's...

Maria made landfall as a Category 4 on Wednesday

The players are trying to do their job and don't want to see anyone hurt