2014 Blue Jays preview: Likes and dislikes
What's good and what's bad about the 2014 Jays? Matt Snyder knows.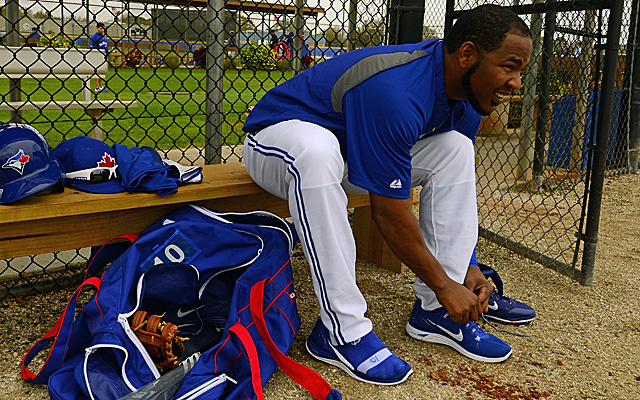 MORE: 2014 Team Preview: Toronto Blue Jays
As part of our preview series, Eye on Baseball will be picking and choosing some "likes" and "dislikes" for all 30 MLB teams. Under the microscope on this fine Saturday will be the Toronto Blue Jays. Let's take a glance.
LIKES
The potential offensive firepower: Sure, the Jays finished eighth in the AL in runs last season, but there were plenty of mitigating factors -- especially that dreaded "I" word. But what if everyone can stay at least relatively healthy? There's some serious potential here. Jose Reyes has a bad rep when it comes to staying on the field, but he played in 160 games for the Marlins in 2012. He's an excellent leadoff option. Jose Bautista still has elite power, Edwin Encarnacion has become one of the more underrated sluggers in baseball, Adam Lind and Colby Rasmus have very good power and Brett Lawrie has potential for a big-time breakout season. Melky Cabrera is capable of much better than last season, too.
The durability atop the rotation: R.A. Dickey's innings pitched the past three seasons, respectively: 208.2, 233.2, 224.2. That's nothing to Mark Buehrle, though, as he's worked at least 200 innings in 13 consecutive seasons.
The lack of hype: The Blue Jays entered last season a darling coming off a huge, headline-stealing offseason. They flopped in a major way. Perhaps the lack of attention this time around is a good thing. At the very least, they can fly under the radar in the early going, instead of pressing after a rough start. 
The back-end of the bullpen: Sergio Santos came back from injury to post a 1.69 ERA and 22 strikeouts -- against only three walks -- in 21 1/3 innings in August and September last year. He'll set up for Casey Janssen, who has proven to be a quality closer in the past two seasons. 
DISLIKES
Lack of quality rotation depth: Brandon Morrow has a ton of talent but has also been inconsistent and has never made more than 30 starts in a season. Behind him, there are two rotation spots for the likes of J.A. Happ, Kyle Drabek, Liam Hendriks, Drew Hutchison, Tedd Redmond, Ricky Romero and more. So while there are plenty of options, the "quality" part of the equation appears to be a bit lacking. As mentioned, Dickey and Buehrle are definitely durable at the top, but an injury can occur at any moment -- and as things stand, the Jays are rather ill-equipped to deal with one rotation injury, much less more than that.
The options at second base: Ryan Goins, Maicer Izturis, Chris Getz, Munenori Kawasaki ... this doesn't look promising.
AL East: Even if the Blue Jays take significant steps forward, which actually isn't far-fetched, their competition in this division is ridiculous.
Injury-proneness: We simply can't look past it. Reyes has only played more than 133 games in a season once since 2008. Lawrie's a walking DL stint. We already covered Morrow. Bautista's dealt with wrist, ankle, hip and back issues the past two years. Rasmus had two DL stints last season. So did Cabrera. And how long can Dickey and Buehrle fight Father Time?
The Red Sox and Cardinals are expected to make trade offers next

The free agent first baseman may be a fit in St. Louis

The front office changes in Atlanta continue
The Marlins are more likely than you think on our list

Judge finished a distant second in the balloting and he paid respect to the winner

Stanton just won the 2017 NL MVP award but could wind up being dealt this offseason