2014 Cardinals preview: Likes, dislikes
Here are some things we like and don't like about the St. Louis Cardinals headed into the 2014 season.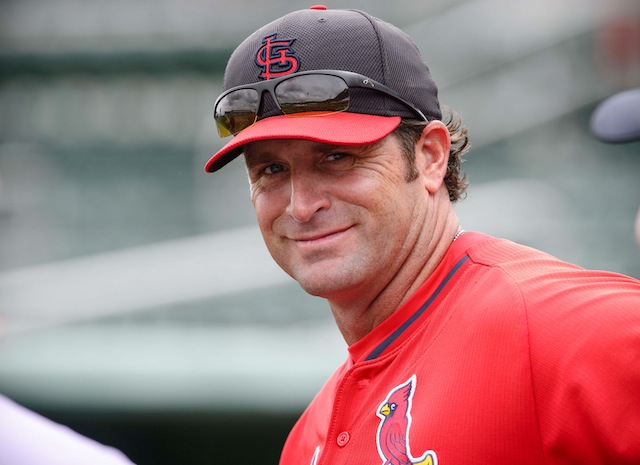 More Cardinals: Team preview | Over/unders

As part of our preview series, Eye on Baseball will be picking and choosing some "likes" and "dislikes" for all 30 MLB teams heading into the 2014 season. For this installment, we'll run down what we like and don't like about the St. Louis Cardinals, who have made it at least as far as the NLCS in three straight seasons.
LIKES
Homegrown arms: St. Louis will likely break camp with a 12-man pitching staff, and of those 12, nine were drafted and developed by the Cards. The lone exceptions are ace Adam Wainwright (acquired from the Braves as a minor-leaguer) and relievers Randy Choate and Pat Neshek. Most of those homegrown arms were in place last season, when the Cardinals ranked a respectable fifth in the NL in R/G. Oh, and if Neshek doesn't crack the roster as an NRI, you can probably make it 10 out of 12.
The bench: Last season, the Cardinals' bench was not a strength, as made painfully clear during the World Series. In 2014, however, things are looking up. In the reserve corps, they now have a lefty bat who can play all three outfield positions (Jon Jay, now relieved of regular duty in center), a skilled fly-catcher in Shane Robinson, a veteran platoon partner for Kolten Wong in Mark Ellis, and a lefty bat who can man pretty much every infield position in Daniel Descalso. There's also Yadier Molina's catch-and-throw back-up, Tony Cruz. That's not MLB's best bench by any means, but it figures to be much better than what the Cardinals had in place last year.
Mike Matheny's decreasing reliance on the bunt: Matheny, despite not having managed at all prior to 2012, has taken pretty well to helming a contender. Last year provided some evidence of his on-the-job tactical evolution. In 2012, the Cardinals under Matheny tied for sixth in the NL with 69 sac bunts. Last season, however, the Cards under Matheny laid down just 56 sac bunts, which was good for 11th in the NL. Sometimes, sac bunts are good things (late innings of tie games, for instance), but it's a mostly overused bit of strategy. Matheny seems to be coming around to that notion. After all, when you have an offense capable of leading its league in runs, giving away an out is usually not a sound idea.
DISLIKES
Peter Bourjos's health history: Peter Bourjos is an elite defensive center fielder, excellent base-runner and passable hitter. In other words, when he's on the field, he's quite valuable. However, he's had trouble staying healthy over the course of his rather brief career. In parts of four major-league seasons, Bourjos has been on the DL four times and lost 137 games to injury. To be sure, some of those injuries have been of the collision variety, but those are oftentimes "injuries of playing style" -- i.e., crowding the plate and getting plunked, sliding headfirst into bases. If Bourjos, in keeping with his history, can't stay healthy in 2014, then Jon Jay is forced back into center, where he's not adequate defensively, and that bench, noted above as a strength, becomes substantially less impressive.  
Yes, for those counting, that's only one "dislike" for the reigning NL champs. 
Harrison has a thing for ending no-hit bids

Hill was close to perfect across regulation but it turned out to be all for nothing in the...

Plus Hank Aaron weighs in on Colin Kaepernick, Trevor Rosenthal hits the DL, and more
Davis should help fortify the Red Sox outfield

Whether or not Mike Matheny will adjust is to be seen

Hammerin' Hank wants to see Kaepernick get another shot in the NFL