2014 Cubs preview: Likes, dislikes
Here are some things we like and dislike about the Cubs heading into the 2014 season.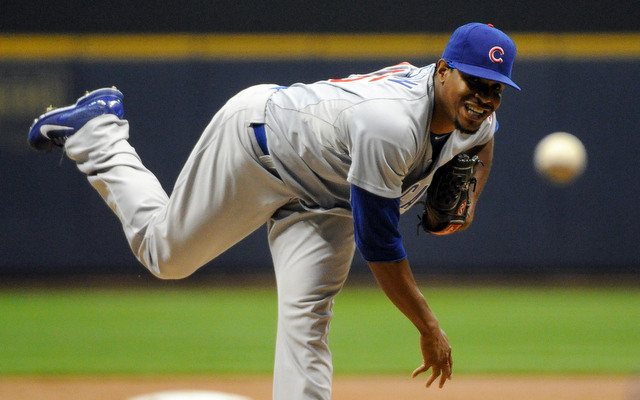 More Cubs: Team preview | Over/unders

As part of our preview series, Eye on Baseball will be picking and choosing some "likes" and "dislikes" for all 30 MLB teams heading into the 2014 season. For this installment, we'll run down what we like and don't like about the Chicago Cubs, who are looking to avoid a fifth straight fifth-place finish in the NL Central.
LIKES
Javier Baez & Kris Bryant: Thanks to all those poor finishes, the Cubbies have had a lot of high draft pick in recent years, and they've landed two gems in Baez (ninth overall in 2011) and Bryant (second overall in 2013). Baez is a natural shortstop who has spent time as second base this spring, but, more importantly, he hit .282/.341/.578 with 34 doubles, 37 home runs and 20 stolen bases in 130 games split between High Class-A and Double-A last summer, when he was only 20. Bryant, a third baseman, led NCAA Division I with 31 homers last spring then whacked nine more in 36 pro games after signing. Both could make their MLB debuts this summer and they are the future faces of the franchise, with all due respect to fellow highlight touted prospects Albert Almora and Jorge Soler.
New manager Rick Renteria: The Cubs had three different managers from 2010-13 and Renteria will be their fourth in a five-season span. The former Padres bench coach is known for being compassionate yet firm when he needs to be, supporting his players and exuding optimism. Like a father should be, basically. That's good because he has a relatively young roster with even more young players on the way. Renteria is also bilingual, which allows him to connect with more players on a personal level. We don't know what kind of manager he will be when it comes to on-field moves, but Renteria has all the traits the manager of a young, rebuilding team needs.
DISLIKES
Waiting for Jeff Samardzija's breakout: So ... how much longer are we supposed to wait here? True, Samardzija has only had two full seasons in the rotation, but his ERA, WHIP, hit rate, walk rate, strikeout rate, home run rate and fastball velocity all took a step back from 2012 to 2013. This wouldn't be a big deal if Samardzija was 25 or 26, but he's already 29. At some point you are what you are, and Samardzija is a rock solid middle of the rotation horse who will leave you wanting more because his stuff looks ace-caliber.
Three more years of Edwin Jackson: Speaking of players who leave you wanting more, no one has done it quite as well as Jackson over the last few seasons. The right-hander inked a four-year, $52 million contract last winter and pitched to a 4.98 ERA (79 ERA+) during his first year with the team. All of his rate stats (ground ball, strikeout, walk, etc.) were in line with recent seasons but his fastball velocity dropped again and has now dipped almost two full miles an hour since opening day 2012. Jackson's ERA might bounce back next year but when a fastball starts disappearing, it tends to continue fading away. The Cubs owe him $11 million annually through 2016 and he might be a fourth starter before long if he doesn't adjust to the reduced heater.
Pitching depth: The north siders have an enviable crop of young position players -- Baez, Bryant, Almora and Soler join Anthony Rizzo and Starlin Castro (who was awful in 2013) -- but their young pitching lags behind in a big way. Top pitching prospects C.J. Edwards and Pierce Johnson have not yet pitched at Double-A, and hard-throwing righty Arodys Vizcaino comes with major injury concerns. Until they get some more arms, the Cubs will be left fishing for guys like Jackson and pumping up Samardzija as an ace.
Where might the Orioles third baseman land?

Kinsler will slot in at second base for the Angels

The Marlins got a better return for Ozuna than Stanton or Gordon
The two teams are going about things in very different ways

The Marlins are indeed in teardown mode under new ownership

The Marlins still have more attractive pieces