2014 Diamondbacks preview: Likes, dislikes
Here are some things we like and dislike about the Arizona Diamondbacks heading into the 2014 season.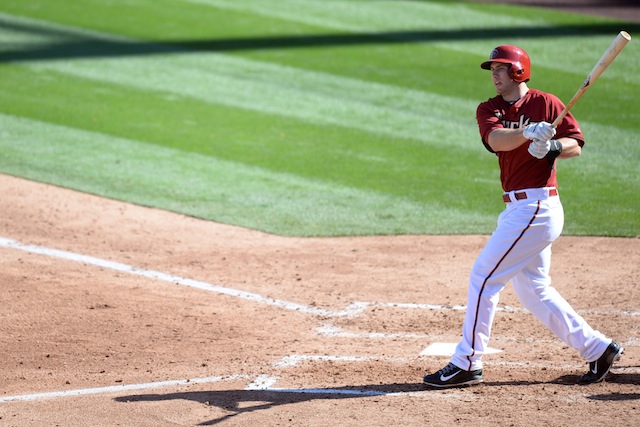 More Diamondbacks: Team preview | Over/unders
As part of our preview series, Eye on Baseball will be picking and choosing some "likes" and "dislikes" for all 30 MLB teams heading into the 2014 season. For this installment, we'll run down what we like and don't like about the Arizona Diamondbacks, who are coming off back-to-back .500 seasons.
LIKES
Paul Goldschmidt's growth against RHPs: Goldschmidt in 2013 authored an MVP-caliber season, and in large part it was because he handled same-side pitching exceptionally well. In 2012, for instance, he batted .257/.326/.412 in 386 plate appearances against right-handers. Last season, however, those numbers ballooned to .300/.406/.534 in 540 plate appearances. A more disciplined overall approach and improved pitch-recognition skills suggest that these gains are sustaintable. 
Bullpen depth: There's a long and useful list of names found within the Arizona bullpen: Addison Reed, J.J. Putz, Brad Ziegler, Oliver Perez, David Hernandez and some quality long men in Josh Collmenter and Randall Delgado. GM Kevin Towers has long had a knack for putting bullpens together, and the 2014 D-backs will be no exception. 
DISLIKES
The Mark Trumbo trade: Trumbo has oodles of right-handed power, and he'll enjoy hitting in Chase Field. However, he'll be playing the field almost every day, and he's badly stretched as a glove-wearing outfielder. That's going to sap his overall value. Trumbo's on-base skills also leave much to be desired, and there's the very costly return package that the D-backs had to part with in order to land him. 
Brandon McCarthy's health history: When healthy, McCarthy is a very good starting pitcher. However, health has unfortunately eluded him for much of his career. He's logged a qualifying number of innings only once, and he's been on the DL nine times. Overall, McCarthy has lost more than 500 games to injury. That history is impossible to ignore. 
Catching depth: What happens if Miguel Montero, like last season, is able to play just 116 games? Right now, the fallback is 42-year-old Henry Blanco, he of the career 67 OPS+. In the high minors is collection of retreads. This is a hole that needs to be addressed before the Diamondbacks get too deep into the regular season. 
The World Series champions aren't complacent

Stanton swiped at his old team on his way out

Your one-stop shop for all things MLB Winter Meetings-related
Matt Harvey could be on his way out of New York

The Nationals are looking to improve on the edges of their roster

Ellsbury is due at least $68 million over the next three seasons