2014 Giants preview: Likes, dislikes
Here are some things we like and dislike about the Giants heading into the 2014 season.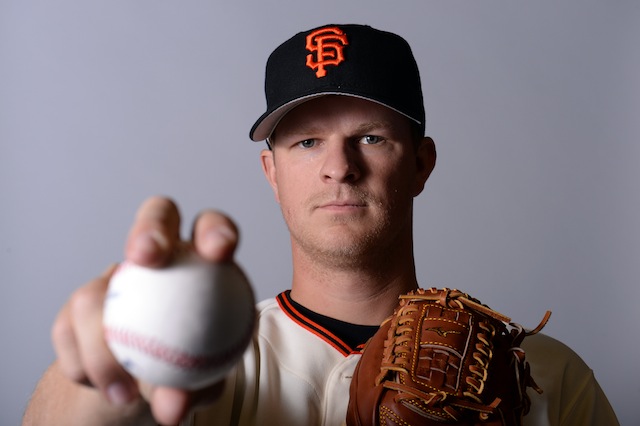 More Giants: Team preview | Over/unders
As part of our preview series, Eye on Baseball will be picking and choosing some "likes" and "dislikes" for all 30 MLB teams heading into the 2014 season. For this installment, we'll run down what we like and don't like about the San Francisco Giants, who are looking to return to the postseason after finishing 10 games below .500 in 2013.
LIKES
Buster Posey: Simply put, he's one of the 10 most valuable players in all of baseball. Posey is a career .308/.377/.486 (143 OPS+) hitter who obviously mans a premium position and mans it quite well. On the defensive front, Posey grades out as a notable asset when it comes to framing pitches for strikes, and, entering his age-27 season, he may yet show improvement at the plate. 
Brandon Belt: Finally given ample opportunity, Belt delivered in a big way last season. For the year, he batted .289/.360/.481 (142 OPS+) with 17 homers and 39 doubles. That's in keeping with his oustanding minor-league track record. Expect more of the same going forward. 
Matt Cain's chances to bounce back: Cain endured a disappointing season in 2013, as he posted what was rather easily the worst ERA+ of his career (83) and failed to work at least 200 innings for the first time since his rookie season. Dig a little deeper, though, and it turns out that the only peripheral indicator that was very much out of whack was Cain's home runs/fly ball percentage. As we know, that's a figure highly prone to random fluctuation. As well, Cain's ERA after a brutal April was a much more palatable 3.42. In other words, expect more characteristic results for Cain in 2014.
DISLIKES
Michael Morse's outlook: Since Morse's breakout season of 2011, he's batted .258/.299/.432 in 190 games. That's not good production for a defensive liability whose lumbering body type suggests he won't age particularly well. I'm pretty bearish on his 2014, given that he'll playing the field regularly and playing his home games in a park that's pretty tough on right-handed power. 
Madison Bumgarner's future durability: First things first: Bumgarner is an outstanding starting pitcher, who, given health, should develop into a frontline ace. Regarding health, though, Bumgarner's heavy usage of the slider (a high-stress pitch), somewhat unorthodox mechanics and early workloads (735 1/3 innings at the major-league level by age 23) raise concerns moving forward. Maybe he's one of those rare pitchers to whom the usual concerns don't apply, but it's something to keep an eye on. 
The Twins have already fortified the bullpen with Addison Reed, and now they want to address...

The Orioles likely want pitching, and the Indians have plenty of it

Halladay died in a November plane crash off the coast of Florida
The power-hitting outfielder is headed to Toronto

Martinez could add some power to a Boston lineup void of it

It's almost that time of the year again, time for the Tebow madness to return