2014 Home Run Derby: Tracking the longest home runs by participants
A look at where this year's longest home runs by the 10 Home Run Derby participants would have landed if hit at Target Field, site of Monday's Home Run Derby.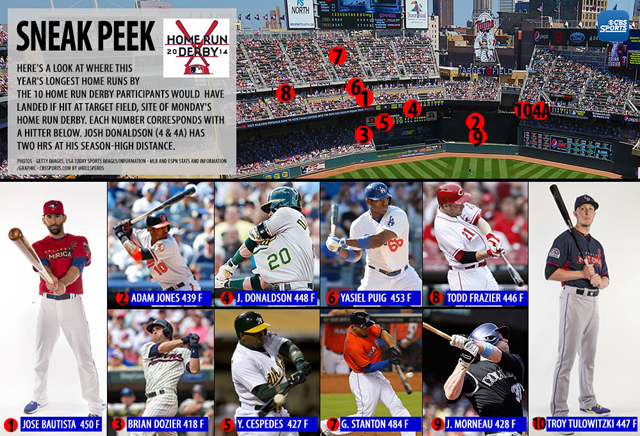 More All-Star Game: Final AL and NL rosters | Futures Game | All-Star news & notes
Monday's Home Run Derby brings with it a new format and a return to Minneapolis, where the first pre-All-Star Game Derby was held in 1985.
Target Field, the site of this year's Derby and All-Star Game, is not what one might classify as a home run-hitter's ballpark. The 10 Home Run Derby participants will, however, each attempt turn it into his own personal long-ball showcase.
Miami's Giancarlo Stanton is tied with NL captain Troy Tulowitzki for the league lead with 21 home runs. Stanton is the betting favorite to win Monday night at 2-1 (according to Bovada). Of the 10 participants, he has also hit the longest home run of the season thus far. His blast off Eric Stults of the Padres on April 4 traveled a "True Distance" of 484 feet, according to ESPN's Home Run Tracker. Stanton has averaged a "True Distance" of 423.8 feet for his home runs this season.
This chart estimates where each of the longest home runs hit by the 10 Home Run Derby particpants would have landed if they were hit at Target Field. There are other variables involved, including wind and weather, that make a 100 percent accurate picture impossible. The chart does offer a glimpse of what you might expect when each of the 10 hitters is able to connect the perfect pitch with the perfect swing Monday night.
The 10 Home Run Derby participants, with the longest home run each as hit this season, are listed below. These numbers here correspond to each photo and longest home run in the chart above. The players are listed with the "True Distance," date and location of their longest home run of 2014.
Josh Donaldson of the A's has hit two 448-foot home runs. Both are listed here.
American League
Jose Bautista, Blue Jays: 450 feet, July 1,  Rogers Centre
Adam Jones, Orioles: 439 feet, May 7, Tropicana Field
Brian Dozier, Twins: 418 feet, April 22, Tropicana Field
Josh Donaldson, Athletics: 448 feet, April 24, Minute Maid Park
4a. Donaldson: 448 feet, May 25, Rogers Centre
Yoenis Cespedes, Athletics: 427 feet, June 16, O.co Coliseum
National League
Yasiel Puig, Dodgers: 453 feet, May 3, Marlins Park
Giancarlo Stanton, Marlins: 484 feet, April 4, Marlins Park
Todd Frazier, Reds: 446 feet, May 3, Great American Ballpark
Justin Morneau, Rockies: 428 feet, May 18, Coors Field
Troy Tulowitzki, Rockies: 447 feet, April 18, Coors Field