2014 Impact Prospects: National League Edition
With young players becoming more and more important, here are some prospects who could have an impact for each National League club in 2014.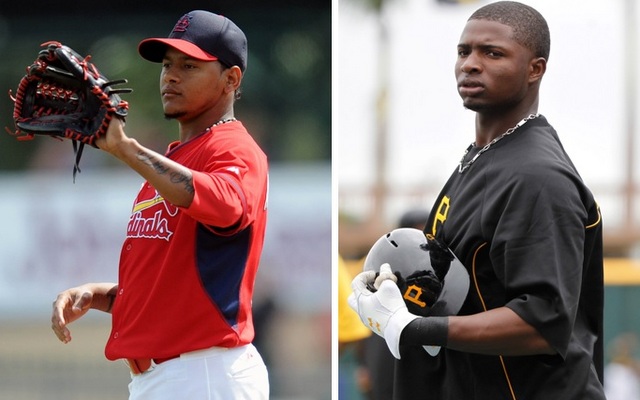 MORE: Spring Training | Scoreboard | Team previews
Over the last few years, young players have become more important than ever before. Teams are emphasizing the draft and international free agency, developing their prospects into useful big leaguers, and siging them to long-term contract extensions through their prime years. It's not just one or two clubs doing it anymore. Every club is in on it.
So, with that in mind, we're going to look at some prospects who have the potential to come up and be an impact player for their team in 2014. Not everyone is a Jose Fernandez or Mike Trout, sometimes they're a Juan Lagares or Paco Rodriguez. Impact comes in many different shapes. Some of these prospect choices will be pretty obvious, many will not. We covered the American League on Sunday, so this post will focus on the National League.
NL EAST
Braves - RHP David Hale: The injuries to Brandon Beachy and Kris Medlen opened a rotation spot for Hale, at least until Mike Minor returns. The 26-year-old was the team's third-round pick in 2009, and last season he allowed one run with a 14/1 K/BB in 11 innings across two spots start for Atlanta. He also had a 3.22 ERA in 114 2/3 Triple-A innings. As a durable right-hander with a low-90s fastball and two strong secondary pitches in his changeup and slider, Hale has the makings of a rotation stalwart. He's a sleeper Rookie of the Year candidate. Honorable Mention: 2B Tommy LaStella, who had a .444 OBP at two levels in 2013. He could replace Dan Uggla very soon.
Marlins - LHP Andrew Heaney: As we saw with Jose Fernandez last season, the Marlins are not opposing to rushing prospects to the show. Heaney, the ninth overall pick in the 2012 draft, had a 1.60 ERA with 8.4 K/9 and 2.5 BB/9 in 95 1/3 innings split between Single-A and Double-A last summer, missing a little time with a lat strain. The 22-year-old sits in the mid-90s with a wipeout slider and a solid changeup, plus he knows how to set hitters up. Heaney won't have a Fernandez level impact, but he's very good in his own right. Honorable Mention: RHP Arquimedes Caminero, who has a triple-digit fastball and struck out 12 batters in 13 innings for the Marlins in his MLB debut in 2013.
Mets - C Travis d'Arnaud: d'Arnaud, 25, has already been traded for two Cy Young award winners (Roy Halladay and R.A. Dickey). He got his feet wet last year, hitting .202 with one home run in a 31-game cameo in New York, but he's slated to take over behind the plate full time in 2014. His numbers at hitter friendly Triple-A Las Vegas are off the charts (.328/.402/.588 with 18 HR in 86 games), though he does have real power and is a strong fundamentally behind the plate. The learning curve and adjustment period for young catchers is greater than it is at any other position, however. Honorable Mention: RHP Noah Syndergaard, who is likely to follow the Matt Harvey/Zack Wheeler path and make his debut at midseason.
Nationals - RHP Christian Garcia: Most of Washington's top young players are either in the big leagues or the lower levels of the minors. Garcia is old for a prospect at 28 and he's missed a ton of time with injuries throughout his career. He made his MLB debut in 2012 and posted a 15/2 K/BB in 13 innings, but forearm and hamstring problems limited him to only 13 minor league innings in 2013. Garcia has nasty stuff, including a mid-to-high-90s fastball, a swing-and-miss changeup, and this cartoon-ish breaking ball:
Garcia is in position to grab a bullpen spot in Washington this year and become a late-inning force, assuming he avoids the injury bug for a few months. Honorable Mention: IF Zach Walters, a low OBP switch-hitter who clubbed 29 homers in the minors in 2013.
Phillies - 1B/3B Maikel Franco: The Fightin's have been looking for a right-handed power bat to complement Ryan Howard and Chase Utley since Jayson Werth left, and Franco might be that guy. The 21-year-old swatted 36 doubles and 31 home runs in 134 games split between Single-A and Double-A last season, and he'll open this year in Triple-A. Franco has some good defensive tools at the hot corner and he's also dabbled at first. Cody Asche won the third base job this spring but he is hardly entrenched at the position. Franco's coming. Honorable Mention: LHP Austin Wright, who struggled as a starter but has the fastball/breaking ball combination to be an impact lefty specialist.
NL CENTRAL
Brewers - RHP Jimmy Nelson: Milwaukee does not have a strong farm system, but Nelson projects as a solid mid-rotation starter who will chew up innings. The 24-year-old was the team's second round pick in 2010 and he made his big league debut last season, allowing one run in 10 innings. Nelson managed a 3.27 ERA with a 9.6 K/9 and 3.8 BB/9 in 152 1/3 innings between Double-A and Triple-A in 2013, and his four-pitch mix is more than enough to remain in the rotation. He will open the year back in the minors but figures to be the first called up when another starter is inevitably needed. Honorable Mention: 1B Hunter Morris, who has hit 52 home runs between Double-A and Triple-A from 2012-13.
Cardinals - RHP Carlos Martinez: Martinez, 22, was the team's primary setup man in the postseason last year and will again fill that role in 2014 after losing the fifth starter competition to Joe Kelly in camp. His 5.08 ERA in 28 1/3 regular season innings for St. Louis last summer is hardly indicative of his true potential. Martinez throws 98-100 like it's a walk in the park and he has two strong offspeed pitches in his slider and changeup. He can be just as good as closer Trevor Rosenthal this season, no doubt about it. Honorable Mention: OF Oscar Taveras, who is coming off ankle surgery and battled nagging injuries in camp, but is one of the top prospects in the game.
Cubs - 3B Mike Olt: Acquired from the Rangers in the Matt Garza trade, the 25-year-old Olt had a miserable 2013 season (.684 OPS in the minors) after swatting 28 home runs in 2012. He dealt with vision problems though, and a new prescription and eye drops have him tearing the cover off the ball in camp (.963 OBP) and on the inside track for the third base job. The Cubbies have a ton of great position player prospects like Javier Baez, Kris Bryant and Albert Almora, but none have a chance to crack the opening day roster like Olt. Honorable Mention: RHP Arodys Vizcaino, who missed the last two seasons with elbow problems but could be a force out of the bullpen.
Pirates - OF Gregory Polanco: There's very little doubt Polanco is the best right fielder in the organization right now, but he will open the season in the minors due to service time concerns. The 22-year-old ex-pitcher hit .285/.356/.434 with 30 doubles, 12 home runs and 38 stolen bases in 127 games at three minor league levels in 2013, and he boasts outstanding defensive tools as well -- he's a center fielder who will move to right in deference to Andrew McCutchen and Starling Marte. Whenever Polanco is called up, he will instantly become a serious Rookie of the Year contender. Honorable Mention: C Tony Sanchez, the former fourth overall pick who will get a chance to backup Russell Martin due to Chris Stewart's knee injury.
Reds - OF Billy Hamilton: Obvious, right? Hamilton's speed is the best in baseball and it gives the 23-year-old a chance to be the game's first 100+ steal man since Vince Coleman in 1987. Hamilton hit only .256/.308/.343 in Triple-A last season and there are serious questions about whether he will reach base enough to use his speed, but the club has said he will be their center fielder and leadoff hitter come opening day. That 100+ steal potential makes his Rookie of the Year candidate by itself. Honorable Mention: RHP Curtis Partch, a reliever who walked (17) more batters than he struck out (16) in his MLB but has a huge fastball.
NL WEST
Diamondbacks - RHP Archie Bradley: Patrick Corbin's Tommy John surgery sped up Bradley's timetable. The 21-year-old was the seventh overall pick in 2011 and he is the game's top pitching prospct after posting a 1.84 ERA with 9.6 K/9 and 4.1 BB/9 in 152 innings between Single-A and Double-A in 2013. Bradley have an overpowering mid-90s fastballs and a hammer curveball to go along with an improving changeup. He'll open the year in Triple-A to fine tune some things before joining the team at midseason, maybe sooner. Honorable Mention: SS Chris Owings, a two-way threat who has made Didi Gregorius expendable.
Dodgers - OF Joc Pederson: Pederson, 21, was an 11th round pick in 2010 who put up a stellar .278/.381/.497 batting line with 22 home runs and 31 stolen bases in Triple-A last season. He's also a strong outfield defender who can play center. The Dodgers have several big name outfielders, but Matt Kemp (ankle) is hurt, Yasiel Puig always seems to be banged up, and Andre Ethier is no stranger to the DL. There is no obvious path for playing time for Pederson in 2015 (or 2016 or 2017 for that matter), meaning he might have the most impact for Los Angeles as a trade chip. Honorable Mention: 2B Alexander Guerrero, who should take over the second base job after some time in the minors.
Giants - RHP Heath Hembree: The 4.07 ERA in 55 1/3 Triple-A relief innings doesn't stand out, but the 25-year-old Hembree posted a 63/16 K/BB and has power stuff befitting of the late innings. Hembree's fastball sits in the mid-90s and he improved his slider last season, learning how to throw it for strikes or just off the plate for swings and misses. He made his brief big league debut last season and was already sent down to Triple-A, but he'll resurface at some point this summer, presumably for good. Honorable Mention: LHP Edwin Escobar, a three-pitch southpaw who will open the season in Triple-A.
Padres - RHP Matt Wisler: Wisler, 21, has shot up the minor league ladder after being a seventh round pick in 2011. He had a 2.78 ERA with 8.7 K/9 and 2.2 BB/9 in 136 innings split between Single-A and Double-A last season, showing two fastballs and a five-pitch mix overall. Wisler is a true player development success story for San Diego, and although he struggled in his most recent spring outing, he has received consideration as Josh Johnson's replacement. Either way, he should make his MLB debut at some point in 2014. Honorable Mention: RHP Casey Kelly, who is returning from Tommy John surgery but should be ready at midseason.
Rockies - RHP Eddie Butler: The Rockies have never had two ace-caliber pitching prospects like Butler and Jonathan Gray, both of whom will open the season in Double-A. I'll go with the 23-year-old Butler for the team's impact prospect only because he pitched at Double-A late last year. Gray topped out at Single-A after being the third overall pick in the country. Butler had a 1.80 ERA with a 8.6 K/9 and 3.1 BB/9 in 149 2/3 total innings last season, and his stuff is just vicious: a mid-90s fastball, arguably the best changeup in the minor leagues, and a hard slider. Honorable Mention: Gray, another right-hander who is a midseason call-up candidate.
The Rangers have a lot riding on Mike Minor and Matt Bush

Though the process is far from complete, taxpayers got good news Thursday

Dickerson had been designated for assignment by the Rays last week
Honeywell is considered a top 15 prospect overall in baseball

Troy Tulowitzki is not a pitcher, for those of you who don't know

It will be MLB's 15th game abroad and the A's third in 12 years