2014 Indians preview: Likes, dislikes
What do we like and dislike about the Indians this season? Jason Kipnis and the rotation will be covered.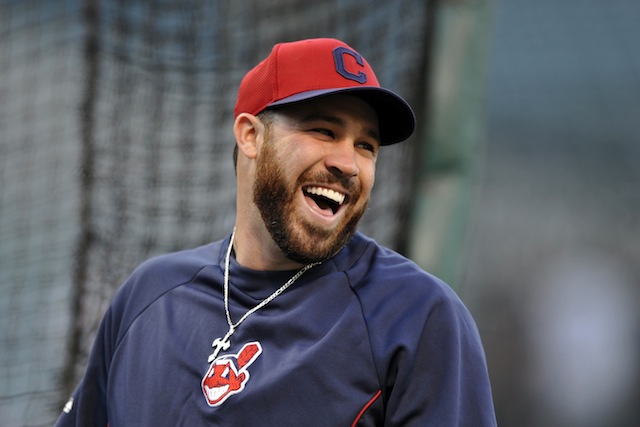 More Indians: Team preview | Over/unders
As we continue our trek through an examination of each of the 30 MLB teams for the 2014 season, the Cleveland Indians are next up under the microscope. Right here are our Likes and Dislikes, where we tell you things about the club in question that we, um, like and dislike. Keepin' it simple and all that ...
LIKES
Jason Kipnis as an MVP candidate: Last season, Kipnis authored an exceptional season: .284/.366/.452 (133 OPS+) with 36 doubles, 17 homers, 20 steals in 37 attempts and solid defense at the keystone. Given that Kipnis in 2013 started hitting more fly balls, hit a higher percentage of those fly balls out of the park and increased the average distance of those fly balls, I expect even better things to come. Kipnis, who turns 27 early next month, could be ready to take the next step in 2014.
Lineup vs. RHPs: Survey the likely Cleveland lineup, and you'll find just one right-handed bat, that of Yan Gomes. The rest are either lefties or switch-hitters. That should lead to a lot of platoon-advantaged plate appearances for Terry Francona's offense. In division that's pretty heavy on right-handed starting pitchers, that's a good thing.
The addition of David Murphy: Murphy is a plus fielder who has a career OPS of .816 against the opposite side. Yes, Murphy's numbers were down last season, but his badly depressed BABIP in 2013 (.227 versus a .302 career mark) suggests a significant rebound is in the offing. At a price of just $12 million over two years, Murphy could stand as one of the bargains of the offseason.
DISLIKES
Rotation depth: Justin Masterson is real asset at the front end, and Corey Kluber and Danny Salazar have the potential for useful adequacy. After that, though, you're dipping into some likely ERAs in the mid-4.00s and worse. Almost every team is going to use at least eight or nine starters during the course of the six-month regular season, and the Indians are going to struggle when that depth is needed.
Defense: Last season, the Indians ranked 10th in the AL in Defensive Efficiency (i.e., the percentage of balls in play that a defense converts into outs), 10th in fielding percentage and 13th in Ultimate Zone Rating. The Indians' pitching staff did a good job of limiting contact last season, but team fielding remains a concern. 
Gallardo spent the first eight years of his career in Milwaukee

MLB revenues are at a record high right now, but teams aren't spending it on players

Chicago added Tyler Chatwood earlier this offseason but might not be done adding to the ro...
The Dodgers and Braves pulled off a whopper on Saturday

Sabathia will reportedly spend a 10th season in the Bronx

Fowler suffered a knee injury at Chicago's Guaranteed Rate Field