2014 Marlins preview: Likes, dislikes
What do we like about the Marlins heading into 2014? Quite a bit, surprisingly.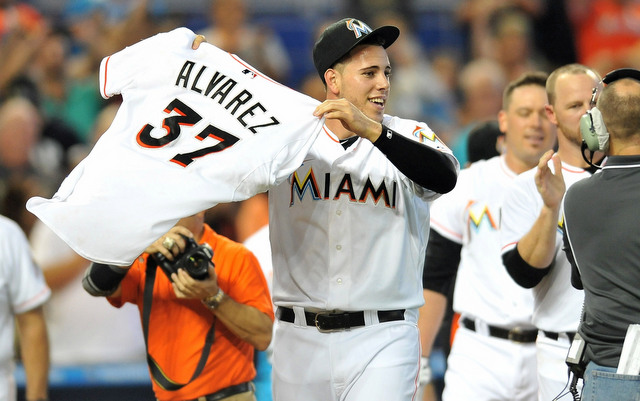 More Marlins: Team preview | Over/unders

As part of our preview series, Eye on Baseball will be picking and choosing some "likes" and "dislikes" for all 30 MLB teams heading into the 2014 season. For this installment, we'll run down what we like and don't like about the Miami Marlins, who finished in the NL East cellar last summer but have an impressive collection of young talent.
LIKES
Jose Fernandez: It's hard to think Fernandez can be better than he was last year, but he set the bar so high as a rookie that his performance could take a slight step back in 2014 and he'd still be a Cy Young contender. There isn't a more exciting or brighter-futured young right-hander in the game right now. This guy is such a stud.
Young rotation: Fernandez is worthy of his own section, but we can't forget about guys like Jacob Turner, Nate Eovaldi and Henderson Alvarez. That threesome combined for a 3.58 ERA and 306 hits allowed in 327 innings last season, and they'll all be in the rotation right out of the gate in 2014. Eovaldi turned 24 earlier this month and he's the oldest of the bunch, just to give you an idea of young these guys are. Fernandez is certainly the star of the show, but this is a group the Marlins can build around.
Giancarlo Stanton: Hard to believe Stanton turned only 24 in November, isn't it? He just completed his third full MLB season and it was a bit of a disappointment, mostly because of a hamstring injury and a complete lack of lineup protection. The impact of lineup protection is generally overstated, but it's not an accident only 41.1 pecent of the pitches thrown to the slugger formerly known as Mike in 2013 were strikes, the second fewest in baseball. Stanton is still the best young power hitter in the game and that alone makes him easy to like.
Young outfield: Again, Stanton was worth his own section, but it's hard not to be excited about Christian Yelich, Jake Marisnick and Marcell Ozuna as well. Yelich, who is only 21, hit .288 with a 112 OPS+ in his 62-game cameo last season, and now he's slated to be the everyday left fielder. Ozuna managed 17 doubles and 24 extra-base hits in his 70 games with the Fish. Marisnick had a rough MLB debut (32 OPS+) but he might have the best raw tools of the trio. Stanton and Yelich are legitimate cornerstone types.
DISLIKES
The infield: Man, this infield is really terrible. Around the horn we've got 3B Casey McGehee (spent 2013 in Japan), SS Adeiny Hechavarria (-1.9 WAR in 2013), 2B Rafael Furcal (missed 2013 with Tommy John surgery) and 1B Garrett Jones (-0.2 WAR in 2013). UTIL Jeff Baker salvages the lot somewhat, but it's unclear how much time he'll actually spend on the infield after playing primarily left field last year. The outfield? Young and exciting. The infield? Hide the women and children.
Jeffrey Loria: Worst owner in sports? Worst owner in sports. Loria and his henchmen (president David Sampson, primarily) swindled millions to pay for their new ballpark, signed a bunch of expensive free agents when the place opened, then traded them away one year later. Awful. Awful awful awful. I truly believe baseball can not only work in South Florida, but thrive. Not with Loria though, a new owner is needed.
Your one-stop shop for all things MLB Winter Meetings-related

Bryan Mitchell also heads to San Diego in the reported deal

The super agent is aiming high for free-agent starting pitcher Jake Arrieta's payday
Marcell Ozuna figures to be the next Marlins star on the move

Several relievers have signed in the last two days

Several teams are interested in the switch-hitting first baseman