2014 MLB All-Star Game: Who will be the starting pitchers?
For the 2014 MLB All-Star Game, which pitchers will get the start? I'll predict Felix Hernandez (AL) and Adam Wainwright (NL).
More All-Star Game: Rosters | Final Vote candidates | AL Snubs | NL Snubs
The rosters -- absent the Final Vote winners -- for the 2014 MLB All-Star Game were revealed Sunday night. We know the position-player starters, but we don't yet know the starting pitchers. Those will be revealed at a press conference next Monday afternoon at Target Field in Minneapolis, but that can't stop us from speculating who the starters will be in the meantime.
My predictions are Felix Hernandez for the AL and Adam Wainwright in the NL.
First things first, pitchers who start on the Sunday before the game are ineligible. So eliminate Masahiro Tanaka on the AL side. For the NL, there are going to be a near-handful of replacements, because Johnny Cueto, Julio Teheran, Madison Bumgarner and Tyson Ross are starting.
On the NL side, I don't believe that Mike Matheny would pick a replacement, so his only choices are Wainwright, Clayton Kershaw, Zack Greinke and Jordan Zimmermann. Here are the traditional numbers for each:
Wainwright: 11-4, 1.89 ERA, 106 K, 124 IP
Kershaw: 10-2, 1.85 ERA, 115 K, 87 1/3 IP
Greinke: 11-4, 2.66 ERA, 119 K, 111 2/3 IP
Zimmermann: 6-4, 2.79 ERA, 96 K, 109 2/3 IP
It has to boil down to Wainwright and Kershaw.
Given that it's very close, Kershaw missed several weeks due to injury and Wainwright is Matheny's guy, I think Wainwright is the pick. Some might not like it, but Matheny earned the right to pick his pitcher when the Cardinals won the NL last season.
Of course, there's always the chance Wainwright and Matheny decide together that Kershaw should be the choice, but I can't see a manager not picking his player when it's so close, assuming said player wants to start.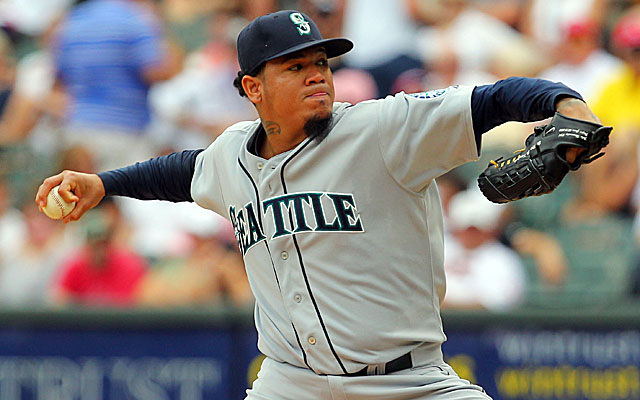 In the AL, lots more guys are eligible. In addition to the pitchers on the roster now, there will be one more added via the Final Vote. I don't think whoever wins that would be the choice to start, though.
So the choices are Yu Darvish, Max Scherzer, Hernandez, Jon Lester, David Price, Scott Kazmir and Mark Buehrle.
The numbers:
Darvish: 8-4, 2.63 ERA, 134 K, 109 1/3 IP
Scherzer: 10-3, 3.47 ERA, 139 K, 119 1/3 IP
Hernandez: 10-2, 2.11 ERA, 145 K, 136 1/3 IP
Lester: 9-7, 2.73 ERA, 122 K, 122 IP
Price: 8-7, 3.48 ERA, 159 K, 139 2/3 IP
Kazmir: 10-3, 2.53 ERA, 99 K, 110 1/3 IP
Buehrle: 10-6, 2.60 ERA, 70 K, 121 1/3 IP
Farrell, like Matheny, has the chance to pick his guy, but Lester is far behind Hernandez here and I don't think he would go off the board for a "homer" pick.
Given King Felix's pedigree, his excellent numbers and that he's possibly having his best season -- this time for a legitimate contender -- he would make a fine choice. Factor in that he's scheduled to start Friday and then the first game following the All-Star break, he would have to have a "throw day" in between. The first two innings of the All-Star Game will work perfectly. The pick seems logical and obvious, especially when you factor in he's one of the generation's best pitchers and hasn't yet started an All-Star Game.
So, next Tuesday, expect to see Felix Hernandez vs. Adam Wainwright to begin the 2014 All-Star Game.
There's no reason to run over the cases for and against Bonds, so let's have fun instead

The coveted right-hander would certainly be a fit in Milwaukee

We rate the best mustaches from random baseball cards because, why not?
Colon wants to break a Dennis Martinez record

The Twins have been rumored to be interested in Darvish all winter

Rolen is one of the best third basemen of all time, but you wouldn't know it based on this...