2014 MLB regular season: Looking at player over/unders
How many steals will Billy Hamilton have? What will Albert Pujols hit? How many homers will Bryce Harper hit? Check out the lines.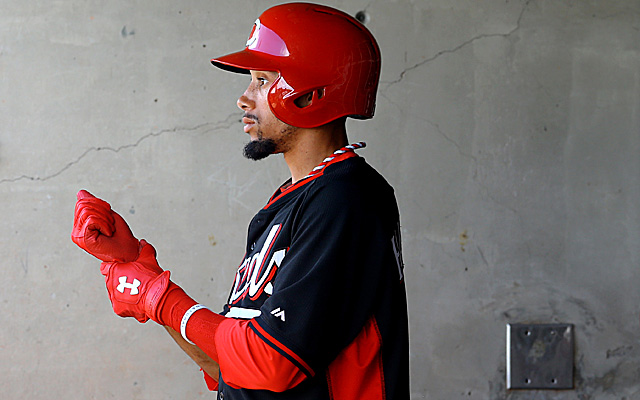 MORE: Predictions | Spring Training | Scoreboard | Team previews
With the 2014 Major League Baseball just season just about to get underway -- aside from those pesky two Australia games -- let's take a look at some of the prop bets available on Bovada.lv.
For the full list, go to the actual site. I'm gonna pick out five over/unders from each particular stat listed below that I found most intriguing.
To reiterate: These are not the only players listed among the over/unders, nor are these the top five in any given category. They are cherry-picked for fun.
Batting average
Miguel Cabrera, .325
Mike Trout, .320
Ryan Braun, .300
Albert Pujols, .290
Derek Jeter, .280
Home runs
Chris Davis, 39.5
Giancarlo Stanton, 38.5
Bryce Harper, 26.5
Robinson Cano, 26.5
Wil Myers, 24.5
RBI
Paul Goldschmidt, 115.5
David Ortiz, 95.5
Joey Votto, 90.5
Brandon Phillips, 84.5
Ryan Howard, 79.5
Runs
Mike Trout, 115.5
Matt Carpenter, 105.5
Shin-Soo Choo, 100.5
Jacoby Ellsbury, 99.5
Ian Kinsler, 95.5
Stolen bases
Billy Hamilton, 63.5
Everth Cabrera, 49.5
Jose Altuve, 35.5
Coco Crisp, 29.5
Brett Gardner, 27.5
Wins
Max Scherzer, 16.5
Stephen Strasburg, 15.5
Felix Hernandez, 14.5
Gerrit Cole, 12
Sonny Gray, 12
ERA
Jose Fernandez, 2.99
David Price, 3.05
Cliff Lee, 3.10
Matt Cain, 3.30
Masahiro Tanaka, 3.60
Strikeouts
Yu Darvish, 250.5
Clayton Kershaw, 235.5
Chris Sale, 225.5
Justin Verlander, 219.5
Jeff Samardzija, 215.5
Saves
Joe Nathan, 40.5
Greg Holland, 39.5
David Robertson, 34.5
Trevor Rosenthal, 33.5
John Axford, 32.5
Marcell Ozuna figures to be the next Marlins star on the move

Several relievers have signed in the last two days

Several teams are interested in the switch-hitting first baseman
Neshek and the Phillies are closing on a two-year contract

And the team that first drafted Cole is interested

This scout was SUPER into Jeter