2014 Nationals preview: Likes, dislikes
There's a lot to like about the Nationals heading into 2014, though we did say the same thing last year.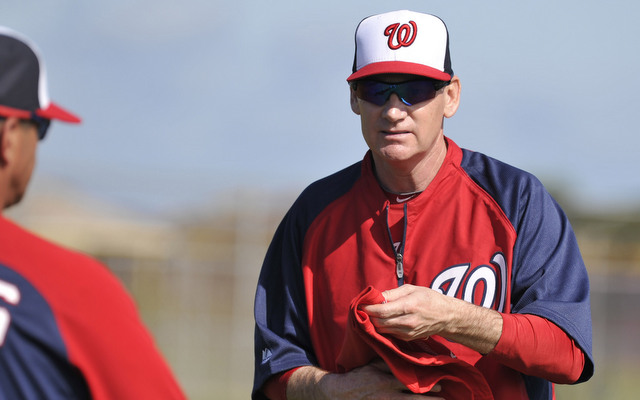 More Nationals: Team preview | Over/unders
As part of our preview series, Eye on Baseball will be picking and choosing some "likes" and "dislikes" for all 30 MLB teams heading into the 2014 season. For this installment, we'll run down what we like and don't like about the Washington Nationals, who disappointed last season after a smashingly successful 2012 campaign.
LIKES
The rotation: So the Doug Fister trade was the single best move of the offseason right? The Nationals nabbed the workhorse for a good but not great pitching prospect and two spare parts, adding him to an already impressive starting staff that includes Stephen Strasburg, Gio Gonzalez and Jordan Zimmermann. By WAR, they were four of the 33 best starters in the game over the last two years. Fister is the oldest of the foursome at 30, so not only should we expect these guys to continue to be awesome in 2014, but they could get even better. Ross Detwiler is currently slated to open the year as the fifth starter but the Nats could use almost anyone in that spot and still have arguably the best rotation in the league.
Bryce Harper: With all due respect to Manny Machado, there is not a more exciting non-Mike Trout young position player in baseball that Harper. The kid is going to hit 50 home runs one of these, it feels like only a matter of time, though expecting that in 2014 might be a tad premature. The 21-year-old Harper does almost everything though, from hitting mammoth moonshots to uncorking rocket throws from the outfield. He is his own worst enemy in the sense that he plays so hard he hurts himself, but that is something he can learn to control with experience. Aside from Trout, I don't think there's a better young cornerstone position player in the game.
Non-Rafael Soriano relievers: The Nationals have a great pitching staff from top to bottom. It isn't just that rotation. Tyler Clippard headlines a stacked setup crew that includes bounceback candidate Drew Storen, workorse Craig Stammen, lefty Jerry Blevins and long man Ross Ohlendorf. Right-hander Chris Garcia is returning from a forearm injury and he might have the nastiest stuff among the team's bullpeners. Washington has a deep, strikeout heavy bullpen that is more than capable of protecting any leads the rotation hands over.
The bench: I'm a big believer in depth and the Nationals did a nice job of strengthening their bench this winter. They signed outfielder Nate McLouth and traded for backup catcher Jose Lobaton, who will join lefty masher Scott Hairston and infielders Jamey Carroll and Danny Espinosa. Espinosa is coming off a disastrous and injury plagued 2013 season but he was a solid everyday second baseman from 2011-12. That's a deep and diverse group, a necessity for an NL contender.
DISLIKES
Infield defense: Ian Desmond is very good at shortstop, but otherwise Washington has sketchy defenders at the other three infield spots. Ryan Zimmerman's throwing problems have gotten so severe that he is working out at first base this spring in preparation for a move across the diamond. Adam LaRoche has never been a standout gloveman and Anthony Rendon has adapted well at second, but he is still a third baseman learning the position. It's not a fatal flaw by any means, but overall this unit will not help out the pitching staff all that much defensively.
Rafael Soriano: The Nationals perhaps overreacted to Storen's blown save in Game 5 of the 2012 NLDS by signing Soriano, who was solid last season but is clearly trending the wrong way. His strikeout rate (6.9 K/9) was his lowest since his rookie year in 2002, his average fastball velocity (91.4 mph) was by far his lowest during the PitchFX era (2007-present), and lefties tagged him for a .271/.342/.443 batting line in 2013. At 34 years old and with a history of elbow problems, Soriano seems to be teetering on the edge of effectiveness and disaster at this point of his career.
Rookie manager: This is nothing against Matt Williams personally. It's about handing the keys to a contending team to a manager with no experience in general. Lots of clubs have done it recent years (Tigers, Cardinals, Dodgers, etc.), but history suggests there will be some growing pains as Williams learns the ropes. The Nationals deserve credit for going with their guy, but most win-now teams would have gone with an experienced skipper.
Where might the Orioles third baseman land?

Kinsler will slot in at second base for the Angels

The Marlins got a better return for Ozuna than Stanton or Gordon
The two teams are going about things in very different ways

The Marlins are indeed in teardown mode under new ownership

The Marlins still have more attractive pieces