2014 Orioles preview: Likes, dislikes
What's there to like and not like about Baltimore headed into the 2014 season? Let's dig in.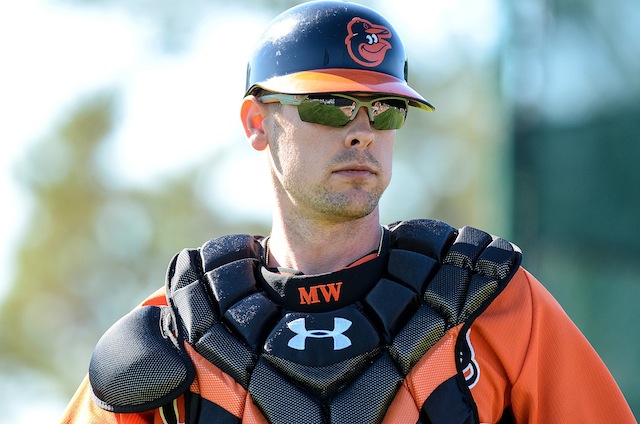 More Orioles: Team Preview | Over/unders

As part of our preview series, Eye on Baseball will be picking and choosing some "likes" and "dislikes" for all 30 MLB teams heading into the 2014 season. For this installment, we'll run down what we like and don't like about the Orioles, who have reeled off back-to-back winning seasons ... 
LIKES
Rotation depth: While the O's rotation as presently constructed is far from ideal (more on that in a moment), they do have a lot of capable bodies in the mix. Chris Tillman, Ubaldo Jimenez and Wei-Yin Chen likely have their spots secure. Competing for the final two slots, in no particular order, will be Bud Norris, Miguel Gonzalez, Kevin Gausman and Zach Britton. Top pitching prospect Dylan Bundy, who's working his way back from Tommy John surgery, could be ready to help out at the top level for at least a chunk of the season, and well regarded peers Eduardo Rodriguez, Mike Wright and Tim Berry aren't far away. As well, import Suk-min Yoon is capable of starting if needed. (All of this is to say nothing of Hunter Harvey, who, although in the lower rungs of the system, has plenty of upside.) There's strength in numbers, to be sure. 
Power: Yes, the O's can hit for power. Last season, they led all of MLB with 212 home runs (24 more than the second-place Mariners) and ranked third in SLG and fifth in doubles. Remove Chris Davis's 53 bombs from the calculus, and the Orioles still would've had an above-league-average home run total. The residue of Camden Yards? Not especially, as the O's ranked third in MLB in homers on the road. Slotting in Nelson Cruz at DH may help those totals modestly in 2014.
Tommy Hunter's closer potential: Many teams have proved that a "veteran closer" is hardly essential, and Baltimore aims to become the latest example. After having a deal with Grant Balfour fall apart and then trading Jim Johnson, the Orioles seem poised to give the job to Hunter. The 27-year-old Hunter has made 91 career relief appearances in 166 games overall. In those 91 appearances, he's pitched to a 2.99 ERA (versus a 4.88 ERA as a starter) and 4.13 K/BB ratio. While Hunter does have some platoon issues overall, that would become much less of a concern in a full-time relief role, as he wouldn't need that third pitch versus the opposite side. Chances are, he'll do just fine in the role.
DISLIKES
Second base situation: The O's will likely open the season with Jemile Weeks as their starter at second. Failing that, they may turn to Ryan Flaherty once Manny Machado returns. Failing that, there's prospect Jonathan Schoop. While Schoop has a decent ceiling, he struggled last season after a promotion to Triple-A and may not be ready for the highest level. In other words, this could be a trouble spot for Baltimore all year.
The lack of a true ace: While Baltimore's rotation depth is rightly praised above, this remains a staff larded with mid-rotation types, at least until Bundy, Gausman and Rodriguez realize their potential. Jimenez has pitched like a frontline starter in the past, but he hasn't maintained that kind of performance over a full season since 2010. Tillman went 16-7, but his run-prevention numbers were good, not great. (His peripherals weren't even good.) Depth is nice, but in a division like the AL East you need a stopper. 
Matt Wieters's breakout potential: At the outset, let me say that Wieters is a solid player. He's a sound defensive catcher with pop and durability. He's not, however, a star. After being drafted out of Georgia Tech with the fifth overall pick in 2007 and then dominating the minors, Wieters looked precisely like a future star. He enters 2014, however, with a career OPS+ of 98 -- decent production by the standards of the position but not elite by any means. Wieters will turn 28 this May, so it may be time to stop anticipating that he'll ll take the next big step. Maybe this is as good as Matt Wieters is going to get? 
Wright was arrested at his home Friday

The former Tigers teammates were voted into Cooperstown by the 16-person Modern Era Commit...

The Yankees still have room for a good-sized signing even after Saturday's trade with Miam...
St. Louis gets some much needed help for their bullpen

Keep tabs on the top 50 free agents right here

Morrow thrived with the Dodgers last season