2014 over/unders: Cincinnati Reds
Let's lay some numbers on the 2014 Reds. How many homers does Jay Bruce have in him? What about Billy Hamilton's steals?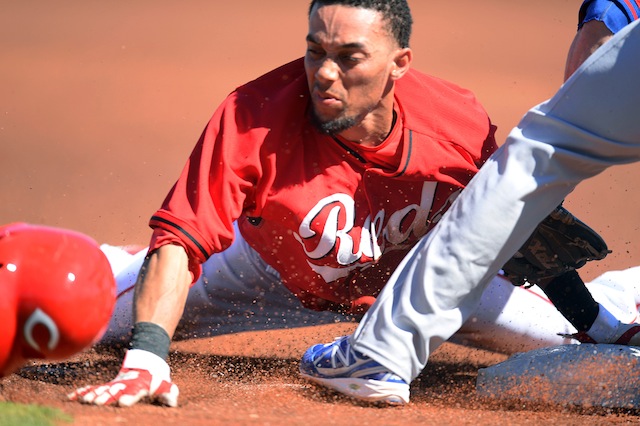 More Reds: Team preview | Likes, dislikes

Another day, another team preview, another round of over/unders. Here's a quick explanation of what we're doing:
As part of our preview of the 2014 season to come, let's roll out a few "over/unders" for each team. That is, we'll assign a number to some different categories that, in their own way, will predict one facet of the season ahead. In turn, you, the loyal commenter, will let us know whether you take the "over" or "under" for each category. Stated another way, will the actual figure be higher or lower than the one we've presented? Remember, we're talking 2014 season and 2014 season only.
Today's team is the Cincinnati Reds, who are looking to make the playoffs for the third straight season ...
---
Wins: 87.5
Place in NL Central: 2.5
Jay Bruce's home runs: 33.5
Billy Hamilton's stolen bases: 77.5
Joey Votto's walks: 119.5
Brandon Phillips's RBI: 72.5
Homer Bailey's ERA: 3.45
Aroldis Chapman's saves: 25.5
Playoff games won: 0.5
Ferrell somehow avoided going to the ground

Plus, we saw a possible AL Wild Card Game preview in the Bronx and lots more from around M...

The Pirates disappointed in 2017. Will 2018 be any different?
Let's see how SportsLine forecasts the race for MLB's 10 playoff spots

This has only previously happened twice in history in non-strike seasons

Plus the AL West champ has been crowned and more