2014 over/unders: Detroit Tigers
Time for some over/unders on the 2014 Tigers, such as Joe Nathan's save total and the number of contrived Ian Kinsler controversies involving his former team.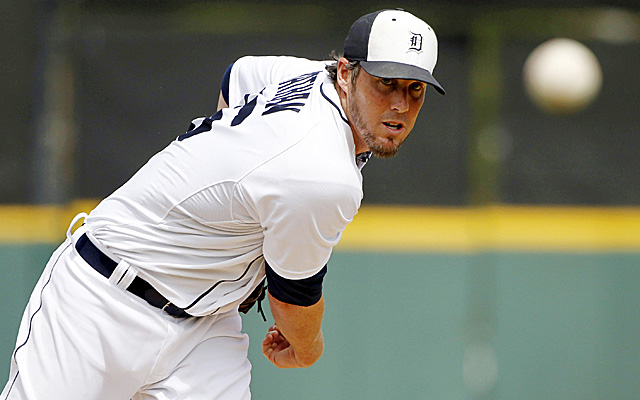 More Tigers: Team preview | Likes, dislikes
Time for another round of team over/unders. What's this, you ask? Here's the explanation:
As part of our preview of the 2014 season to come, let's roll out a few "over/unders" for each team. That is, we'll assign a number to 10 different categories that, in their own way, will predict one facet of the season ahead. In turn, you, the loyal commenter, will let us know whether you take the "over" or "under" for each category. Stated another way, will the actual figure be higher or lower than the one we've presented? Remember, we're talking 2014 season and 2014 season only.
Today's club is the Detroit Tigers, who once again won the AL Central title, but took a step backward in failing to make the World Series. Now to the betting lines ...
---
Wins: 90
Finish in AL Central: 1.5
Postseason series wins: 1.5
Number of combined wins for Justin Verlander, Max Scherzer, Anibal Sanchez: 45
Number of rate stats (AVG/OBP/SLG) in which Miguel Cabrera leads the AL: 1.5
Major individual awards (MVP, Cy, ROY, MGR): 1.5
Additional "controversies" between Ian Kinsler, Rangers: 0.5
Joe Nathan saves: 38
The Tigers are very early in their rebuild and they're counting on Miguel Cabrera to rebound...

The Grapefruit League and Cactus League seasons started on Friday

Data will be collected and then used to determine whether humidors are necessary in 2019
Spring training play began on Friday, and the Stoneman Douglas tragedy was on the mind of MLB...

Baseball players forced to take pictures usually lead to fun for all of us

One of the most celebrated programs in baseball is looking to continue its run