2014 over/unders: Los Angeles Dodgers
How many games will Matt Kemp play? How many postseason series will the Dodgers win? All of that and more in this edition of over/unders.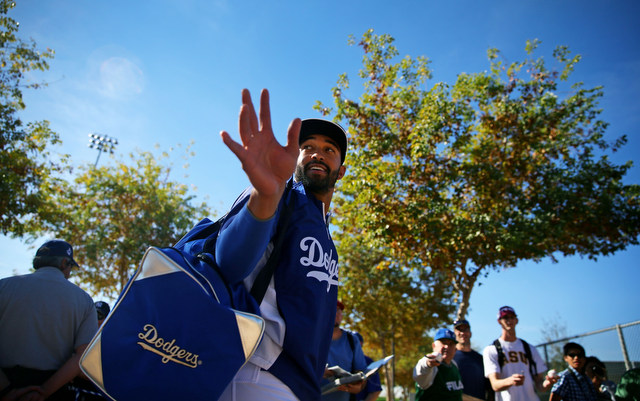 More Dodgers: Team preview | Likes, dislikes

Time for another round of team over/unders. What's this, you ask? Here's the explanation:
As part of our preview of the 2014 season to come, let's roll out a few "over/unders" for each team. That is, we'll assign a number to 10 different categories that, in their own way, will predict one facet of the season ahead. In turn, you, the loyal commenter, will let us know whether you take the "over" or "under" for each category. Stated another way, will the actual figure be higher or lower than the one we've presented? Remember, we're talking 2014 season and 2014 season only.
Today's club is the Los Angeles Dodgers, who won the NL West last season thanks to a ridiculous 53-13 stretch from June 22 through Sept. 3. Here are the betting lines...
---
Wins: 94.5
Place in NL West: 0.5
Matt Kemp's games played: 119.5
Alex Guerrero's games at second base: 80.5
Yasiel Puig's OPS: .895
Hanley Ramirez's inevitable contract extension: $99.5 million
Clayton Kershaw's place in NL Cy Young voting: 0.5
Combined starts, Chad Billingsley and Josh Beckett: 29.5
Kenley Jansen's K/BB ratio: 6.005
Postseason series wins: 2.5
Plus the A's have hope and all the rest of the day's action

Matt Chapman and Matt Olson give the A's hope

Despite an awful month, the Dodgers are again NL West champions
The record of 38 previously belonged to Hall of Famer Frank Robinson

The report also says that Jeter had outgoing president David Samson do the firing

This wasn't a traditional hidden ball trick, but the Blue Jays pulled it off