2014 Over/Unders: New York Yankees
As part of our team preview packages, we'll try to peg some pertinent numbers for the season to come. You'll tell us how we did.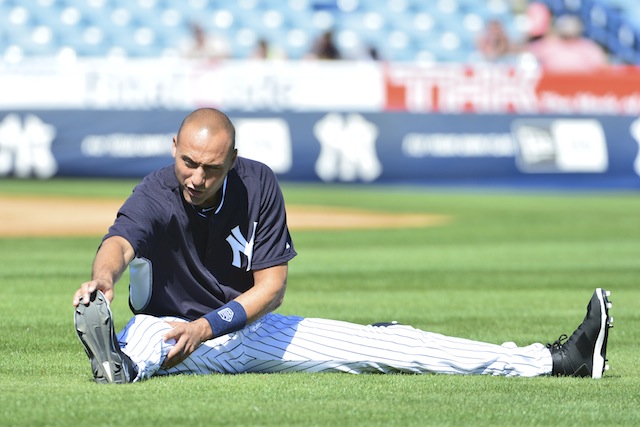 MORE: Spring Training | Yankees team preview | Yankees likes and dislikes

As part of our preview of the 2014 season to come, let's roll out a few "over/unders" for each team. That is, we'll assign a number to 10 different categories that, in their own way, will predict one facet of the season ahead. In turn, you, the loyal commenter, will let us know whether you take the "over" or "under" for each category. Stated another way, will the actual figure be higher or lower than the one we've presented? Remember, we're talking 2014 season and 2014 season only.
Let's kick things off with some 2014 over/unders for the New York Yankees ...
---
Wins: 87
Finish in AL East (the "under" would be a higher finish in this case): 2.5
Games played by Derek Jeter: 122
ERA of Masahiro Tanaka: 3.50
ERA of CC Sabathia: 4.00
Jacoby Ellsbury's home runs + steals: 68
Brian McCann's home runs at Yankee Stadium: 17
Relievers acquired via trade between Opening Day and July 31 non-waiver deadline: 1.5
Yankees to finish in the top 10 in the AL MVP balloting: 0.5
---
Now what do you say?
Check out all of Sunday's action, including a single-season record getting closer to falli...

The Blue Jays are not expected to bring Bautista back next season

The Dodgers have already clinched the NL West title, so the D-Backs will be a wild card te...
Judge's 48 homers trail only McGwire's 49 in single-season rookie history

The Reds still have one of the best hitters in the game in Joey Votto and a rising star in...

Maxwell joins a growing movement across sports