2014 over/unders: Philadelphia Phillies
In our latest round of over/unders, we focus on the Phillies and their ill-advised designs on contention.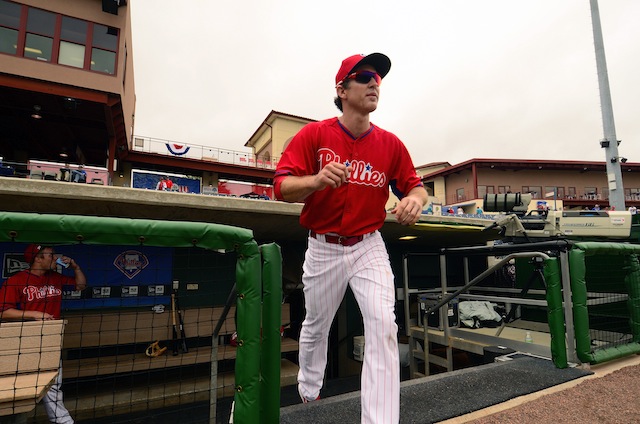 More Phillies: Team preview | Likes, dislikes

Time for another round of team-specific over/unders. What's this, you ask? Here's the explanation:
As part of our preview of the 2014 season to come, let's roll out a few "over/unders" for each team. That is, we'll assign a number to 10 different categories that, in their own way, will predict one facet of the season ahead. In turn, you, the loyal commenter, will let us know whether you take the "over" or "under" for each category. Stated another way, will the actual figure be higher or lower than the one we've presented? Remember, we're talking 2014 season and 2014 season only.
Today's club is the Philadelphia Phillies, who finished in fourth place in the NL East last season. To the betting lines ...
---
Wins: 76.0
Finish in NL East: 3.0
Chase Utley's games played: 134
Cliff Lee's wins plus Cole Hamels's wins: 24
Ryan Howard's homers: 23
Ben Revere's stole bases: 32
Ben Revere's homers: 0.5
Jimmy Rollins's OBP: .320
Jonathan Papelbon's ERA: 2.68
Total number of GMs employed during course of season: 1.5
Wright was arrested at his home Friday

The former Tigers teammates were voted into Cooperstown by the 16-person Modern Era Commit...

The Yankees still have room for a good-sized signing even after Saturday's trade with Miam...
St. Louis gets some much needed help for their bullpen

Keep tabs on the top 50 free agents right here

Morrow thrived with the Dodgers last season