2014 over/unders: San Diego Padres
How many games will the Padres win in 2014? How many starts with Josh Johnson make? All of that and more is in our over/unders.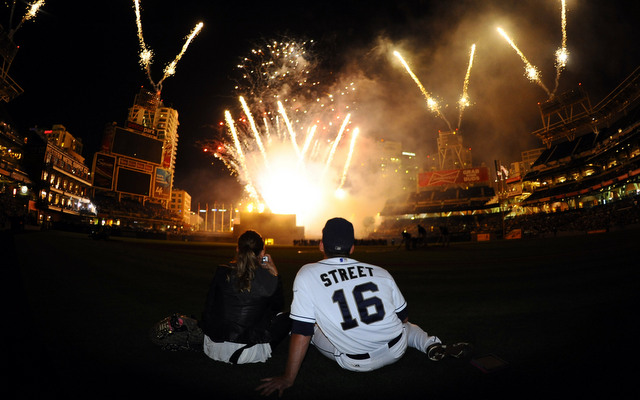 More Padres: Team preview | Likes, dislikes
Another team preview and another round of over/unders. Here's the explanation:
As part of our preview of the 2014 season to come, let's roll out a few "over/unders" for each team. That is, we'll assign a number to 10 different categories that, in their own way, will predict one facet of the season ahead. In turn, you, the loyal commenter, will let us know whether you take the "over" or "under" for each category. Stated another way, will the actual figure be higher or lower than the one we've presented? Remember, we're talking 2014 season and 2014 season only.
Today's club is the San Diego Padres, who have gone from fifth place to fourth place to third place in the NL West over the last three years. To the over/unders...
---
Wins: 81.5
Place in NL West: 2.5
Josh Johnson's starts: 21.5
Andrew Cashner's innings: 199.5
Ian Kennedy's ERA: 3.995
Home runs by team leader: 29.5
Everth Cabrera's stolen bases: 44.5
Combined games played, Cameron Maybin and Carlos Quentin: 199.5
Huston Street's home runs allowed: 9.5
Playoff games played: 0.5
Gonzalez was reportedly killed in a car crash in Cuba

Our Black Friday FA shopping guide includes a starting pitcher, slugger, super sub, and re...

Get 15 percent off any order of more than $75 at CBS Sports Shop
Need a gift for someone who loves baseball? We're here to help as the holidays approach

Several prominent Japanese-born Mariners and ex-Mariners have said they will help as well

Get your sports fans something that they'll wear all year