2014 over/unders: Washington Nationals
Here are some over/unders for the 2014 Nationals. Will Stephen Strasburg finally top 200 innings?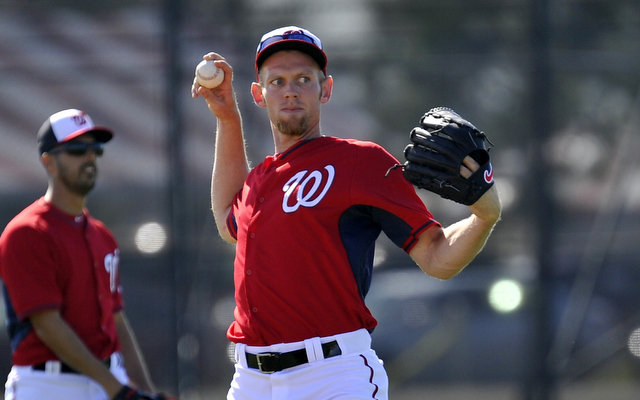 More Nationals: Team preview | Likes, dislikes
It's time for another round of over/unders. What, exactly, are we doing? Here's an explanation:
As part of our preview of the 2014 season to come, let's roll out a few "over/unders" for each team. That is, we'll assign a number to 10 different categories that, in their own way, will predict one facet of the season ahead. In turn, you, the loyal commenter, will let us know whether you take the "over" or "under" for each category. Stated another way, will the actual figure be higher or lower than the one we've presented? Remember, we're talking 2014 season and 2014 season only.
Today's club is the Washington Nationals, who are coming off a disappointing 2013 season. Please let us know how you will placing your bets...
---
Wins: 89.5
Finish in NL East: 1.5
Stephen Strasburg innings: 199.5
Bryce Harper home runs: 26.5
Ryan Zimmerman throwing errors: 14.5 (had 16 in 2013!)
Ian Desmond homers plus stolen bases: 49.5
Jayson Werth games played: 134.5
Jordan Zimmermann's ERA: 3.205
Matt Williams ejections: 2.5
Presidents Race wins by Abraham Lincoln: 29.5 (standings)
The Orioles, Blue Jays and Rays have star players they should use toward rebuilding for the...

The Yankees may not be done collecting stars

The team could instead use a closer by committee approach
Both Seung-Hwan Oh and Trevor Rosenthal are free agents

The Yankees may plug their third base hole with a familiar face

Darvish's poor World Series hasn't scared the Dodgers away