2014 Rangers preview: Likes, dislikes
What are some things we like and dislike about the Rangers heading into the 2014 season? Let's have a look.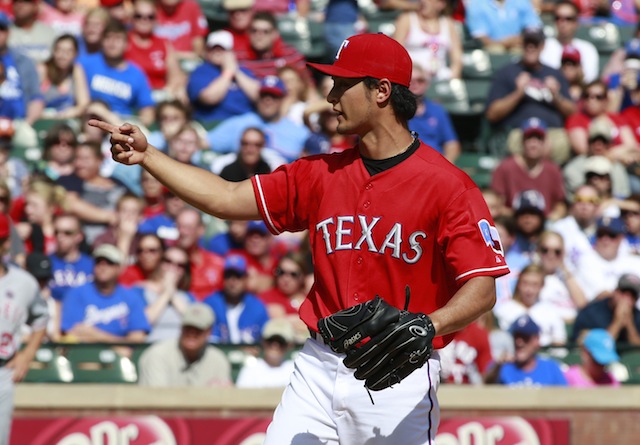 More Rangers: Team preview | Over/unders
As part of our preview series, Eye on Baseball will be picking and choosing some "likes" and "dislikes" for all 30 MLB teams heading into the 2014 season. For this installment, we'll run down what we like and don't like about the Texas Rangers, who last season notched their fourth straight 90-win campaign ...
LIKES
Yu Darvish: He's a frontline ace, plain and simple. Last season he led all of baseball, with a K% (strikeouts as a percentage of batters faced) of 32.9, and while he still struggled with his control at times he reduced his BB% from 10.9 in 2012 to 9.5 in 2013. As well, Darvish ranked second in the AL with an ERA+ of 145. With a full complement of pitches and top-line stuff, the 27-year-old Darvish is going to thrive for many seasons to come.
Shin-Soo Choo in the leadoff spot: Last season, Texas leadoff hitters (primarily the since-traded Ian Kinsler) put up an OBP of .336. That's solid, but it's not optimal for the table-setting slot. Choo, meantime, brings to the table a 2013 OBP of .423 (good for second in the NL) and a lifetime mark of .389. As well, he's averaged more than 4.00 pitches seen per plate appearance over the span of his career. In other words, Choo promises the kind of patience and on-base chops that the Rangers need in the one hole. 
DISLIKES
Prince Fielder's chances to bounce back: The consensus seems to be that Fielder, in a new environment and motivated to prove himself in that new environment, is primed for a rebound in 2014. Color me skeptical. Fielder obviously has a body type that doesn't lend itself to graceful aging, and the numbers also suggest early decline. For instance, in 2013 Fielder's home run/fly ball percentage declined to career-worst levels, and his infield pop-up rate was the highest it's been since Fielder's rookie season. The raw power indicators trended downward, as well. While a small rebound is possible, I don't expect the MVP-caliber Fielder to return. Throw in the runs Fielder will give back on defense and on the bases, and his degrading offensive profile is even more of a problem. 
Using Mitch Moreland at DH: Consider this related to the entry immediately above ... Moreland may not have the bat to carry an offense-only position like DH, but he does have the glove to be a passable first baseman. For his career, Moreland boasts a UZR/150 of 4.2 for his career at first base. Fielder, in contrast, has a UZR/150 of -5.6 for his career. That's a potential drop-off of about a full win in the standings, and it's not a sound example of roster management. 
Rotation health: Derrek Holland may be out until the break, and Matt Harrison -- coming off two back surgeries -- is likely to open the season on the DL. Colby Lewis hasn't pitched since 2012, and Tommy Hanson has a bounty of shoulder problems in his recent past. That's a lot of concerns for a rotation without much high-ceiling help in the upper rungs of the minors. 
The free-agent market has been slow and one player is bracing for an even longer wait

The Mets didn't want to trade a young outfielder for an older one

Josh Harrison doesn't sound pleased Gerrit Cole and Andrew McCutchen have been traded away
The team's media contracts expire following the 2019 season

San Francisco could use more help in the outfield and at the back of the rotation

The White Sox, Athletics, Orioles and Marlins are the holdouts after the Blue Jays and Angels...