2014 Rays preview: Likes and dislikes
As the Rays head into the 2014 season, here's what's good and not so good about them.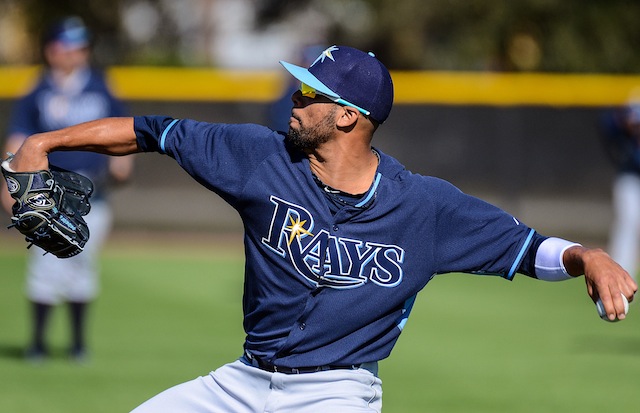 MORE: Previewing the Rays | Over/unders
As part of our preview series, Eye on Baseball will be picking and choosing some "likes" and "dislikes" for all 30 MLB teams. This time, it's the Rays' turn ... 
LIKES
Keeping David Price: Earlier this offseason, rumors abounded that the Rays would part with their lefty ace as he entered his high-salary years. Thus far, that hasn't happened, and that's a very good thing. Price was outstanding once he put his early-season arm troubles behind him (84 strikeouts against just 13 walks after the break), and he may be in for a second Cy Young season. Contenders have no business trading a player like Price, and the Rays realize that.
Catching situation: Jose Molina is of course one of the most skilled defensive catchers in all of baseball (particularly when it comes to framing pitches for strikes). However, he's not able to handle high catching workloads these days. Lucky for the Rays, they've paired him with Ryan Hanigan, who, although coming off a down 2013, brings with him a career OBP of .359. That's useful and makes for a good match with a catch-and-throw guy like Molina. 
The 2-3-4 hitters: TB's offensive attack will be keyed by their two, three and four hitters: Ben Zobrist, Evan Longoria and Wil Myers. Zobrist has an OPS+ of 127 over the last three seasons; Myers is coming off a .293/.354/.478, age-23 Rookie-of-the-Year campaign; and Longoria for his career has averaged 33 homers and 41 doubles per 162 games played. Optimal!
DISLIKES
Jeremy Hellickson's near-term outlook: Hellickson thrived despite middling peripherals in 2011 and 2012, but last season the numbers caught up to him as his ERA balllooned to 5.17. The "true" Hellickson probably lies somewhere between the excellence of 2010-11 and the struggles of 2013, but his late January elbow surgery may mean he's not right for some time. 
The division: This "dislike" goes for any team in the rough-and-tumble AL East, and indeed the schedule for the Rays will be a demanding one. Last season, for instance, the Rays played 97 games against teams with winning or .500 records, and 2014 should yield similar numbers. As well, in interleague play, they'll drop the NL West for the tougher NL Central. 
The ballpark: Cop-out? Yes, indeed. Honestly, it's hard to find many things to dislike about a team that, despite basement-level payrolls, roster churn and a home in baseball's toughest division, has made the playoffs in four of the last six seasons. So I'll point out the groaningly obvious and say the Trop is a lousy venue for baseball. If the Rays want more criticisms from me, then they should cooperate by being worse. 
Plenty of other teams are involved, of course

Where might the Orioles third baseman land?

Kinsler will slot in at second base for the Angels
The Marlins got a better return for Ozuna than Stanton or Gordon

The two teams are going about things in very different ways

The Marlins are indeed in teardown mode under new ownership