2014 Red Sox preview: Likes, dislikes
What is there to like and dislike about the Red Sox this season? Let's take a look.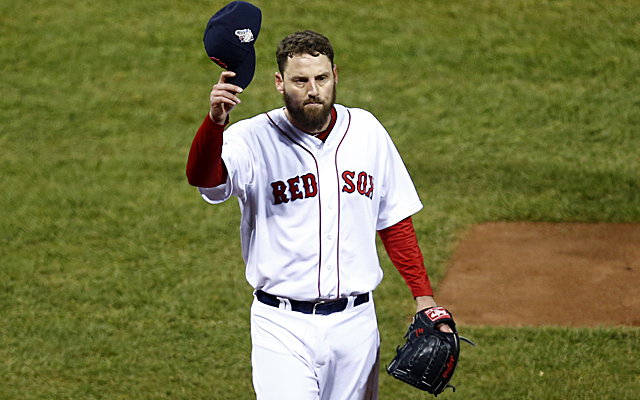 More Red Sox: Team preview | Over/unders
As part of our preview series, Eye on Baseball will be picking and choosing some "likes" and "dislikes" for all 30 MLB teams. For this installment, we'll run down what we like and don't like about the defending World Series champions, the Boston Red Sox.
Likes
Boston Strong: This group banded together last season to become one of the most close-knit groups in baseball due to myriad circumstances. Coming off a 97-win season with a World Series title to boot, their confidence and swagger should be sky-high. No team enters the 2014 season more mentally sound.
Fenway Park: Aesthetic beauty aside, the Red Sox were an AL-best 53-28 at home in the regular season last year while also going 6-2 in the playoffs in their shrine.
The rejuvenated John Lackey: After the 2011 season, Lackey's contract appeared to be a colossal disaster. In his return from Tommy John surgery last season, Lackey was pretty good (3.52 ERA, 116 ERA+) and then was actually dominant in the ALCS and World Series. This season will mark his second since the surgery and that's usually when pitchers return to form. Don't be surprised if he makes his second trip to the All-Star Game this summer.
Mike Carp off the bench: Not only does Carp play both outfield corners and first base adequately, but this spring he has been working out at third base. Last season, he hit .296/.362/.523 (140 OPS+) in part-time duty and this season figures to give the Red Sox ample coverage off the bench and maybe even insurance for another possible Will Middlebrooks flop. He is a valuable bench piece.
Xander Bogaerts' potential: He may not meet expectations immediately and of course there's always the possibility that any prospect will be a bust, but Bogaerts' upside is huge. He's only 21 and hit .297/.388/.477 with 23 doubles and 15 homers in 116 games between Double-A and Triple-A last season. We know he won't be daunted by the big stage, either, considering he had a pair of two-hit games in St. Louis during the World Series.
Dislikes
Age concerns: Can the following players fend off Father Time? Age in parentheses: David Ortiz (38), A.J. Pierzynski (37), John Lackey (35), Koji Uehara (38). Due to serious injury concerns, Jake Peavy (32) and Mike Napoli (32) play a bit older than their actual age, too.
Inexperience: On the flip side, the Red Sox are also slated to open with Jackie Bradley and Xander Bogaerts in the starting lineup. Both have immense upside -- especially Bogaerts, as mentioned above -- but they've only combined for 32 career regular-season starts. If there are growing pains on either one, it's a problem.
Beard stories: No mas. Please. I'll beg if I have to.
Granderson heads north of the border for his age-37 season

What did the Pirates get in return for their franchise player?

Rivero could remain in Pittsburgh for some time to come
The White Sox, Angels, Athletics, Orioles and Marlins are the holdouts after Blue Jays fol...

The Pirates have several attractive trade chips if they decide to go into a full rebuild

Gerrit Cole was traded over the weekend and now McCutchen is on the move