2014 Reds preview: Likes, dislikes
Here are some things we like and don't like about the Cincinnati Reds headed into the 2014 season.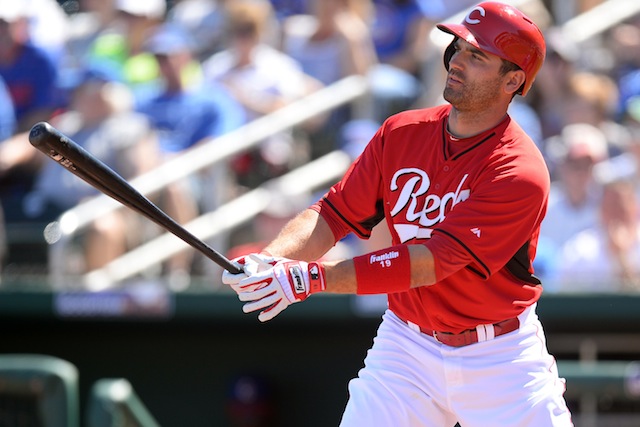 More Reds: Team preview | Over/unders

As part of our preview series, Eye on Baseball will be picking and choosing some "likes" and "dislikes" for all 30 MLB teams heading into the 2014 season. For this installment, we'll run down what we like and don't like about the Cincinnati Reds, who, after making the playoffs in three of the last four seasons under Dusty Baker, have a new manager in Bryan Price ... 
LIKES
Joey Votto: Let's put this in simple terms: Votto is the Reds' best hitter, and it's not a close call. Last season, he paced the NL with a .435 OBP, smacked 24 homers, reached base more than 300 times and worked more than four pitches per plate appearance. Expect more of the same this season.
Defensive upgrade in center: The departed Shin-Soo Choo had a stellar offensive season in 2013 (more on that in a moment) but was a defensive disaster in center. This year, Billy Hamilton, he of the winged feet, will take over the position and provide an immediate and substantial upgrade with the glove. Once he gets a little more comfortable up the middle (Hamilton was a shortstop until last year), he'll be a notable asset in center, at least with the glove.
DISLIKES
Offensive downgrade in center: Choo last season put up an OBP of .423 and also contributed 21 homers and 34 doubles. Hamilton, meanwhile, put up a .308 OBP at Triple-A. Hamilton's speed is of course already legendary, but there's some doubt as to whether he can handle breaking stuff at the highest level. At the very least, expect a learning curve and in 2014 a massive drop-off from Choo's numbers.
Rotation depth: The Reds' rotation is potentially a strength, what with Johnny Cueto, Mat Latos, Homer Bailey, Tony Cingrani and Mike Leake constituting the front five. However, there's not much depth to speak of. The Reds have enjoyed better rotation health than most teams in recent years, but part of that durability profile -- Bronson Arroyo -- is no more. There's just not much starting pitching in the upper rungs of the system capable of plugging holes at the major-league level.
Left field situation: This one's pretty straightforward. Last season, Cincy left fielders combined to hit just .250/.313/.374, while the average NL left fielder batted .263/.328/.417. With Ryan Ludwick and Chris Heisey back in the fold, things don't figure to be much better in 2014.  
The Twins have already fortified the bullpen with Addison Reed, and now they want to address...

The Orioles likely want pitching, and the Indians have plenty of it

Halladay died in a November plane crash off the coast of Florida
The power-hitting outfielder is headed to Toronto

Martinez could add some power to a Boston lineup void of it

It's almost that time of the year again, time for the Tebow madness to return