2014 Royals preview: Likes, dislikes
What do we like and dislike about the 2014 Kansas City Royals? We're glad you asked.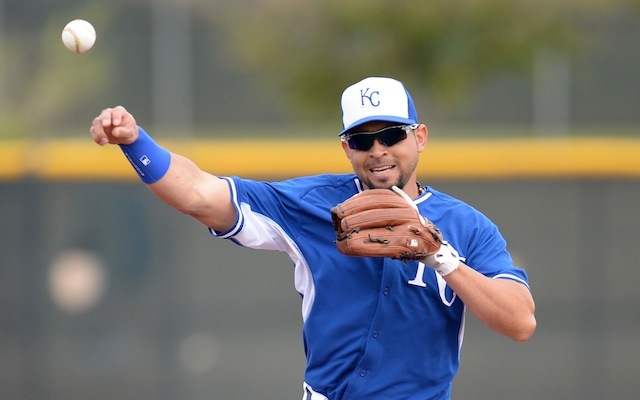 More Royals: Team preview | Over/unders
As we continue our trek through an examination of each of the 30 MLB teams for the 2014 season, the Kansas City Royals are next up under the microscope. Right here are our Likes and Dislikes, where we tell you things about the club in question that we, um, like and dislike. Keepin' it simple and all that ... 
LIKES
The 3-4-5-6 hitters: If the Royals' lineup goes as planned, then those 3-4-5-6 hitters will be, in order, Eric Hosmer, Billy Butler, Alex Gordon and Salvador Perez. That's a nice core group of hitters, even if it lacks a true superstar. Here, for instance, are their respective 2013 OPS+ figures: 118, 116, 103, 105. Good stuff. As well, two of those hitters -- Hosmer and Perez -- are presumably pre-prime, so further skills growth is a reasonable expectation. This group gets even better if Butler and Gordon rebound to pre-2013 levels.
The upgrade at second base: Last season, KC second basemen (six different players saw time at the position in 2013) combined to hit just .243/.296/.304 last season. That's why the offseason signing of Omar Infante was so critical, as he directly addresses that need. Infante is no one's idea of a star, but if he comes close to his composite projection of .290/.323/.412, then he'll provide a substantial upgrade for the Royals. That's to say nothing of his solid-plus glove-work at the position.
Alcides Escobar's overall value: Escobar's offensive numbers were roundly miserable last season. However, he confers a great deal of value with his defense at the premium position of shortstop. As well, on the bases, he's swiped 97 against just 20 caught over his career, and he's taken the extra base a solid 52 percent of the time. With the bat, Escobar's 2013 BABIP of .264 was almost 30 points lower than his career mark. That portends a bit of a rebound on offense. He's a useful player even when he's not hitting, though.
DISLIKES
The rotation behind James Shields: At the front end of the rotation, Shields is a certifiable ace. After his starts, though, there's likely Jason Vargas, Bruce Chen, Jeremy Guthrie and Danny Duffy, at least for now. Last season, the average AL starter had an ERA of 4.15. Of those names behind Shields, only Duffy at 4.01 projects according to the Steamer system to have an ERA that bests the existing league mean. That's a lot of mediocre, and that's a problem. The Royals need Yordano Ventura's upside in KC sooner rather than later.
The bench: This one's pretty simple: If the 25-man roster shakes out as anticipated, then the Royals won't have a lefty bat on the bench, and among those reserves only Justin Maxwell figures to boast anything resembling usefulness at the plate.
Mike Moustakas's development as a hitter: Moustakas is showing no signs of being able to handle pitching at the highest level. Coming into 2014, the 25-year-old has a career OPS+ of just 85. He's young, sure, but his inability to control the strike zone, and the fact that he's a fly-ball hitter who can't hit home runs at an adequate rate (over his career, just 7.2 percent of his fly balls have left the park versus an AL average in 2013 of 10.9 percent) doesn't bode well for the future. What he does hit a lot of are infield pop-ups, and that's another problem. At this point, a change in approach seems necessary if Moustakas is every going to realize the promise he showed in the minors.
Dioner Navarro still hopes to return someday

Christian Yelich's agent says his client's relationship with Marlins is 'irretrievably bro...

The free-agent market has been slow and one player is bracing for an even longer wait
The Mets didn't want to trade a young outfielder for an older one

Josh Harrison doesn't sound pleased Gerrit Cole and Andrew McCutchen have been traded away

The team's media contracts expire following the 2019 season