2014 team preview: Cincinnati Reds
The Reds won 90 games but were knocked out in the NL Wild-Card game in 2013. What does 2014 have in store? Let's preview.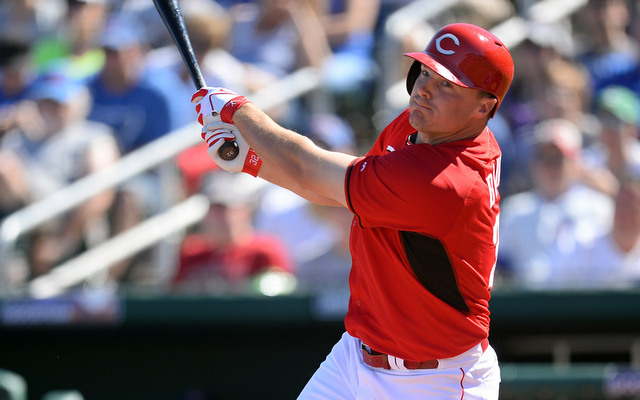 More: Likes, dislikes | Over/unders | All Team Previews | Spring Training
The Cincinnati Reds won 90 games and went to the postseason in 2013 -- the third time in the last four years for both -- but again failed to advance beyond their first round matchup, losing the Pirates in the NL Wild-Card game. Long-time manager Dusty Baker was fired shortly thereafter and replaced by pitching coach Bryan Price, a rookie skipper. The team had a slow offseason more notable for who they lost (Shin-Soo Choo, Bronson Arroyo, Ryan Hanigan) than who they brought in. Offseason and spring training injuries have been a problem as well. Let's preview the upcoming Reds' season.
Probable lineup
1. CF Billy Hamilton
2. 2B Brandon Phillips
3. 1B Joey Votto
4. RF Jay Bruce
5. LF Ryan Ludwick
6. 3B Todd Frazier
7. C Devin Mesoraco
8. SS Zack Cozart
Bench - C Brayan Pena, IF Jack Hannahan, IF Ramon Santiago, 2B/OF Skip Schumaker, OF Chris Heisey
It has been a quarter-century since a player last stole 80+ bases in a season (Rickey Henderson and Vince Coleman both did it in 1988) and Hamilton has the kind of speed to do that this year, but will he get on base enough? Going from 2013 Choo to Hamilton could legitimately be a 100-point drop in on-base percentage from the leadoff spot. That's huge. Hamilton's speed is awesome, but it remains to be seen how often he will be able to use it.
Price has already said he plans to bat Votto and Bruce back-to-back, at least against right-handers, something Baker was not fond of doing. Ludwick or Frazier could slide up a spot or two against southpaws. With Hanigan traded away, Mesoraco finally has free rein behind the plate. The position is his, no questions asked. Hannahan had offseason shoulder surgery and will open the season on the DL. Corner infielder Neftali Soto is likely to take his roster spot for the time being.
Probable rotation
1. RHP Johnny Cueto
2. RHP Mat Latos
3. RHP Homer Bailey
4. RHP Mike Leake
5. LHP Tony Cingrani
Latos had a relatively minor knee surgery at the start of spring training and is behind the other starters, so he might not make his first start of 2014 until a week or so into the regular season. If the team needs a spot starter in the meantime, it could be veteran lefty Jeff Francis or young righty Brett Marshall. Cingrani was awfully impressive last season and is taking Arroyo's spot, a move that may result in fewer total innings but more quality innings. That make sense?
Probable bullpen
Closer - LHP Aroldis Chapman
Setup men - RHP Jonathan Broxton, LHP Sean Marshall
Middle men - RHP Sam LeCure, RHP J.J. Hoover, LHP Manny Parra
Long man - RHP Alfredo Simon
Obviously Chapman will not the start season with the team after the scary line drive incident earlier this week. He has a mild concussion and had surgery to insert a plate and screws around his left eye. Early estimates say he's anywhere from 4-8 weeks from getting back on a mound. Chapman is really lucky. That could have been much, much worse.
With Chapman on the shelf, Broxton figures to step in as closer. Remember, when the Reds re-signed him last year, it was with the idea of making him the closer and moving Chapman into the rotation. That never happened. Marshall is nursing a shoulder problem and will also start the season on the DL. Righties Nick Christiani and Pedro Beato are the favorites to take Chapman's and Marshall's roster spots early in the season.
Under-the-radar offseason transaction
The Reds had such a quiet offseason that our options are very limited here. Swapping Hanigan for lefty pitching prospect David Holmberg in a three-team trade was a nice little move, mostly because it's time to let Mesoraco sink or swim. There was still a market for Hanigan despite his awful and injury-riddled year because he draws a lot of walks and rates very highly in the various pitch framing measures, though those are far from exact. Holmberg, 22, had a 2.75 ERA and a 2.32 K/BB in 157 1/3 innings for the Diamondbacks' Triple-A affiliate lat summer, impressive numbers for the hitter friendly Pacific Coast League. In their 2014 Prospect Handbook, Baseball America said he is "polished, composed, mature" and a "good bet to reach his ceiling as a No. 4 starter." Nothing sexy about that, but grabbing a 22-year-old southpaw who has pitched very well in Triple-A is never a bad move.
Fantasy breakout: Tony Cingrani
"Cingrani dominated the minors, with a 1.65 ERA and 0.95 WHIP in three seasons, striking out 301 batters over 228 2/3 innings. And over 109 2/3 innings in the majors, Cingrani, 24, has a 2.87 ERA and 1.10 WHIP, with 129 strikeouts. This is with Cingrani -- who had one relief appearance in the minors -- essentially bouncing between starter and reliever, with 18 starts in 26 appearances over the two seasons. And in his five games as a reliever in 2013, Cingrani had a 4.91 ERA, walking seven batters over 7 1/3 innings. As a starter, Cingrani had a 2.77 ERA and 1.04 WHIP. He threw 136 innings between the majors and the minors last year, so 180-plus is essentially a lock for 2014. With Bronson Arroyo gone via free agency, the fifth starter role is all Cingrani's. And with the low ERA and WHIP, coupled with the high strikeout rate and success at every level in his career, Cingrani is in line for a huge 2014." -- Nando Di Fino (Full Reds fantasy preview)
Biggest strength
The rotation, assuming Latos' knee does not become some kind of long-term, nagging problem. He is a borderline ace right now. Bailey continues to get better and better and is on his way to becoming a frontline starter, perhaps as soon as this season. Cueto was limited to only 11 starts last year due to multiple lat strains, a non-arm injury. When healthy, he's among the best in the game. Leake is perpetually solid and Cingrani is poised to have an impact during his first full year in the rotation. Sure, there are some health concerns with Latos and Cueto, but few clubs have a rotation this deep and strong. The Reds don't live and die with their pitching, but it is the backbone of the team.
Biggest weakness
Table-setters. Votto and Bruce are two of the best hitters in the game today, but their production might be marginalized by the low on-base percentage hitters slated to bat ahead of them. Hamilton had a .308 OBP in 547 Triple-A plate appearances last summer and projection systems like ZiPS and Steamer have him pretty much at the same level in 2014. Phillips' on-base issues are well documented. He was down to a .310 OBP last season and the projections have him right there again. If Hamilton and Phillips are getting on base a combined 30-31 percent of the time this year, Votto's and Bruce's production will not be as great as it could be. Those two can do serious damage by themselves, but they'd do even more with real leadoff and number two hitters.
Outlook
Even though I like replacing Arroyo with Cingrani, the Reds did get worse this winter. The recent injuries to Latos and Chapman only compound the problem. I don't know if they'll win 90 games again in 2014, but I do think they will be in contention, primarily for a wild-card berth. A run at the NL Central crown is possible but unlikely. A lot would have to go right for them and wrong for the competition.
The Reds have a very defined window of contention in my opinion. Both Cueto and Latos can become free agents after the 2015 season, at which point Votto will be 32 and Phillips will be 34. Hamilton, Holmberg and other prospects like RHP Robert Stephenson and OF Phillip Ervin are very promising, but the team's best chance to win is right now, with their core players in their prime years. Unless ownership is planning to jack up payroll in the coming years, I really would have liked to see Cincinnati do more this winter in an effort to take advantage of that window.
---
Coming Saturday: The Pittsburgh Pirates, our final team preview.
The lefty starter is coming off a terrible season

After acquiring Ian Kinsler and Zack Cozart in recent days, the Angels are trending upward

Cozart's coming off a big season as the Reds' shortstop
The veteran slugger spent the last eight seasons with Cleveland

The Padres may be poised for an active winter

Yes, Bryce Harper is going to make a lot of money next winter