2014 team preview: Houston Astros
The Houston Astros went 51-111 last season. Are they better this year? If so, by how much? Time to preview them.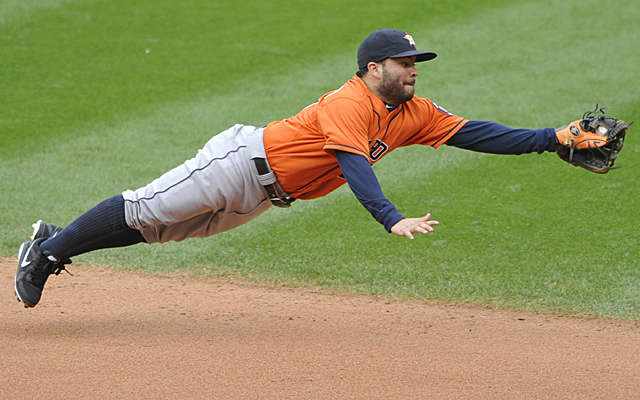 More: Likes, dislikes | Over/unders | All Team Previews | Spring Training
For the third straight season, the Houston Astros sported the worst record in baseball, going 51-111 in 2013. In fact, that was also the third consecutive season in which the Astros set a franchise record in losses. They had previously never lost more than 97 games, but they just lost 106, 107 and 111, respectively.
In a rough division, the Astros needed to get better in order to reverse that trend. And they did, but will it be enough?
Probable lineup
1. Dexter Fowler, CF
2. Jose Altuve, 2B
3. Jason Castro, C
4. Chris Carter, DH
5. Matt Dominguez, 3B
6. Marc Krauss, 1B
7. Robbie Grossman, LF
8. L.J. Hoes, RF
9. Jonathan Villar, SS
Bench - C Carlos Corporan, IF/OF Jesus Guzman, IF Cesar Izturis, OF J.D. Martinez
Brett Wallace, Marwin Gonzalez, Delino DeShields, Max Stassi and many others are vying for roster spots in this veritable open field. We could certainly see prospects Jonathan Singleton and George Springer -- he of the near 40-40 (37 homers, 45 steals) campaign last season between Double-A and Trilpe-A -- pretty soon, too. As for uber-prospect Carlos Correa (and his ridiculous bat), well, he hasn't even been to High-A yet. It's still a waiting game.
And that final sentence can apply to this entire team in 2014.
Probable rotation
1. RHP Scott Feldman
2. RHP Jarred Cosart
3. LHP Brett Oberholtzer
4. RHP Jerome Williams
5. RHP Brad Peacock
Feldman comes in on a three-year deal after a quality season, especially when he was with the Cubs. Cosart posted an outstanding 1.95 ERA in his 10 starts, though it's troubling that he walked 35 and only struck out 33 in 60 innings.
Mark Appel is one to watch here. Like Correa, he hasn't been even to High-A just yet. Unlike Correa, he was drafted by the Astros after four years of high-level college ball -- Correa was drafted out of high school -- and is already 22 years old with significant polish. He won't be in the minors long and may even see the bigs this season.
For now, though, Dallas Keuchel is the sixth option.
Probable bullpen
Closer - RHP Chad Qualls
Setup men - RHP Matt Albers, RHP Josh Fields
Middle men - LHP Kevin Chapman, RHP Josh Zeid, RHP Anthony Bass
Long man - RHP Lucas Harrell
Jesse Crain will figure into the mix at the back-end once he's healthy and he could even see action sometime in Apil. Qualls will certainly hold the closer job until he gives it up, but Crain's coming off two very good years and an exceptional All-Star season. He could be a solid closer by the end of the year. Regardless, the duo provides the Astros with an upgrade at the back.
And the Astros better hope these two form a major upgrade. Last season the Astros led the majors (tied with Arizona) with 29 blown saves and their save conversion rate (52%) was the worst in the bigs.
Under-the-radar offseason transaction
The additions of Fowler and Feldman would have been nice selections for other teams in this category, but given that the Astros acquired them, the moves were most decidedly not under the radar. That is, the fact that the Astros signed a veteran pitcher to a three-year deal and traded for a major-league starter were pretty newsworthy in the midst of this massive rebuild. So we need to look elsewhere. I'll go with Crain.
Yes, he was an All-Star last year, but the Astros got him with little fanfare on a one-year, $3.25 million deal on New Year's Eve. He would have gotten more, but his shoulder injury has lingered since late last June. It's possible he won't even come back last season, if there's a setback.
Still, if he does, that's a great signing. Crain was very productive for the White Sox in 2011-12 before posting a 0.74 ERA, 1.15 WHIP and 46 strikeouts in 36 2/3 innings last season. He had 19 holds and only one blown save.
There's great upside here with very little downside.
Fantasy late-round flier: Matt Dominguez

"Altuve and Castro are clearly draftable in all standard mixed league formats, but it's time to add Dominguez's name to this brief list. Last year, his 21 home runs tied him for eighth-most among third baseman, as he experienced a breakout that was presaged by a homer spike that occurred when the Marlins promoted him from Double-A to Triple-A in 2011. As he's not much of a line drive hitter, Dominguez will disappoint those looking for a high batting average, but he should improve from last season's .241. A 20-plus home run season with a .260ish average will put Dominguez on a par with Brett Lawrie and Aramis Ramirez in terms of overall value, and that makes him worthy of a late-round pick." - Al Melchior [Full Astros fantasy team preview]
Biggest strength
The top of the order should be a strength for every team, but it is the biggest strength for the Astros. That's the best I can do here, in 2014, with the Astros. Fowler is a very talented center fielder who can get on base, has excellent gap power and good speed. Altuve is still only 23 and was a career .327 hitter in the minors. He still has ability to improve upon his already-good career .285 mark in the bigs and is a quality basestealer. Castro is coming off a very good and underrated season with the bat himself.
Biggest weakness
This was a tough choice because there were so many options. I'll go with the bullpen. There's upside with Crain, but he's a serious health-risk right now. There's upside with Fields and his strikeout rate, but he's always had that and still never parlayed it into great success. Qualls isn't bad, but he'll be 36 this year. Overall, this bunch has the ability to again lead the AL in blown saves.
Outlook
As Axl Rose once told us in such harmonious fashion, all we need is just a little patience. One of the most massive rebuilds in memory slogs forward. The Astros figure to be significantly better in 2014 due to additions like Fowler and Feldman, improvements from the young players on the roster and the arrival of some prospects (at least eventually).
Still, being "significantly better" than 51-111 won't amount to better than last place again. Even a 10-game improvement -- which is possible here, even if unlikely -- means they'll be in the mix for the worst record in baseball. My bet is, yes, they'll again have the worst record.
Instead of the record this season, the focus of Astros fans should be on when the likes of Singleton, Springer, Correa, Appel and more (many more, as the Astros have one of the best farm systems in baseball) join the Altuve-Castro-Cosart nucleus to return to relevance. Unforunately, that's all they have right now.
---
Coming Saturday: Previewing the San Diego Padres
Gallardo spent the first eight years of his career in Milwaukee

MLB revenues are at a record high right now, but teams aren't spending it on players

Chicago added Tyler Chatwood earlier this offseason but might not be done adding to the ro...
The Dodgers and Braves pulled off a whopper on Saturday

Sabathia will reportedly spend a 10th season in the Bronx

Fowler suffered a knee injury at Chicago's Guaranteed Rate Field