2014 team preview: Kansas City Royals
The 2013 Royals had their most wins since the 1985 World Series winning Royals. They still missed the playoffs, though, just as they have every season since '85. Will this year be different?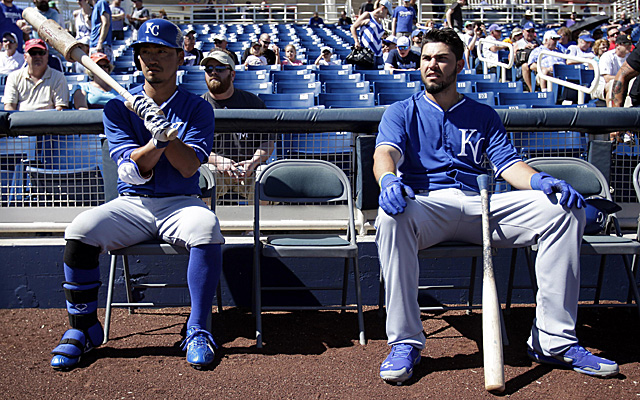 More: Likes, dislikes | Over/unders | All Team Previews | Spring Training
The 2013 Kansas City Royals were the best Kansas City had seen in a while in many different ways.
The winning record was the first since 2003.
The .531 winning percentage was the best since the strike-shortened 1994 season, when they went 64-51 (.557).
The 86 wins were the most since all the way back in 1985, when the Royals won the only World Series championship in franchise history.
Of course, they still missed the playoffs, just as they have every single season since that 1985 campaign. That is the longest playoff drought in the entire MLB.
Can they finally break it in 2014? Let's take a look.
Probable lineup
1. Nori Aoki , RF
2. Omar Infante , 2B
3. Eric Hosmer , 1B
4. Billy Butler , DH
5. Alex Gordon , LF
6. Salvador Perez , C
7. Mike Moustakas , 3B
8. Lorenzo Cain , CF
9. Alcides Escobar , SS
Bench - C Brett Hayes , IF Pedro Ciriaco , IF Danny Valencia , OF Justin Maxwell
The additions of Aoki and Infante give the Royals some table-setters before their big bats in Hosmer, Butler, Gordon and Perez. Can Hosmer take another step forward? He hit .318/.367/.494 with 26 doubles, 16 homers and 63 RBI after May (109 games). Moustakas is the next one who needs to step up, and he is having a big spring, for whatever it's worth (.483/.556/1.000 with three doubles and four homers in 13 games).
Overall, the offense just needs to be better. The pitching staff led the AL in ERA, but the Royals ranked 11th in the AL in runs scored.
Probable rotation
1. RHP James Shields
2. LHP Jason Vargas
3. LHP Bruce Chen
4. RHP Jeremy Guthrie
5. RHP Yordano Ventura /LHP Danny Duffy
The Royals ranked fifth in the AL in rotation ERA (3.87) last season, bolstered by new ace Shields. Ervin Santana is gone, replaced by Vargas and there's good to great upside in young fireballer Ventura. Chen over Wade Davis in the rotation should be an upgrade this time around.
Probable bullpen
Closer - RHP Greg Holland
Setup men - RHP Aaron Crow , RHP Kelvin Herrera
Middle men - LHP Tim Collins , RHP Louis Coleman , LHP Donnie Joseph
Long man - RHP Wade Davis
The Royals had the best bullpen ERA in the AL by a wide margin (2.55; the Rangers were second at 2.91). They have mostly the same group back, however, losing setup man Luke Hochevar (1.92 ERA, 0.83 WHIP last season) to Tommy John surgery was a huge blow. Holland is an elite closer, Herrera is a very good late strikeout guy and Crow has been an All-Star. This group may not be the best again, but it's still formidable.
Under-the-radar offseason transaction
I like the deal to acquire Aoki. The bullpen is deep -- and at the time, the Royals couldn't have possibly known Hochevar was going down -- so sparing Will Smith to get a table-setter was a nice move. The Royals lack a true elite power hitter in the middle of the order, so they desperately need to find ways to get power to the middle of the order. Gordon was the team leader in homers last year, but he spent 119 games in the leadoff spot.
Aoki hit .296 with a .367 on-base percentage in the leadoff spot last year for the Brewers and he walks more than he strikes out. Putting him at the top drops Gordon and helps make the lineup more well-rounded -- maximizing the power at the middle.
Fantasy underappreciated: Greg Holland

"Holland had a 2.96 ERA in 2012, with 91 strikeouts in 67 innings. He saved 16 games. And yet, when Holland began the 2013 season giving up four runs in his first three games, the haters jumped on him, screaming for Kelvin Herrera to take over the closer's role. Over his final 64 games, Holland saved 45 games, posting a 0.70 ERA, 0.74 WHIP, and striking out 98 batters over 64 innings. The Herrera crowd got very quiet, very quickly. Even if you look at that line and declare Holland a top 10 closer, you're still doing him a disservice. Holland is top five, and there's a case to be made that he's top three, behind only Craig Kimbrel and Aroldis Chapman . But maybe because his early-season hiccup is still stuck in everyone's mind, or perhaps because Herrera is such an enticing option, Fantasy owners will continue to underrate Holland. Pay top dollar for him in an auction, and you'll be rewarded with a spectacular strikeout rate, over 40 saves (on an improved Royals team), and low ERA and WHIP." - Nando Di Fino [Full Royals team fantasy preview]
Biggest strength
Defense. The Royals ranked seventh in the AL in fielding percentage last season, but they get to more balls than everyone else. They were the best in the majors, collectively, in defensive WAR, UZR, defensive runs saved and pretty much every other metric that measures range. The defense was a big reason that the pitching staff was among baseball's best. The differences (Aoki, Infante) don't appear to have made the Royals' defense any worse, either. This is an elite bunch, led by Gordon and Perez.
Biggest weakness
Home-run power. The Royals were dead last in the AL last season with 112 homers. They ranked 12th of 15 in slugging percentage and the team leader in homers was Gordon with 20. Butler has hit 29 before, sure, but his other full-season totals are 21, 15, 19 and 15. He's far from an elite power hitter. Hosmer and Moustakas could take steps forward, too, but overall, the Royals really do lack a big bopper.
Outlook
Taking another step forward will be tough. The Royals are similar to last season. Some of the changes will help (Aoki, Infante, more well-rounded batting order) and some will hurt (Hochevar out, Santana departing).
We need to keep in mind that the Royals actually suffered through a stretch where they went 4-19 last May, meaning they were 82-57 otherwise. But those bad 23 games count, too, so stretches that like won't be acceptable this time around either.
The Royals also need to deal with the Tigers and Indians in the AL Central race, a tough task. Sure, the Twins and White Sox still don't seem especially menacing, so there's good opportunity to again contend -- but by no means could the Royals be considered in a great position.
They need to hope for the following:
- The bullpen to perform close to as well as it did last season.
- The defense to perform close to as well as it did last season.
- Hosmer to take another step forward while Moustakas gets closer to his ceiling.
- Either Duffy or Ventura (or both) to emerge while either Vargas or Chen (or both) have a solid season.
If most of the above happens, it's possible we'll see the Royals in the postseason for the first time since the year Marty McFly first hopped into a Delorean. Many of the pieces are here, but things need to break well for these Royals. Cautious optimism seems reasonable.
---
Coming Sunday: Previewing the Minnesota Twins
The Blue Jays are not expected to bring Bautista back next season

The Dodgers have already clinched the NL West title, so the D-Backs will be a wild card te...

Check out all of Sunday's action, including a single-season record getting closer to falli...
Judge's 48 homers trail only McGwire's 49 in single-season rookie history

The Reds still have one of the best hitters in the game in Joey Votto and a rising star in...

Maxwell joins a growing movement across sports