2014 team preview: Los Angeles Angels of Anaheim
It's time to preview the Angels, one of baseball's bigger disappointments in each of the past two seasons.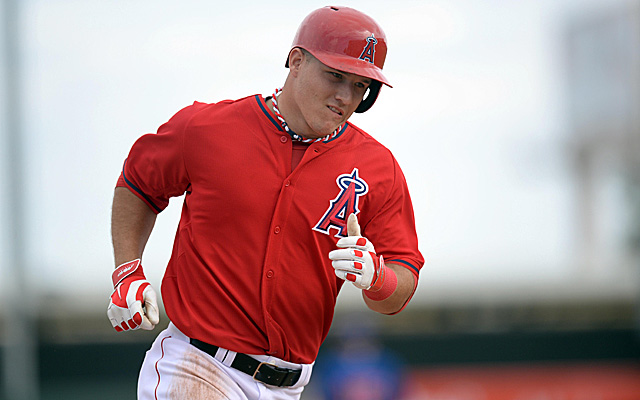 More: Likes, dislikes | Over/unders | All Team Previews | Spring training
The Los Angeles Angels  entered each of the past two seasons to significant hype after huge offseason splashes. They disappointed in 2012, missing the playoffs by four games. Last season, they weren't even in the race, going 78-84 and finishing 18 games back of the A's in the AL West.
This time around, the Angles enter the season to barely any hype after a relatively quiet -- albeit productive -- offseason. Might the results be a bit different this coming season?
Probable lineup
1. Kole Calhoun , RF
2. Mike Trout , CF
3. Albert Pujols , 1B
4. Josh Hamilton , LF
5. David Freese , 3B
6. Raul Ibanez , DH
7. Howie Kendrick , 2B
8. Chris Iannetta , C
9. Erick Aybar , SS
Bench: OF J.B. Shuck , 1B Carlos Pena , IF Grant Green , C Hank Conger
The Angels were third in average, third in on-base percentage, fifth in slugging and sixth in runs in the AL last season. Now consider the shortfall on what they got from Pujols and Hamilton compared to expectations and it's a wonder they got to where they did offensively. Mark Trumbo is gone, but some of the additions and possible rebounds from Pujols and Hamilton make up for that loss. And, really, Trumbo's OBP was .294. He made a ton of outs. I would be shocked if the Angels didn't finish better in the AL in runs this time around.
Probable rotation
1. Jered Weaver
2. C.J. Wilson
3. Garrett Richards
4. Hector Santiago
5. Tyler Skaggs
Angels starters were 58-57 with a 4.30 ERA last season, the latter of which ranked 22nd in the majors and the former of which was despite Wilson going 17-7 -- and Joe Blanton going 2-14. We've likely seen the last of Weaver as a top-three Cy Young finisher, but there's decent upside in the four and five spots with Santiago and Skaggs.
Probable bullpen
Closer: Ernesto Frieri
Setup men: Dane De La Rosa , Joe Smith , Sean Burnett
Middle men: Kevin Jepsen , Fernando Salas
Long man: Joe Blanton
The bullpen was a major issue last season, with the Ryan Madson signing never panning out and Sean Burnett only able to appear in 9 2/3 innings. With De La Rosa an able backup option at closer, excellent left-hander Burnett coming back -- we'll assume healthy -- and the Joe Smith addition, expect a big improvement here. More on Smith ...
Under-the-radar offseason transaction
Joe Smith will be a great addition to the back end of the bullpen. In the past three seasons, he posted a 2.42 ERA and 1.16 WHIP for the Indians while stranding 78 of the 107 runners he inherited (73 percent). The right-handed side-armer is obviously tough on right-handers, but he doesn't need to be a specialist because he stifles lefties these days, too, as left-handers hit .227/.325/.373 against him last year. Now he's with the Angels after signing a three-year, $15.75 million deal this past offseason.
Angels relievers as a whole were 26th in the majors with a 4.12 ERA last season but figure to be much better due to a full season of Burnett and the addition of Smith.
Fantasy closer in waiting: Dane De La Rosa
"As mentioned above, Frieri is not one of Fantasy's more reliable relief options, and the presence of De La Rosa might mean a short leash for the Angels' incumbent closer. In fact, after a difficult midseason stretch last year, manager Mike Scioscia had Frieri and De La Rosa briefly share closing duties. Though De La Rosa doesn't get whiffs at quite the same rate as Frieri, he is much better at avoiding extra-base hits. Along with Rex Brothers and Joaquin Benoit , De La Rosa is one of the better relief options in Fantasy, once all of the annointed closers are off the boards." -- Al Melchior [Full Angels fantasy team preview]
Biggest strength
The offensive potential. The Angels boast baseball's best all-around player in Trout and two guys who would have been in the conversation for "best hitter" within very recent memory -- and it could be argued they still have a shot to return to it. Freese isn't far removed from being an All-Star and Calhoun has pretty exciting upside. There's potential here with Pujols and Hamilton returning to form for the Angels to lead the AL in runs. Even modest calculations have them among the top four offensive teams in the AL.
Biggest weakness
The starting rotation. Look, general manager Jerry Dipoto did a good job to get Santiago and Skaggs in a deal for Trumbo, but the rotation still appears lacking. Skaggs might not yet be ready for success, as he's still only 22. There are red flags on Weaver -- especially with his declining velocity -- and it's hard to see Garrett Richards as a No. 3 starter on a playoff team. He was 6-6 with a 4.18 ERA last season as a starter. Santiago was 4-7 with a 3.51 ERA in 23 starts last year and while he has some upside, he has never been dominant, not even in the minors.
Wilson is coming off a very good season and is as durable as they come. Unfortunately for the Angels, he's the only non-question mark here and he's not really ace quality if Weaver falters.
Outlook
It's going to come down to how the pitching staff works out. The Angels are going to have plenty of offense, but the run prevention appears to be lacking.
I do think the Angels are going to be better this season, though. Considering run differential says the Angels performed like an 81-81 team last season, that means that, yes, I expect them to be a contender. Remember, they won 89 games in 2012 and had a litany of things go wrong for them last season.
It's reasonable to expect some of the following things to happen:
• Trout to again play like an MVP
• Pujols to return to form
• Hamilton to return to form
• Calhoun to have a breakout season
• Weaver to return to form
• Richards to pitch like a third starter
• Santiago to pitch like a fourth starter
• Skaggs to start making good on his significant upside
• Frieri to have a good season as closer
• The setup men to be lights out
But it's completely unreasonable to expect all of that to happen. Maybe pick about half of them? That looks like a team that sits in the mid-80s in wins and maybe even a bit more, in that case.
I believe we've seen the downside to this team and that was last season -- and they still won 78 games.
---
Coming Tuesday: Previewing the Texas Rangers