2014 team preview: Minnesota Twins
What can the suddenly free-spending Twins expect in 2014? Let's break it down from every angle.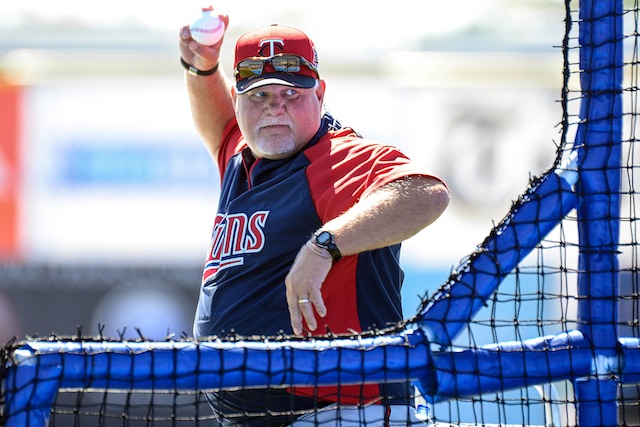 More: Likes, dislikes | Over/unders | All Team Previews | Spring Training
Since winning the AL Central title in 2010, the
Twins
are a cumulative 96 games under .500. Perhaps because of those depths, the Twins this past offseason spent money in a very uncharacteristic manner. In fact, Minnesota over the winter handed out almost $90 million in free agent contracts. That's bound to lead to some improvement, but does it give them much hope in a division that a year ago yielded three winning teams and a pair of playoff entrants? Let's break down what Ron Gardenhire and company can expect in the upcoming season ...
Probable lineup
1. Alex Presley, CF
2. Brian Dozier, 2B
3. Joe Mauer, 1B
4. Josh Willingham, LF
5. Oswaldo Arcia, RF
6. Trevor Plouffe, 3B
7. Jason Kubel, DH
8. Kurt Suzuki, C
9. Pedro Florimon, SS
Bench - C Chris Herrmann, 1B/OF Chris Colabello, INF Eduardo Escobar, OF Darin Mastroianni
Last season, the Twins ranked 13th in the AL in runs scored, 12th in offensive WAR and 11th in weighted runs created+ (wRC+). As for specific shortcomings, Minnesota hitters last season did a poor job of making contact and hitting the ball in air.
Will things improve this season? Well, presumably Mauer, now manning a much less taxing position, will exceed the 508 plate appearances he logged last year. So that should help a little. In essence, though, the Twins are swapping out Justin Morneau (former occupier of Mauer's new position, 104 OPS+ in 2013) for Suzuki (current occupier of Mauer's old position, 73 OPS+ in 2013, 86 for his career). Consider that a step back.
A modest rebound for Willingham seems reasonable, and Arcia certainly has upside. However, even if you squint it's hard to imagine this offense and its many mediocre contributors rising above, say, the bottom quartile in the American League.
Probable rotation
1. RHP Ricky Nolasco
2. RHP Kevin Correia
3. RHP Phil Hughes
4. RHP Mike Pelfrey
5. RHP Vance Worley
Last season, the Twins' rotation was by most measures the worst in the AL. For instance, of the 11 pitchers who made at least one start for the Twins in 2013, eight finished with an ERA of 5.00 or worse (much worse in some instances). That's bad in any year, let alone one like 2013, in which run-scoring levels cratered.
The good news at least in relative terms is that Nolasco and Hughes are new to the fold. Nolasco is a solid bet for around 200 innings and run-prevention numbers that are a bit better than average by starter standards. Normally, that wouldn't be especially noteworthy, but he's a whopping upgrade for the Twins. As for Hughes, his longstanding issues with lefty power hitters mean he should enjoy getting out of Yankee Stadium and into a park that cuts down on homers. Still, league-average-ish seems to be his ceiling at this point. All in all, expect improvement but not necessarily overall quality.
Probable bullpen
Closer - LHP Glen Perkins
Setup - RHP Jared Burton, RHP Samuel Deduno
Middle men - LHP Brian Duensing, RHP Casey Fien, LHP Caleb Thielbar
Long man - RHP Anthony Swarzak
Perkins, the University of Minnesota product and Twins lifer, is a reliable protector of leads, and Fien profiles as useful. There's just not much here, though, in terms of depth, and five of the names you see above are on the wrong side of age 30. On the upside, Deduno, provided he doesn't crack the rotation, has the moving fastball/curveball combo that should help him thrive in a relief role. The inclusion of Deduno, which seems likely at this point, makes the Twins' relief corps much better, particularly from the right side. What they lack is a shutdown middle man, and Deduno at least has the potential to be that. 
Under-the-radar offseason transaction
Suzuki can be described with words like "serviceable" and "veteran." In and of itself, signing Suzuki isn't all that noteworthy, but I like it for two reasons: One, he's a capable catcher, and, two, this gives Josmil Pinto time to develop further. Pinto, age 24, has the bat to play at the MLB level right now, but his skills behind the plate need work. Inking Suzuki to a one-year deal allows Pinto to spend at least part of the season at Triple-A. It's important that he stick at the position because his bat, while excellent by catcher standards, becomes less special at a less demanding defensive position. There's also the psychic benefit of not becoming the guy to immediately follow up Mauer behind the plate. 
Fantasy breakout: Oswaldo Arcia
"Arcia finished his debut season with a .251 average and 14 home runs over 351 at-bats. He hit 17 doubles and stole a base. And this was with several interruptions to the 2013 campaign, with a somewhat-surprising demotion as he slumped in mid-July (he was hitting .257 with six home runs over 53 games), and then intermittent battles with knee, hand, shoulder, and wrist injuries. But Arcia should enter 2014 healthy, and he has a minor league track record that would suggest success in the majors -- a .915 career OPS, a .314 average, and four seasons of double-digit home runs, despite having more than 350 at-bats just once in those seasons. With everyday at-bats and a good amount of power surrounding him, it's not out of the question to expect a .280 average with 20-25 home runs for the 22-year-old. He's a nice fourth outfielder in Roto formats, and could be a solid bench pick in H2H leagues." - Nando Di Fino [Full Twins fantasy preview]
Biggest strength
The future. Byron Buxton is the top prospect in all of baseball. Miguel Sano, even though he'll miss at least the bulk of the 2014 season after undergoing Tommy John surgery, remains perhaps the top power-hitting prospect in all of baseball. Alex Meyer profiles as a frontline member of the rotation for years to come. Pinto's promise is noted above, as is Arcia's. Let's also keep in mind that Aaron Hicks, age 24, still has time to develop. Not many organizations can match the Twins' supply of premium minor-league talent. Yes, implicit in all of this is that I don't think much of the Twins' present.
Biggest weakness
The lineup. Outside of Mauer, there's not a hitter to be found who adequately combines power and on-base skills or excels enough in one of those areas to make up for deficiencies in the other. Arcia as mentioned has potential, but it's entirely possible 2014 will be a transition season for him. This is a team that could conceivably fail to score 600 runs on the year. 
Outlook
Fourth place for the second straight year. It's good that the Twins overhauled the rotation, but it's still a middling group. As well, the offense will be downright bad, and the defense last season was among the AL's worst when it came to converting batted balls into outs (sort of the whole point of defense). I'm open to the idea that the White Sox might be a better team on opening day, but I expect deadline trades to thin the Chicago herd enough to put Minnesota back in front by season's end. However, the Twins simply aren't going to score enough runs to place ahead of the Royals, Indians or Tigers. 
---
Coming Monday: Previewing the Cleveland Indians
Boston wants to add two big bats to their lineup, not just one

Even more relievers signed on the final day of the Winter Meetings

Keep tabs on the top 50 free agents right here
The league is not happy Ohtani's medical information leaked

Kansas City and Baltimore were quite busy at the Rule 5 Draft

Piscotty's mother was diagnosed with ALS earlier this year