2014 team preview: Philadelphia Phillies
Our season preview series continues today with the Phillies, who lost 89 games in 2013 but retooled this winter with some lower costs additions.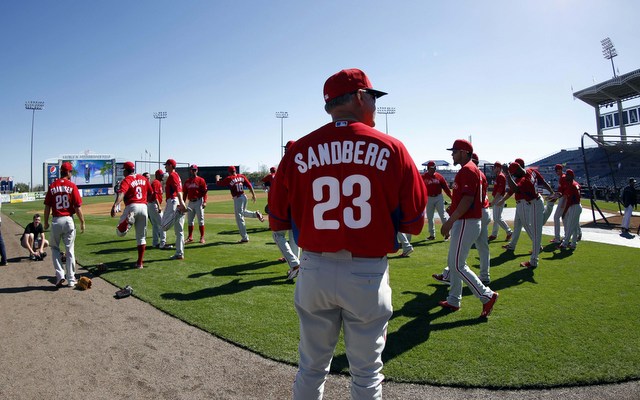 More: Likes, dislikes | Over/unders | All Team Previews | Spring Training
The 2007-11 period was arguably the greatest five-year stretch in Phillies franchise history, but since then they've seen their win total drop from 102 to 81 to 73. Last year's squad finished in fourth place and was out of the race by July. Long-time manager Charlie Manuel was replaced by rookie skipper Ryne Sandberg, who had the interim tag removed over the winter and is entering his first full year at the helm. GM Ruben Amaro Jr. made a series of smaller moves in an attempt to improve his club but avoided that one huge splash. Will it be enough in a surprisingly strong NL East?
Probably Lineup
Bench: C Wil Nieves, UTIL Kevin Frandsen, OF Bobby Abreu, 1B/OF John Mayberry Jr., 1B/OF Darin Ruf
The Phillies scored only 610 runs last season, their fewest in a non-strike season since 1988. Utley, Howard and Revere all missed time with injuries, but far too many at-bats went to unproductive hitters like Delmon Young, Laynce Nix and Mayberry. Down offensive years by Ruiz and Rollins didn't help either. Byrd gives the club some more lefty-righty lineup balance, but repeating his huge comeback year maybe be asking too much.
Probable rotation
Cuban right-hander Miguel Alfredo Gonzalez has not looked particularly impressive early in camp, which isn't very surprising after barely pitching the last two years due to defection and visa issues. He or RHP Jonathan Pettibone could start the year in the rotation if Hamels' shoulder issue keeps him sidelined longer than expected. He threw off the mound for the first time last week.
Probable bullpen
Closer - RHP Jonathan Papelbon
Setup men - RHP Mike Adams, LHP Antonio Bastardo
Middle men - RHP Brad Lincoln, RHP Justin De Fratus, LHP Jake Diekman
Long man - RHP B.J. Rosenberg
Hernandez, Gonzalez or Pettibone could wind up in the bullpen depending on Hamels' shoulder and how the rest of the rotation shakes out. Papelbon remains an effective closer but there are some very obvious signs his game is slipping: declining velocity, fewer swings and misses and fewer chases of his splitter, specifically. Adams is returning from shoulder surgery and may not be ready in time for opening day.
Under-the-radar offseason transaction
The Abreu signing. The 39-year-old did not play at all last season but he tore the cover off the ball in winter ball, prompting the Phillies to bring him back on a minor league contract for a potential part-time role. He figures to be their primary left-handed bat off the bench and occasional starter in the outfield. Abreu's power has all but vanished at this point of his career, but his military-style plate discipline should make him an effective part-timer.
Fantasy sleeper: Miguel Alfredo Gonzalez
"I could address every Gonzalez question yet to be asked with the same two-word response: Nobody knows. Nobody has any clue what kind of pitcher he'll be because nobody really knows what kind of skill set he has. Access to Cuban ballplayers is so limited that scouting reports on them are always vague, and Gonzalez specifically hasn't pitched since 2011 thanks to surgery to remove bone chips from his elbow. So why draft a complete unknown? Like with Byrd, it's a matter of opportunity cost. The chance of striking gold with any player in the last round or two is so low that you may be better off gambling on the mystery man. Hey, the Phillies signed Gonzalez to a six-year, $48 million deal (before cutting it back to three years, $12 million because of concerns over his elbow) for a reason -- and they weren't the only ones bidding. With the A.J. Burnett signing, the gamble is much easier to justify in NL-only leagues than mixed, especially since Gonzalez is likely to begin the year in minors, but you'll want to monitor his performance in all formats. With only Roberto Hernandez standing in his way, a strong showing likely vaults him to the majors." - Scott White (Full Phillies fantasy preview)
Biggest strength
The top of the rotation. Despite pitching in a big market and having one of the richest pitching contracts in history, Lee somehow flies under the radar as one of the game's great pitchers. Hamels had a down year in 2013 and is dealing with this minor shoulder problem now, but he is also one of the 10 or 15 best pitchers in the game when healthy. Burnett revived his career with the Pirates and has been a rock solid and steadying force in the rotation, two things he rarely was earlier in his career. That threesome is among the best in the game when everyone is healthy and pitching like they are capable of.
Biggest weakness
Depth in general. The pitching staff really peters out after the top three and there isn't much help on the bench to cover for injuries or simply give the regulars the occasional day off. The best teams these days don't have a strong 25-man roster, they have a strong 40-man roster. Those extra players are always needed at some point. Philadelphia has a lot of eggs in the Utley, Howard, Brown, Lee, Burnett and Hamels basket.
Outlook
It's impossible to ignore the Phillies' downward trend these last two years. Amaro continues to restock his team with veteran players whose best years are behind them and hope they can find the fountain of youth, a dicey strategy at best. Utley, Lee and Hamels are still among the best players in the game at their respective positions, but the rest of the team carries a ton of age-related risk. When most of your top players are in their 30s, the chances of a cliff dive are rather high.
If everything breaks right, the Phillies might be able to contend this season. But how often does everything break right? Never. The Fightin's might be able to stave off their first 90-loss season since the turn of the century, but the mediocrity wheels will continue to spin.
---
Coming Monday: Los Angeles Angels of Anaheim
Where might the Orioles third baseman land?

Kinsler will slot in at second base for the Angels

The Marlins got a better return for Ozuna than Stanton or Gordon
The two teams are going about things in very different ways

The Marlins are indeed in teardown mode under new ownership

The Marlins still have more attractive pieces